New Zealand: Practitioners Participate in Ten Christmas Parades—Receive First Place Award
By a Minghui reporter in New Zealand
With the warm, springlike weather preceding the holidays, southern hemisphere Christmas parades are very popular. Falun Dafa practitioners in New Zealand participated in ten Christmas parades in six areas and four cities on November 2-6, 2020. The areas in the northern island included Hamilton, Palmerston North, Te Awamutu, and Auckland. They also participated in the parade held in the south island's popular tourist city, Dunedin. Performances were given by the Tian Guo Marching Band, the waist drum team, and the dragon dance team. Tens of thousands of people attended these parades and the practitioners' entry received the First Place Award in Te Awamutu.
The practitioners' entry was warmly received during each parade. They brought season's greetings and well wishes to the local residents.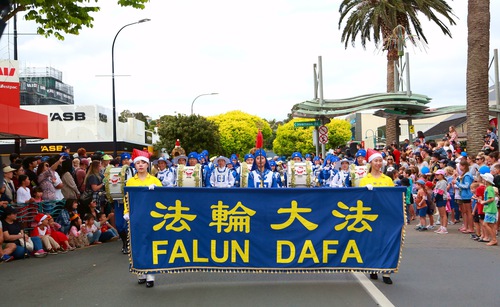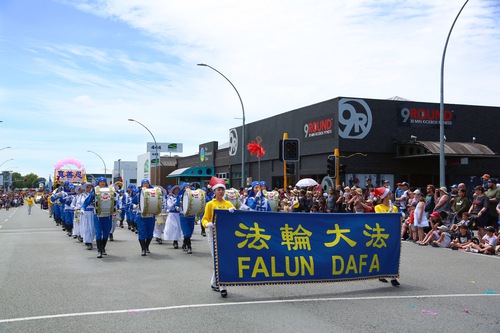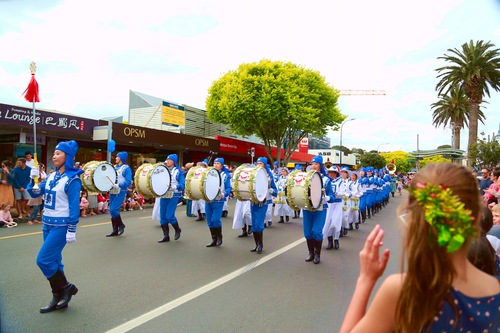 The Tian Guo Marching Band performed during the parades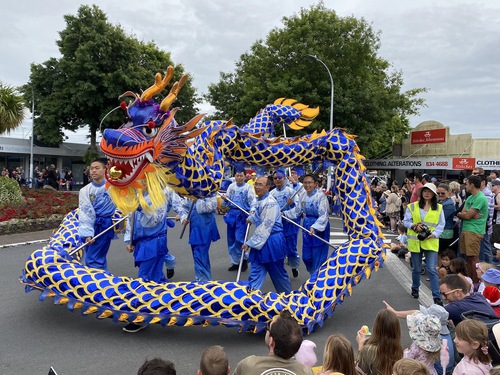 Parade attendees enjoy the Dragon Dance.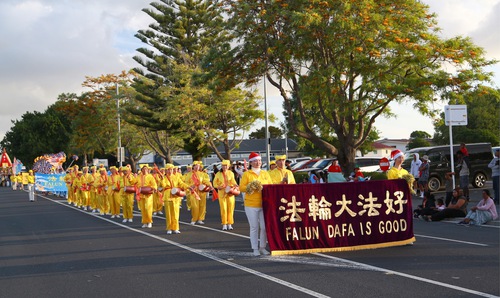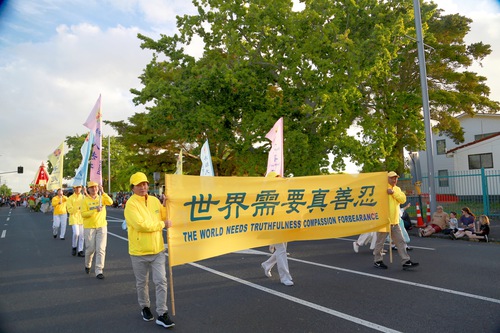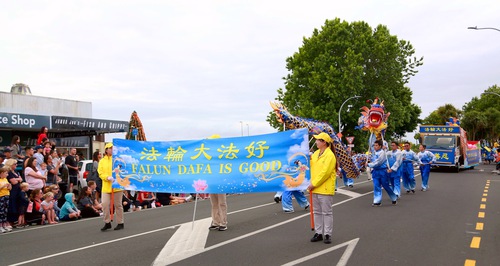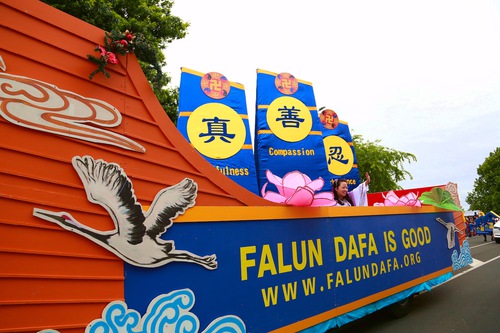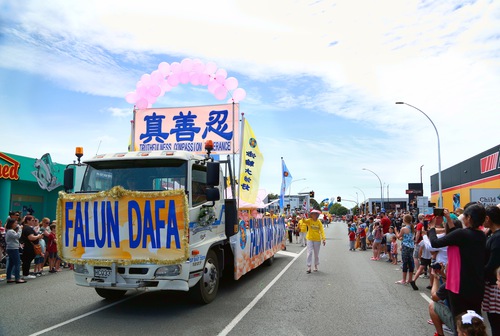 The Falun Dafa entry was warmly received during each parade.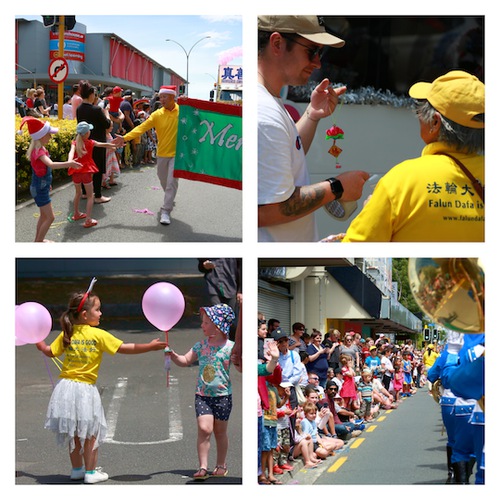 People happily greet practitioners.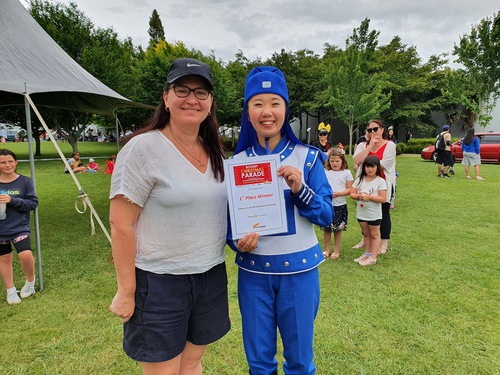 The Falun Dafa entry received the First Place Award in Te Awamutu. Trina (left), the event organizer and sponsor representative, presented the award.
New Zealand's popular news website, Stuff, reported on the Christmas parade in Palmerston North. The photo in the article featured a practitioner beautifully dressed as a fairy sitting on a lotus flower, waving and greeting the crowd.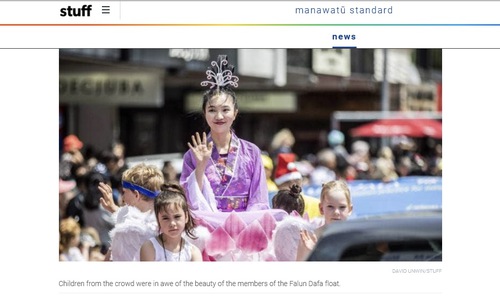 Photo on the website Stuff, featuring a practitioner dressed as a fairy.
Maori Resident: "Truthfulness, Compassion, and Tolerance" are the True Universal Values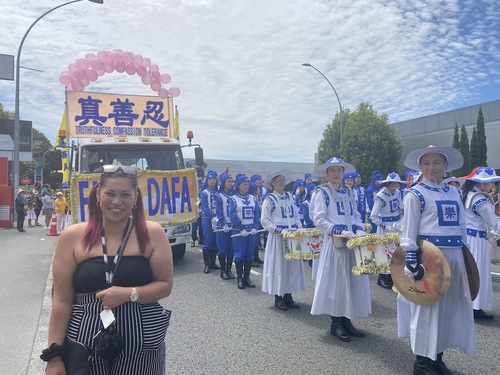 Rona McLeod praised Falun Dafa's values.
Rona McLeod is a local Maori lady. She and her son both love Chinese culture, so they were very happy when they saw the practitioners' parade group. When they learned that they were are all Falun Dafa practitioners who meditate and cultivate themselves according to the principles, "Truthfulness, Compassion, and Tolerance," she happily said, "If everyone were to practice 'Truthfulness, Compassion, and Tolerance' in their daily lives, what a wonderful thing it would be. These are the true universal values, and it is the standard that everyone should reference. Although these three words may seem simple, they are actually not easy to be achieved, especially 'Tolerance'. However, tolerance can allow one to not be controlled by emotions, thus allowing one to achieve truthfulness and kindness.
"Through these Falun Dafa practitioners, I see the traditional values of the Chinese people and these values should be learned by people from all ethnic groups. This is a healthy and positive lifestyle."
Talking about the CCP regime, Rona McLeod sighed and said, "China has been isolated by western countries because it is a dictatorship. People can clearly differentiate between good and bad. Therefore, what I want to say to the people in China: 'Hold on to your values and end the CCP's dictatorship!'"
Company Manager: Practitioners Display China's Traditional Culture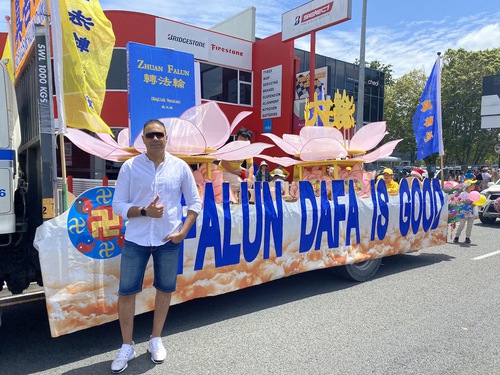 Amir likes the Tian Guo Marching Band.
Amir migrated to New Zealand from Turkey and he is the manager of a company. He liked the Tian Guo Marching Band very much and said admiringly, "They are so unique and their organization is very good. Their traditional uniforms display the Chinese culture very well. Very good! Chinese people should pass on their traditional culture in this way. I like 'Truthfulness, Compassion and Tolerance', especially 'Compassion'. Not only do we want to display 'Compassion', we should all practice it in our daily lives. This is very important."
Chinese people also sent their well wishes to Falun Dafa practitioners. An elderly Chinese who moved to New Zealand 26 years ago said, "New Zealand gives its people the freedom to believe. It is very good that Falun Dafa is here. I support them! You see, their uniforms are so tidy and are very beautiful. The Chinese people in New Zealand should feel proud to have them here."
Some of the Chinese people who left China said frankly that many of them chose to immigrate overseas because they are not happy with the CCP's dictatorship. One Chinese said she hopes that Falun Dafa will be practiced all over New Zealand.
Read the original article here: https://en.minghui.org/html/articles/2020/12/15/188791.html