Young CCP Activists Swarm Belgium Falun Gong Appeal, 21 New Deaths from Persecution Documented in China
Dear Reader,
Young CCP loyalists in Brussels wearing facemasks reading "China" are the latest culprits in a slew of transnational repression incidents targeting Falun Gong practitioners around the world. They disrupted a group of ethnic Chinese and European Falun Gong practitioners, who were peacefully appealing for an end to the persecution on June 26, in observance of the 35th United Nations International Day in Support of Victims of Torture.
In other news:
The US Congressional-Executive Commission on China held a hearing on transnational repression, which featured my written testimony and references made by others to the targeting of Falun Gong.

In August 2023, deaths of 21 Falun Gong practitioners due to abuse in custody and other forms of persecution were reported.

Zhiwen Wang, the father of US citizen Danielle Wang, remains under house arrest long after his release from 16 years in prison for his faith.

On September 11, my colleague Cynthia Sun joined other speakers for a webinar we hosted focused on Beijing's influence on US university campuses and the impact on Falun Gong. If you missed the live discussion, a video is now available on Faluninfo TV here.
Sincerely,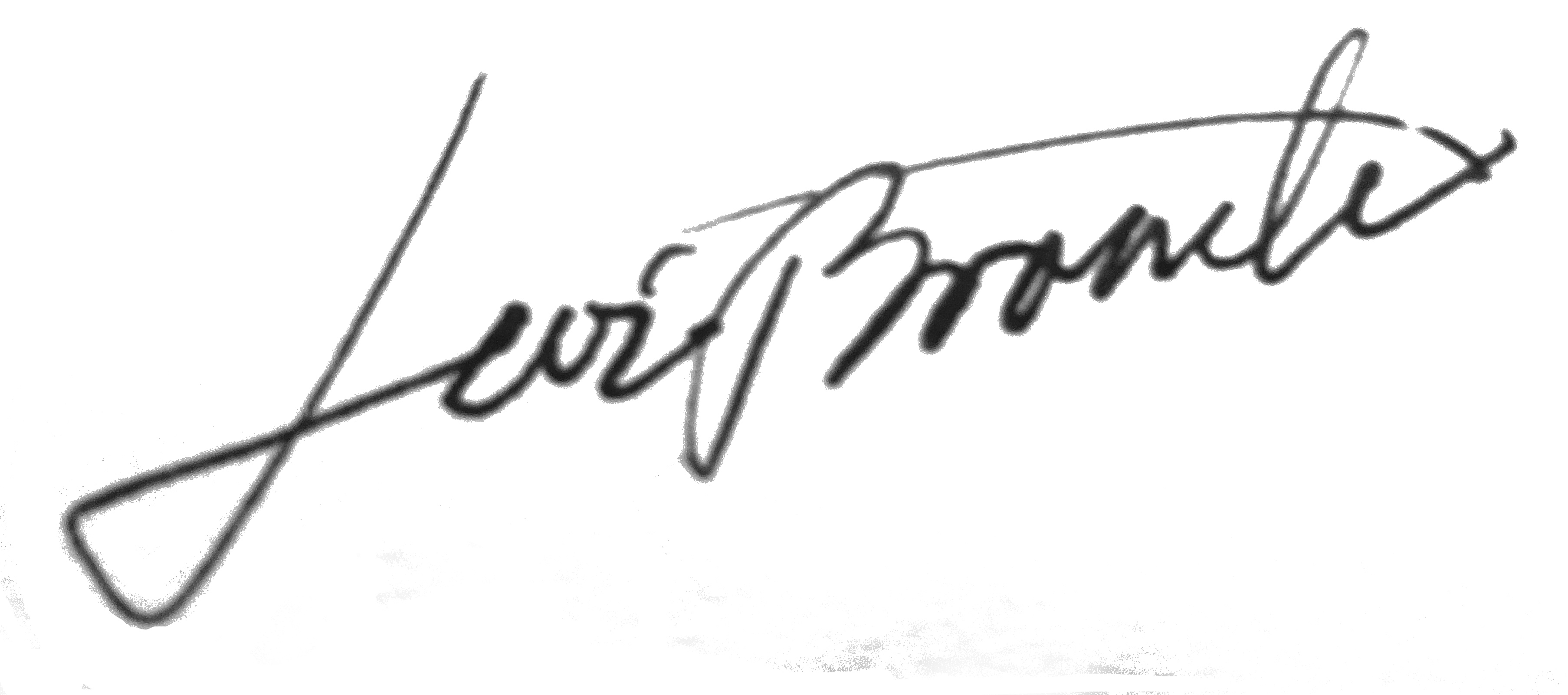 Levi Browde, Executive Director
Falun Dafa Information Center
TRANSNATIONAL REPRESSION
Peaceful Appeal in Brussels Swarmed by Young Pro-CCP Activists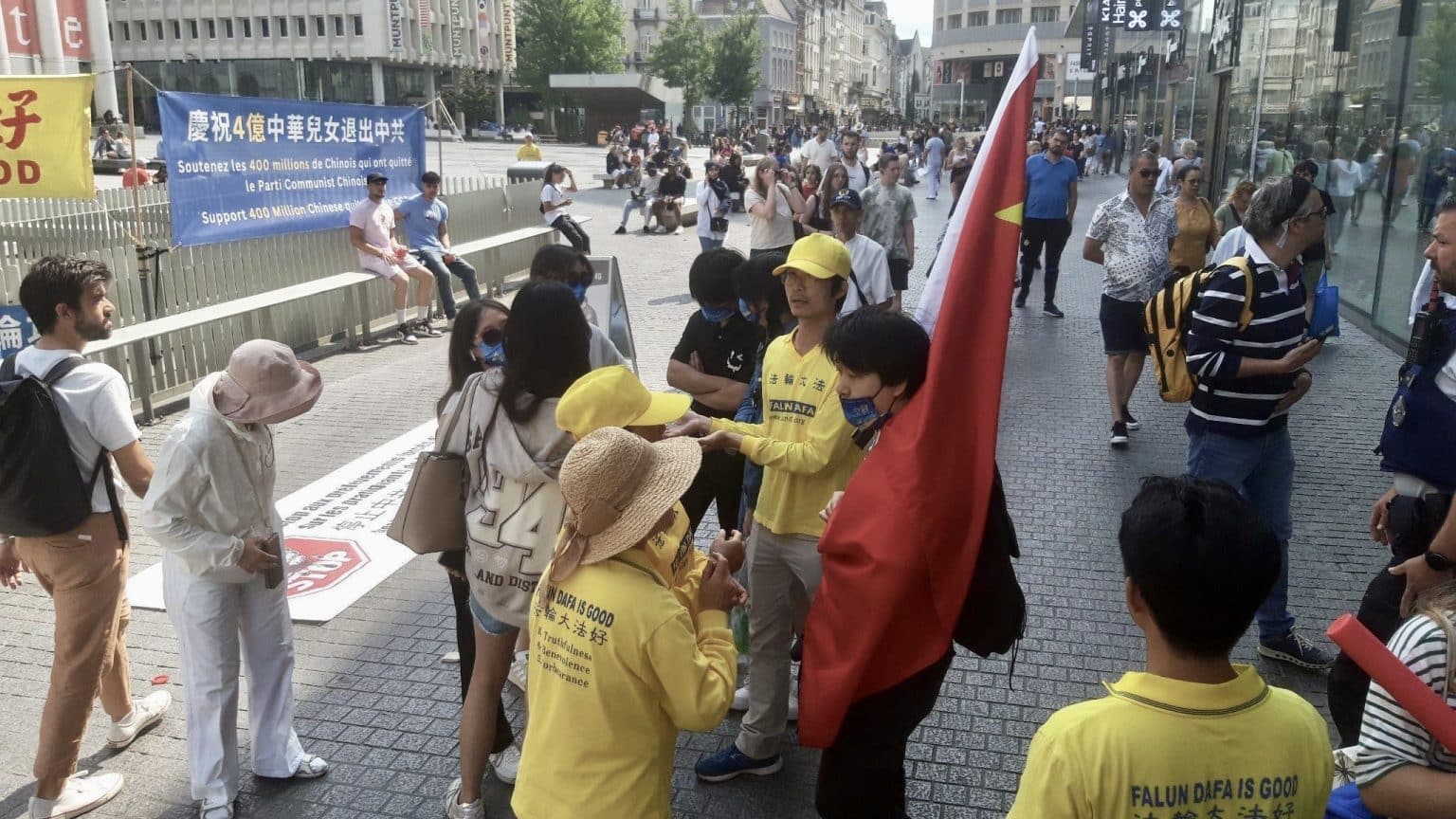 Multiple pro-CCP activists with masks and one with a shirt reading "China" disrupted a Falun Gong appeal in Brussels on July 26, 2023. One (center) carried a large communist Chinese flag.
What's new?
On June 26, 2023, a Falun Gong petition campaign in Brussels, Belgium calling for an end to forced organ harvesting in China was disrupted by a group of young pro-CCP individuals. The youth were wearing face masks with the word "China" printed on them and waving a communist Chinese flag. One infatuated protestor in particular created a public disturbance so egregious that police officers thought she was mentally unstable and were forced to call an ambulance.
According to Falun Gong practitioners who witnessed the incident, the woman at one point claimed to be from the Mission of China to the European Union, but later denied it when a practitioner asked her to repeat it on camera.
Why does it matter?
This is not the first time such an incident has occurred. Chinese people are so indoctrinated by CCP propaganda and falsehoods into hating Falun Gong, that they have been known to attack and even beat peaceful practitioners. Moreover, although not clear in this case, some attacks are coordinated by Chinese diplomats or other CCP agents. In April, the US Department of Justice indicted two men involved in an undeclared CCP police station for a variety of illegal actions targeting dissidents in the United States, including organizing counter protesters against a Falun Gong appeal during a visit to Washington DC by Xi Jinping in 2015.

"Consular officials and indoctrinated Party loyalists regularly disrupt Falun Gong events to intimidate and silence practitioners who have volunteered to raise awareness," said Executive Director Levi Browde of the Falun Dafa Information Center. "We are not cowed or disparaged by such behavior, because the truth deserves to be heard."
What else do you need to know?
Other diaspora communities in Belgium targeted by the CCP, including Uyghurs and Hong Kong supporters, have also noted an increase in transnational repression cases.
Those carrying out such attacks are often themselves deceived by the CCP. Nico Bijnens from the Belgium Falun Dafa Association recalled that before the police arrived, he asked one of attackers why they were doing this. "The man obviously didn't know how to answer my question, and then suddenly told me, 'It's because I don't know the truth.' To be honest, this answer shocked me. I really sympathized with them. These young students who came to interrupt the appeal–they were also victims [of the CCP]."
CAPITOL HILL
CECC Transnational Repression Hearing Includes Written Testimony by the Falun Dafa Information Center
On September 12, 2023, the Congressional-Executive Commission on China (CECC) held a hearing on "Countering China's Global Transnational Repression Campaign." Executive Director of the Falun Dafa Information Center, Levi Browde, submitted a 10-page written testimony offering insight into the CCP's transnational repression campaign against Falun Gong practitioners and recommendations for policymakers. Another written submission by Laura Harth from Safeguard Defenders also highlighted Falun Gong cases.
During the hearing, Yana Gorokhovskaia, the Research Director for Strategy and Design at Freedom House, made comments on the CCP's tactics to target Falun Gong practitioners and other dissidents. Beijing "has targeted people in at least 36 countries, including those living in democracies…like the Uyghurs, Tibetans, and Falun Gong practitioners," said Gorokhovskaia. "China has sent police officers into foreign countries to surveil and intimidate targeted individuals, sometimes in cooperation with the government and sometimes clandestinely."
In an interview with NTD following the hearing, CECC Chairman Christopher Smith also noted, "The risk to me versus the risk to the diaspora… particularly when it's someone like a Uyghur or a Falun Gong practitioner, or someone who really has raised the issue in regard to human rights abuse [is much lower]. They're in a class of their own."
PERSECUTION OVERVIEW
August Persecution Summary: 21 Falun Gong Practitioners Reported Dead from Persecution
In August 2023, Minghui.org received 21 reports of Falun Gong practitioners dying due to persecution in China, bringing the total number of deaths reports for 2023 to 156. One of the 21 practitioners, Ms. Mou Yongxia, was killed in custody. Her story was featured in our last newsletter here. The deceased practitioners, aged 50 to 79, were from 12 different regions in China, including three each in Shandong and Inner Mongolia; two each in Hebei, Heilongjiang, Hunan, Jilin, and Liaoning; and one each in Beijing, Tianjin, Fujian, Jiangxi, and Chongqing. Since the persecution began in 1999, over 5,000 death cases have been reported to Minghui.org.
FEATURED CASE
74th Birthday of Mr. Wang Zhiwen, Father of US Citizen, Who Remains Under House Arrest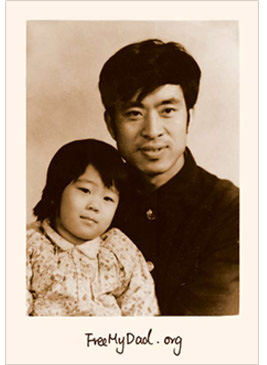 Childhood photo of US citizen Danielle (left) pictured with her father, Mr. Wang Zhiwen (right), who is currently under house arrest in China.
September 14 was Mr. Wang Zhiwen's 74th birthday. The father of a US citizen and a former Ministry of Railroad engineer, Wang was one of the first Falun Gong practitioners to have been arrested in 1999. He remains unlawfully forced to remain in China today. Wang was sentenced by the CCP to sixteen years in prison because he was viewed as a coordinator among the Falun Gong community in China at the time Jiang Zemin launched the persecution. Since his release in October 2014, he has been under house arrest and prevented from traveling to the United States to reunite with his family, having been stopped at the border at least once, despite possessing a passport and valid visa. Over the past 24 years, his daughter Danielle Wang, a US citizen, has never stopped calling for his freedom.
HAVE YOU READ THIS?
Twelve years ago in September 2011, the Jamestown Foundation's China Brief released "The 610 Office: Policing the Chinese Spirit" in Volume 11, Issue 17. The paper outlines the purpose, structure, and impact of the powerful 610 Office, an extralegal CCP security force created on June 10, 1999 to lead the regime's campaign to crush Falun Gong.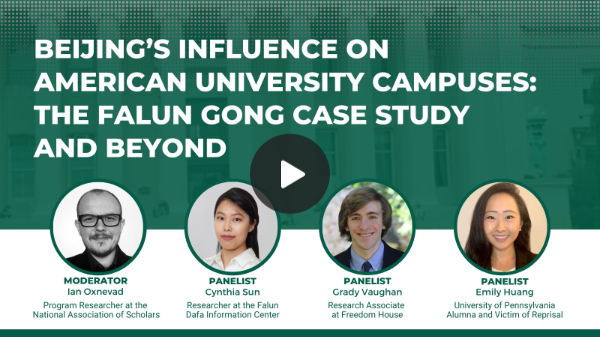 (1 hour, 23 minutes)
Last week, the Falun Dafa Information Center hosted a webinar to discuss Beijing's influence on American college campuses and offered preventative actions and recommendations to universities and policymakers. Featuring experts on transnational repression from Freedom House, the National Association of Scholars, and a victim of reprisal from the University of Pennsylvania, this webinar is available on Faluninfo TV now.