Two CCP Officials Sanctioned; Canada Passes Organ Harvesting Bill
<![endif]-->
Dear Reader,

THE U.S. STATE DEPARTMENT SANCTIONED a Chinese official for his role in gross violations of human rights of Falun Gong detainees, and like previous sanctions, this is sure to have ripple e ffect s throughout China. The recent sentencing of the 610 Office's Deputy Director Peng Bo is the latest in a growing list of officials now behind bars who played instrumental roles in persecuting Falun Gong.

Yet, the 23-year-old violent campaign against Falun Gong continues in China.

In September and October, over 2,000 recorded incidents of harassment and arrest have emerged, an increase that has sharply reflected the Chinese regime's suppression of faith leading up to its 20th Party Congress in mid-October.

Grassroots efforts outside of the regime's control have also responded with fervor. In Canada, the anti-forced organ harvesting bill S-223 has passed with all party support. In New York, the Falun Dafa Information Center has released its first Falun Gong Bulletin podcast episode to issue monthly updates and raise awareness about this human rights cause.
Sincerely,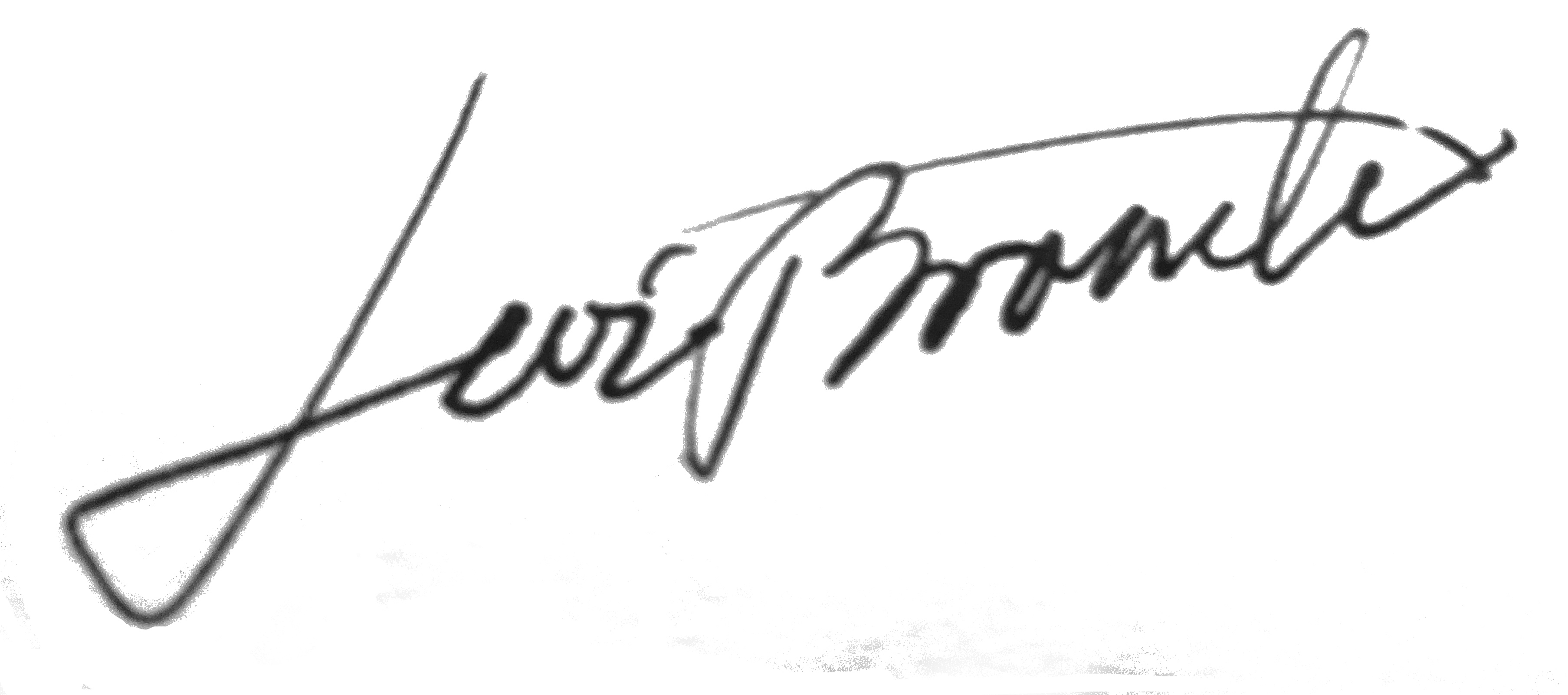 Levi Browde, Executive Director
Falun Dafa Information Center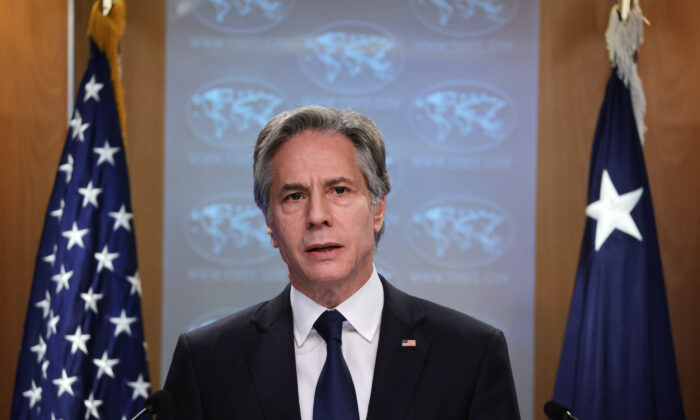 On December 9, the US Department of State sanctioned Tang Yong, former deputy director of the Chongqing Area Prisons in the PRC pursuant to Section 7031(c) "for his involvement in gross violations of human rights, namely arbitrary detention of Falun Gong practitioners, which also amount to particularly severe violations of religious freedom."
Wu Yingjie, Party Secretary of Tibetan Autonomous Region between 2016 and 2021, was also sanctioned. During Wu's time in office, Falun Gong practitioners in the region were severely persecuted for their belief, and he was named as a key perpetrator of the persecution by Minghui.org.

Wu's orders suppressed thousands of Falun Gong practitioners like:
• Young Lhasa parents separated from their toddler in 2006, imprisoned for 14 years, and released in January 2020.
• Ms. Zhu Yuying of Zigong City, Sichuan Province, was arrested in Tibet on March 30, 2016, with three relatives who don't practice Falun Gong.
• Mr. Zhou Jinba, a former Lieutenant Colonel with the Tibet Military Area Command, was arrested in 2014 and beaten. 5,000 yuan of his pension was also suspended.

This is the second time the Biden administration State Department has sanctioned a CCP official for gross violations of human rights against Falun Gong. Last year, they sanctioned Yu Hui, former Office Director of the so-called "Central Leading Group on Preventing and Dealing with Heretical Religions" of Chengdu, Sichuan Province, under section 7031(c).
INSIDE CHINA
Former Deputy Director of China's Gestapo-Like 610 Office Sentenced to 14 Years in Jail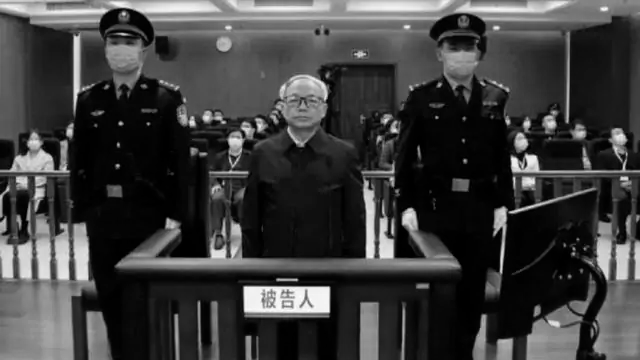 (Peng Bo listening to his sentence after admitting to his crimes on November 24, 2022.)
On November 24, Peng Bo, former deputy director of the 610 Office, was sentenced to 14 years in prison for having "surrendered to superstition" and received bribes of more than 54.64 million RMB (more than Euro 7 million).

Peng Bo's office oversaw thousands of police officers whose job is cracking down on faith groups targeted by the Chinese regime. In fact, Peng Bo was personally responsible for the persecution, detention, torture, and extra-judicial killing of thousands of Falun Gong practitioners.

Yet Peng's sentencing doesn't stop the 610 Office from continuing to operate today. Falun Dafa Information Center calls for the use of personal sanctions and Magnitsky Act on current 610 Office directors to condemn them for their human rights abuses.
PERSECUTION OVERVIEW
September and October 2022: 2,054 Falun Gong Practitioners Arrested or Harassed for Their Faith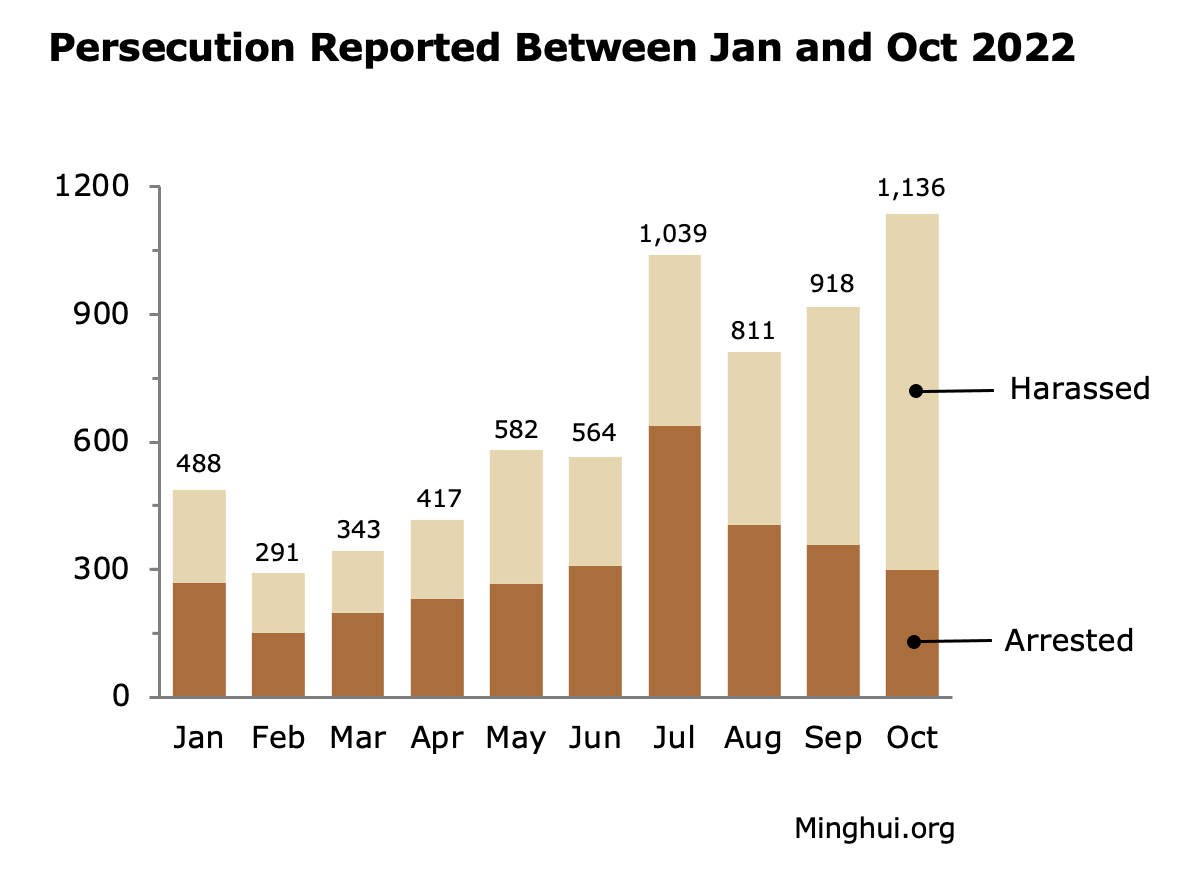 Of the 2,054* newly-reported incidents, 659 were arrests, including 34 cases in 2021, 248 between January and August 2022, and 377 in September and October 2022. The 1,395 harassment cases included 8 in 2021, 310 from January to August 2022, and 1,077 between September and October 2022. The newly-confirmed cases brings the total number of arrests and harassment reported in 2022 to 3,127 and 3,462, respectively.


As forecasted in our annual report earlier this year, the Chinese Communist Party's 20th Party Congress in October resulted in a spike of arrests and incidents of harassment of Falun Gong practitioners. The CCP's suppression efforts began as early as July. Compared to the combined arrest and harassment cases in June (564), the total recorded cases in July (1,039) nearly doubled. Between the 4 months from July through October, a total of 2,202 harassment cases were confirmed, which was 174% increase compared to the 1,260 incidents received in the previous 6 months.

Among the newly-confirmed cases of persecution in September and October 2022, six provinces registered triple-digit cases, including Hebei (441), Shandong (295), Sichuan (188), Heilongjiang (184), Jilin (139), and Hubei (139). A total of 211 of the targeted practitioners were elderly citizens between the ages of 60 and 99 at the time of reporting.

*Due to the risks and difficulties of confirming each case and sending it overseas, the true number of arrests and harassments is believed to be much higher than these reported ones.
PERSONAL ACCOUNT
Hunan Accountant Arrested Multiple Times for Her Faith Since 1999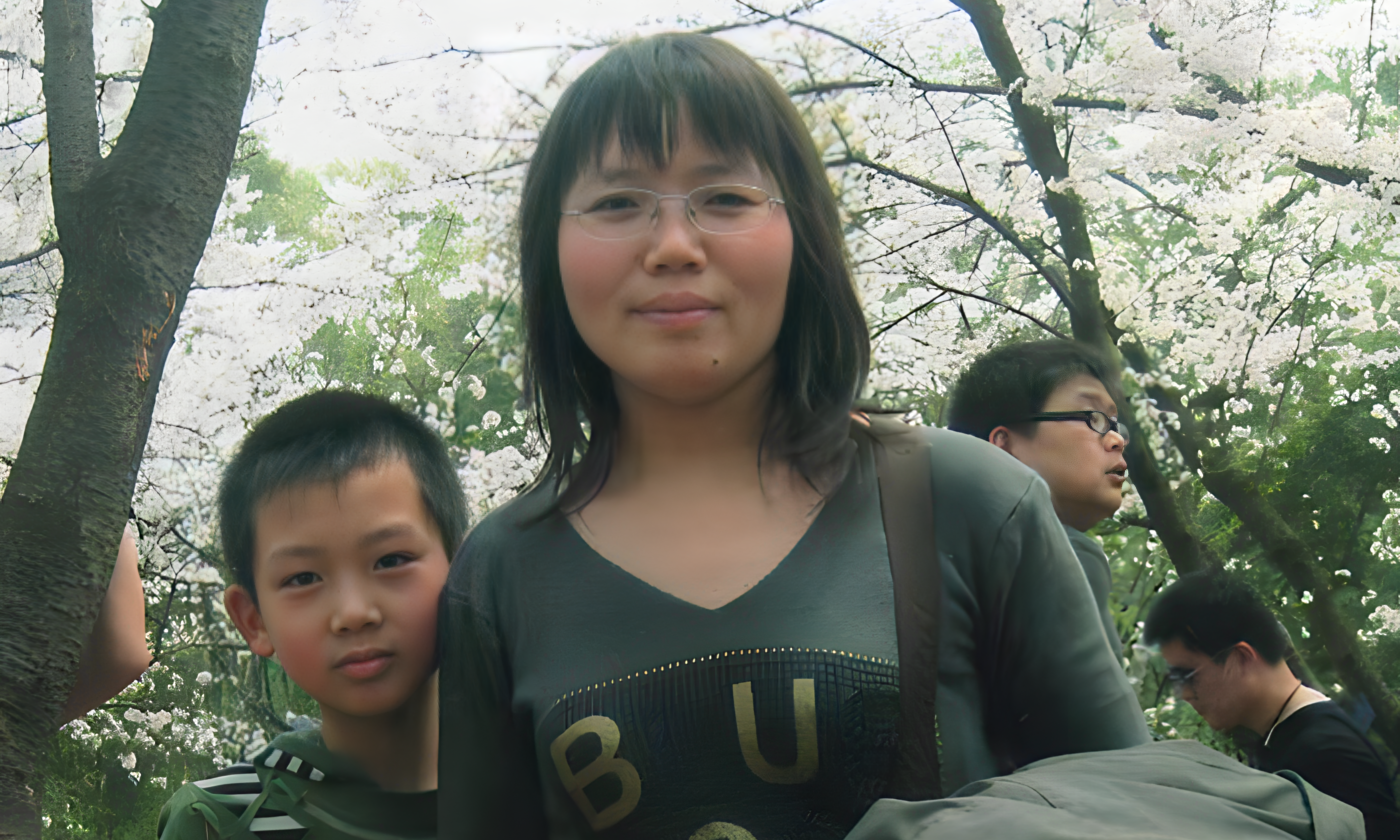 (Ms. Gong Xianghui and her son in China before her sentence.)
Ms. Gong Xianghui is a 49 year old resident of Changsha City, Hunan Province. She was sentenced to prison for three years and four months for practicing Falun Gong by the Liuyang City Court on December 7, 2021. In July 2022, Gong was transferred to the Hunan Province Women's Prison for her sentence.


Prior to this, Gong had been arrested at least six times and held at a brainwashing center for nearly three years, lost three jobs, and was tortured while 6 months pregnant and forced to have an abortion by local CCP officials.


In November and December 2020, authorities forced her husband Lu to provide information regarding other practitioners of Falun Gong with threats of arresting his son or beating him to death. Due to the harassment, Lu fell ill and became bedridden. Now, Gong's husband relies on his parents, who are in their 80s, to take care of him.
FORCED ORGAN HARVESTING
Canadian MPs Pass Bill S-223 to Stop Forced Organ Harvesting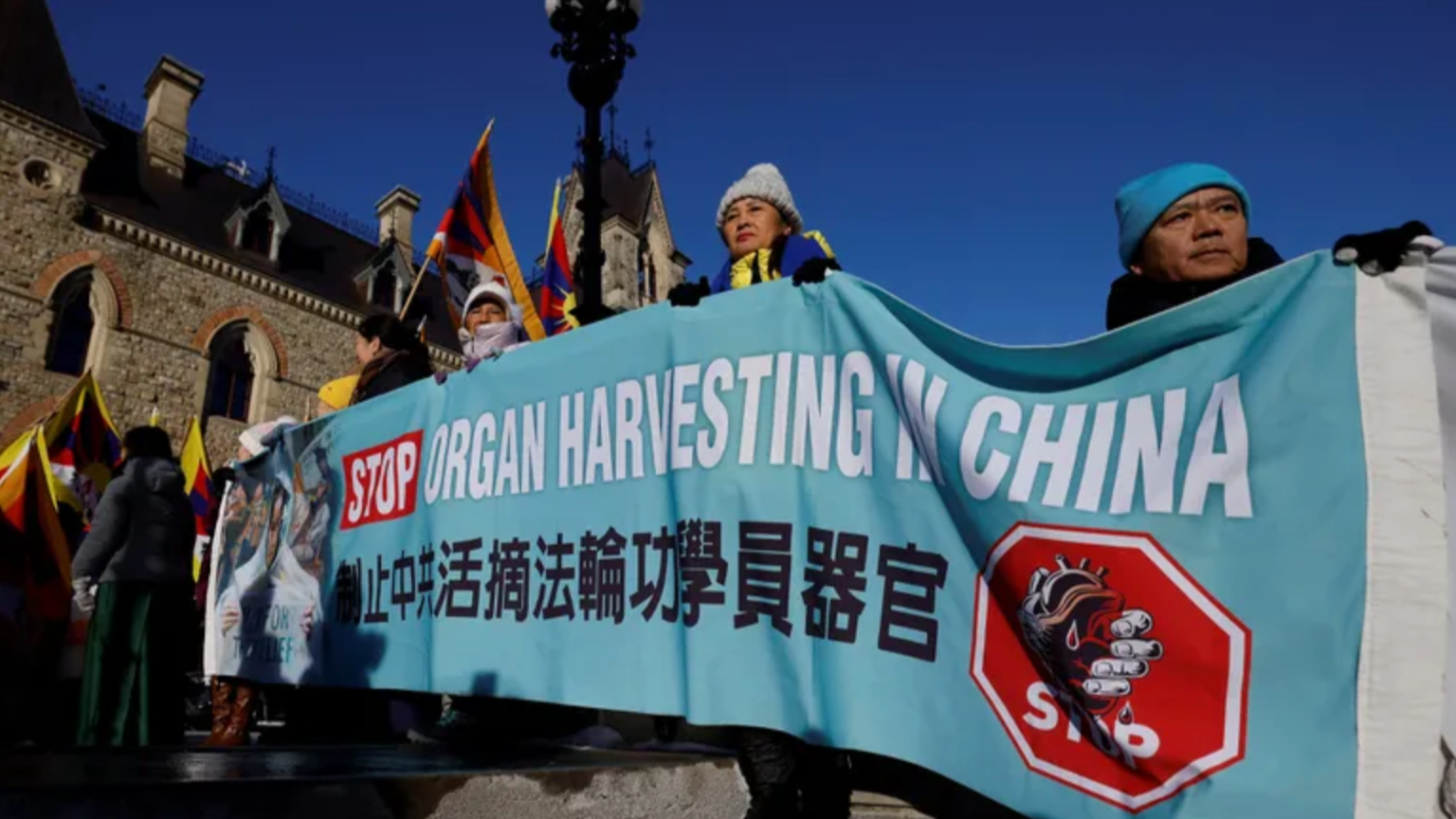 (Falun Gong practitioners rally against alleged organ harvesting in China outside West Block on Parliament Hill in Ottawa.)
On December 14, MPs in Ottawa passed legislation to take measures against forced organ harvesting, addressing the concerns of UN experts in 2021 levelled against China's live organ harvest evidence.

Bill S-223, also called the Trafficking in Human Organs Act, blocks foreigners from entering Canada if they are involved in organ trafficking and "bans Canadians from travelling abroad to receive an organ transplant without the informed consent of a donor or someone authorized to give consent. It would make it illegal for Canadians to play any role in unauthorized organ transplants – with a maximum penalty of 14 years in prison."

Former Justice Minister and Attorney General Irwin Cotler lauded the passage of this legislation, saying the "abhorrent practice of organ harvesting has targeted the most vulnerable" in China, including prisoners of conscience like Falun Gong practitioners.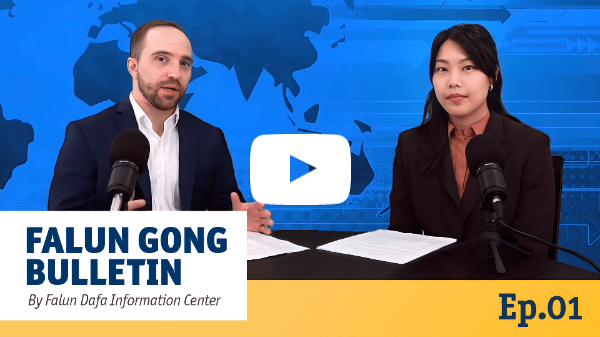 Falun Gong Bulletin Episode 01
2022 CECC Report, Organ Harvesting Summit, China's Unsung Hero

In episode 1, the Falun Gong Bulletin covered 2 news updates: the 2022 CECC Annual Report that just came out and what it means for the Falun Gong community, and a nurses Summit that happened to help stop forced organ harvesting in China.

The feature story is a deep dive about a heroic Chinese citizen nicknamed Big Truck who helped to pull off one of the most courageous acts in modern Chinese history.