Reported Sentencings of 96 Falun Gong Practitioners in May 2021
Based on original reports from Minghui.org
In May 2021, 96 Falun Gong practitioners were reported sentenced for their faith. The reported cases include 22 cases from May 2021, 32 cases from April 2021, 37 cases from 2020, 2 cases from January 2021, one case from 2019, as well as 2 cases from 2021 with unknown months of occurrence.
Delays in reporting are due to strict information censorship in China.
In the past five months, a total of 592 new cases of sentencing have been reported, including 325 in 2021, 266 in 2020, and 1 in 2019. The confirmed sentencings for 2020 and 2019 now number 888 and 775 respectively.
The sentenced practitioners come from 41 cities in 21 provinces and municipalities. Henan registered the most cases with 31. Heilongjiang ranked second with ten cases. The remaining regions reported single-digit cases.
Large group arrests and sentencings were reported in Henan, with 26 of the 31 practitioners sentenced following a mass arrest in 2019, and 14 practitioners sentenced to two to nine years in March 2021. Smaller scaled group sentencings were reported in Heilongjiang, Shanxi, and Ningxia.
Except for 3 unknown prison terms and 11 practitioners who were given probation, the remaining 82 practitioners received between 6 months and 13 years in prison. The average term was 3 years and 10 months.
Several of the practitioners were secretly sentenced and their families were kept in the dark of their detention location and details of their trial.
Thirteen of the 96 practitioners were also 65 or older, with 2 of them being 81 and one of them ordered to serve 9 years. A 79-year-old man was sentenced to 8.5 years.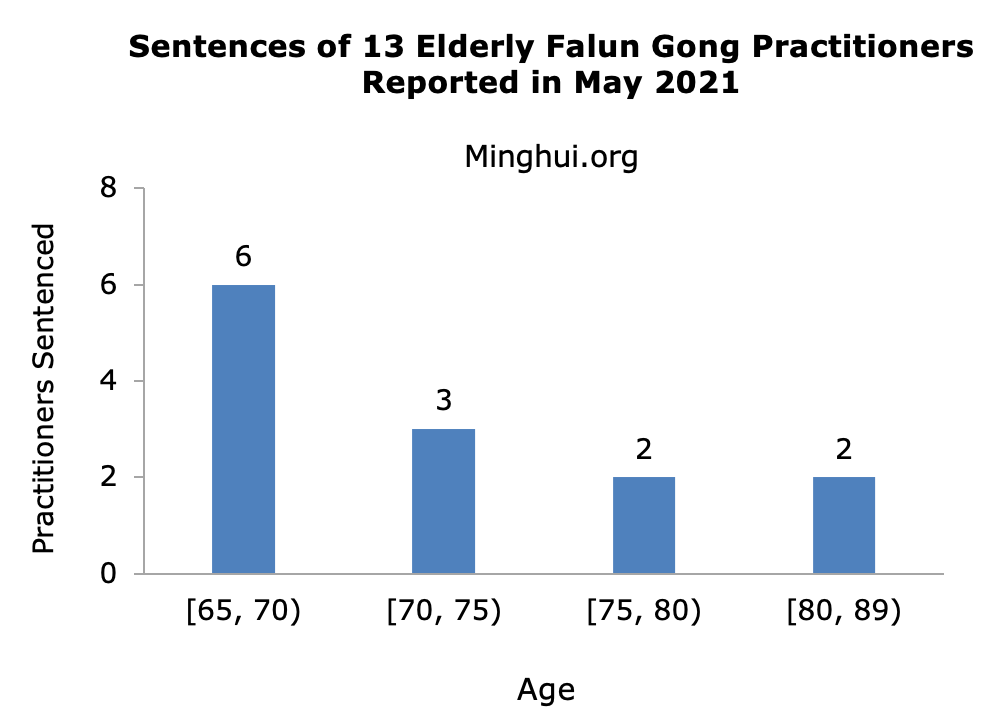 Half of the 96 practitioners were given also court fines between 900 to 50,000 yuan, with a total of 690,900 yuan and an average of 14,394 yuan.
Below are snapshots of the reported cases.
Senior Engineer Sentenced to Four Years Again after Serving 11 Years in Prison
Ms. Yu Minghui fears again for her parents' safety as her 63-year-old mother has been sentenced to four years in prison for practicing Falun Gong.
Since the Chinese communist regime began its persecution of Falun Gong in 1999, Yu's family of three in Mudanjiang City, Heilongjiang Province has spent less than two years together. Her father was arrested in 2001 and sentenced to 15 years. Her mother was arrested in 2003 and sentenced to 11 years.
As a teenager, Yu struggled to grow up by herself. After being admitted to Cambridge School of Visual & Performing Arts in 2010 to study fashion design, she moved to the U.K. and has not been able to return to China since.
When her father was released in 2016, two years after her mother, they applied for passports to travel to the UK to visit Yu. However, the authorities not only rejected their applications but also informed them that they would never be able to have a passport because of their faith.
Yu's mother, Ms. Wang Meihong, a geological engineer, was arrested again on March 31, 2020, for talking to people about Falun Gong. After a year of detention, she was sentenced to a four-year prison term around early May 2021 and has been admitted to Heilongjiang Women's Prison to serve time.
Arrested in a Police Sweep, Sichuan Couple Each Sentenced to Eight Years
A couple in Chengdu City, Sichuan Province, was sentenced to eight years in prison on April 27, 2021, for their shared faith in Falun Gong.
Mr. Liu Wei and Ms. Ai Chaoyu were arrested in a police sweep on July 10, 2019. The police kept the couple at the Pi County Detention Center and approved their arrests on August 17, 2019. To frame the couple, the police attempted to extract confessions from them by using violence and threatened them with the safety of their family and children.
The Chenghua District Procuratorate indicted the couple on April 3, 2020. Their lawyer visited them at the detention center on April 18. Due to the pandemic, the detention center only allowed the lawyer to talk to the couple through a video conference and limited the meeting to 20 minutes.
Eleven months later, on March 9, 2021, the couple was tried through a video conference at the detention center. After a second hearing on March 30, the judge sentenced both to eight years on April 27. They are currently appealing the verdicts.
For upholding her faith in the face of the persecution, Ai has been subjected to constant harassment and monitoring of her daily life. Continued police harassment has forced her to live away from home several times to avoid persecution.
Jilin Lawyer Sentenced to Seven Years, Wife Awaits Verdict
Mr. Du Jingyi, a lawyer in Changchun City, Jilin Province, recently had his appeal against a seven-year prison sentence for his faith in Falun Gong rejected. His wife, who was arrested a year after him, is awaiting a verdict following a court hearing in December 2020.
Du, in his 60s, was arrested at 6 a.m. on September 9, 2019. The officers took his keys and ransacked his home. Du's wife, Ms. Cui Yuqiu, and their daughter, Ms. Du Xin, were also arrested but were released at around 11 p.m. that day.
Du was held at the Yihelu Police Station overnight and transferred to the Changchun City No. 2 Detention Center the next day.
Two days after Du's first hearing by the Chaoyang District Court on July 13, 2020, the police broke into his home and rearrested his wife and daughter. While Ms. Du was released after 13 days of detention, Cui remained detained at the Changchun City No. 4 Detention Center.
During Du's second hearing on September 28, the judge barred his daughter and relatives from attending the hearing. Du was sentenced to seven years around early May 2021. His family was not informed of his verdict. He appealed to the Changchun City Intermediate Court, but it ruled to uphold his original verdict.
On December 10, 2020, Du's family received a notice from the Chaoyang District Court that Cui was scheduled to appear in court the next day. The judge forbade the family from attending the hearing, saying the case was very special.
Anhui Woman Sentenced for Sharing Story of Her Recovery after Being Bedridden for 11 Years
After her twin daughters were born when she was 32, Ms. Kang Qihui developed pelvic congestion syndrome and was bedridden for the next 11 years. She visited hospitals, tried Chinese medicine, as well as different qigong schools, but nothing worked.
Kang later learned about Falun Gong and miraculously recovered after practicing. Deeply grateful to Falun Gong for giving her a new life, Kang was eager to tell more people about its health benefits. In her spare time, she talked about the practice to others and distributed information about Falun Gong.
On April 23, 2020, Kang was reported and arrested. Her home was ransacked, and the police confiscated her Falun Gong books, informational materials, computer, printer, and laminator. She was then put in criminal detention in Hefei City Women's Detention Center after interrogation at the police station.
The police submitted Kang's case to the Shushan District Procuratorate in July 2020, which indicted her and forwarded her case to the Shushan District Court.
Kang's two lawyers entered a not guilty plea for her and refuted the charge of "undermining law enforcement with a cult organization," a standard pretext used by the authorities to frame and imprison Falun Gong practitioners.
The lawyers pointed out that no law has ever criminalized Falun Gong in China, nor has any law labeled it as a cult. When the lawyers presented a copy of a Chinese Publication Bureau notice issued in 2011, which revoked the ban on Falun Gong books, the prosecutor was shocked [by the information].
The judge, however, still sentenced Kang to 4.5 years with an 8,000-yuan fine. She appealed the verdict, but the higher court ruled to uphold her original sentence without a hearing. She has since been incarcerated at the Anhui Province Women's Prison.
Articles:
https://en.minghui.org/html/articles/2021/6/10/193639.html