Reported in July and August 2022: 1,850 Falun Gong Practitioners Arrested or Harassed for Their Faith
Another 1,850 incidents of Falun Gong practitioners being arrested or harassed for their faith were confirmed in July and August 2022.
Falun Gong, also known as Falun Dafa, is a spiritual discipline that has been persecuted by the Chinese Communist Party (CCP) since 1999. Countless practitioners have been arrested, harassed, sentenced, and tortured for upholding their faith. But due to strict information censorship in China, the incidents can't always be reported in a timely manner, nor is all the information readily available.
Out of the 1,850 newly reported incidents, 1,043 were arrests and 807 were harassment cases. The majority of the cases took place during the reporting period while some cases were from 2021 or earlier in 2022.
The actual number of arrest and harassment cases in July and August 2022 are certain to be higher than the currently reported figures (805 and 645 respectively), as new information comes in with more cases reported and confirmed. Even at the current figures, the average number of arrests and harassment in these two months double the averages for the previous six months. These increases are believed to reflect an attempt to prevent Falun Gong practitioners from speaking out about the persecution ahead of the upcoming 20th National Party Congress of the CCP set for mid-October.
The newly reported persecution cases took place across China with Heilongjiang (394), Shandong (230) and Jilin (227) reporting the most combined cases of arrests and harassment. Hebei, Sichuan, Liaoning and Beijing also reported triple-digit cases.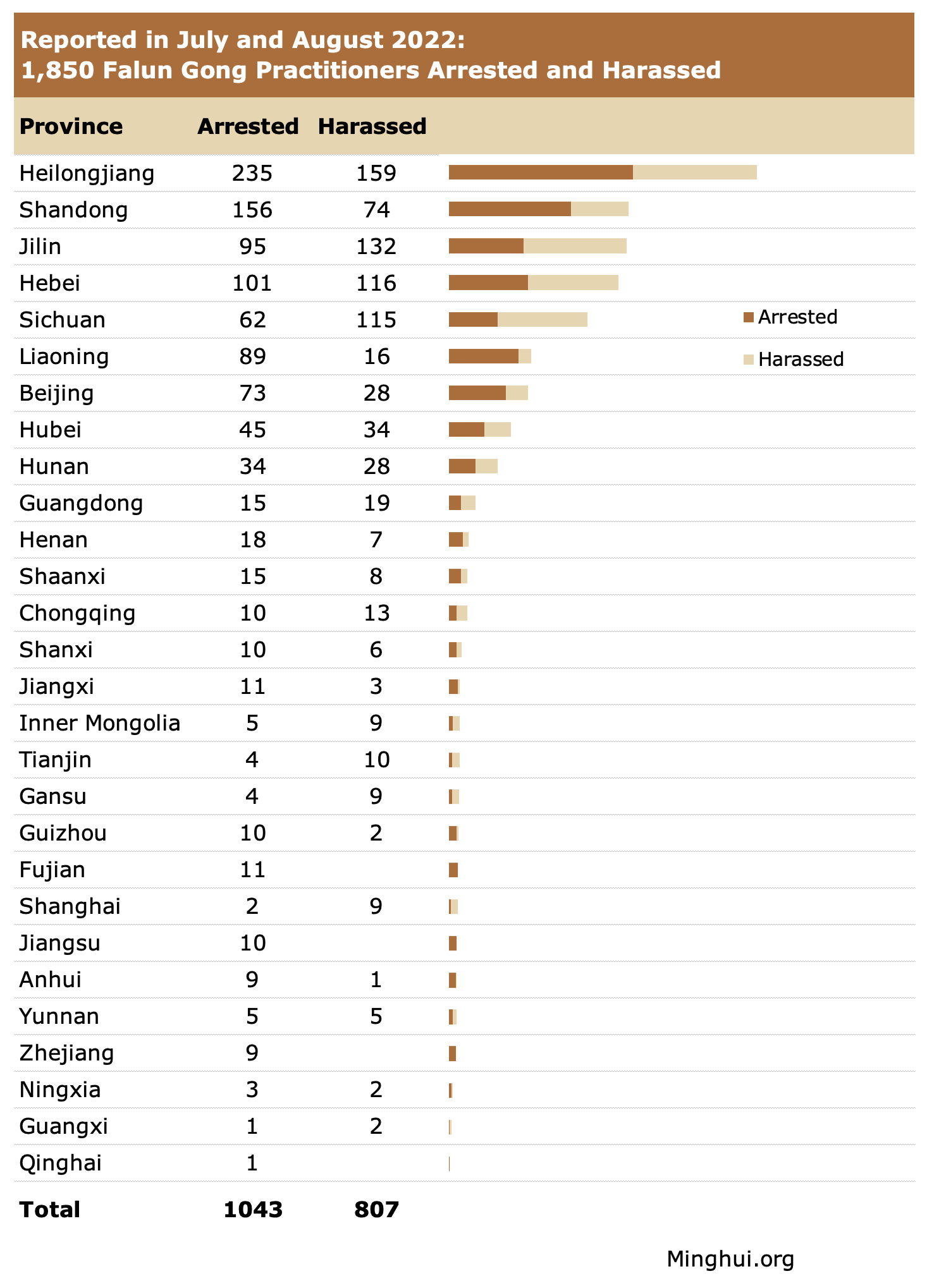 Local Political and Legal Affairs Committees harassed many practitioners by ordering them to sign statements promising not to believe in Falun Gong, not to promote Falun Gong, and not to oppose the CCP.
The targeted practitioners came from all walks of life, including former government employees, professors, company managers, teachers, doctors, engineers and accountants. One hundred and thirty-eight (13.1%) of the arrested practitioners were 60 or older, including 19 in their 80s and one 98-year-old woman.
A total of 614 practitioners had their homes ransacked. Forty-eight of these practitioners had a total of 611,727 yuan in cash confiscated from them, including 373,000 yuan from one practitioner who had taken the money out of the bank to help her child buy a house. Fourteen elderly practitioners also had their pensions suspended.
Police violence grew more intense in these two months. A 70-year-old retired human resources director in Henan Province died just one day after he was arrested on July 18. A photography studio owner was tied to a metal chair and tortured for three days. A former college lecturer was sexually assaulted by a group of police and a man who was brought in specifically to torture her.
Young children weren't spared from the persecution either. A two-year-old boy was interrogated and another nine-year-old girl witnessed the police raid of her home and was also interrogated following her grandmother's arrest.
Below are a few example cases from this reporting period:
Group Arrests and Harassment Prior to the 20th National Congress
Since July 2022, several group arrests took place in Beijing, Heilongjiang, Liaoning, Hebei and Sichuan. Many police revealed that the order came from above and the goal was to maintain social stability prior to the Party Congress.
Fourteen Daqing City, Heilongjiang Province residents, including a 98-year-old woman, were arrested on July 12, 2022. Between July 11 and 12, another 20 practitioners in four more cities across Heilongjiang Province were also arrested, per an order from the Heilongjiang 610 Office.
According to the officers who participated in the arrests, they received a name list from the provincial-level officials. The authorities monitored and videotaped the practitioners for nine months. They further enhanced the monitoring of the practitioners' daily activities one week before the arrests.
On July 13 and 18, two more group arrests of ten and nine practitioners took place in Benxi City, Liaoning Province and Handan City, Hebei Province, respectively.
In Wanyuan City, Sichuan Province, the Political and Legal Affairs Committee (PLAC) launched a new round of brainwashing sessions targeting local Falun Gong practitioners. In this campaign, two officers from different levels of the PLAC were paired up to work on each individual practitioner. The practitioner's local street committee and some of his or her family members were also ordered to be present to assist in the brainwashing.
In Chengdu City, Sichuan Province, the 610 Office and PLAC also organized the local police and residential committee staff members to harass the practitioners.
The officers often came in groups and ordered the practitioners to write statements promising not to believe in Falun Gong, not to promote Falun Gong, and not to oppose the Chinese Communist Party.
If the practitioners refused to comply, the officers would forcibly take the practitioners fingerprints. Many practitioners reported bruised arms and hands from the violent force. The officers threatened to retaliate against them if the practitioners reported the harassment to Minghui.org. Some practitioners' family members were also forced to join the officers to persuade their loved ones.
In some cases, the officers deceived the practitioners to write things good about Falun Gong. Then they photoshopped the documents and moved the practitioners' signatures to a renouncing statement. Sometimes they showed the doctored statements to other practitioners to shake their will, saying "So-and-so has signed it, why don't you?"
Former College Professor Sexually Assaulted by a Torture Expert
Ms. Jiang Yongqin, a 53-year-old former university professor in Jilin City, Jilin Province, was arrested at home on June 12. After a month of detention, she was brought to a secret facility with her head covered and ears plugged around July 7.
Four men handcuffed Ms. Jiang and demanded to know the password to her hard drive. She refused to answer. The police then force-fed wasabi water into her nose and then inserted lit cigarettes into her nose. As they were inserting the cigarette, it broke. The police left half of the cigarette in her nasal cavity, which she eventually coughed out.
After the first round of torture, the police then began to sexually assault her. They lifted her shirt. A torture expert then ordered the police to touch her chest. The expert then used a special massager to stimulate her chest.
Next, the expert forced Ms. Jiang to take off her pants. When her pants were halfway down, the police found she was menstruating. The expert claimed that the torture had the best effect during menstruation and ordered the police to continue. Ms. Jiang almost collapsed and was in deep despair. She gave in and was forced to cooperate with the police in the interrogation.
Before the expert left, he threatened that if Ms. Jiang didn't cooperate with them, he would go through things in his "torture toolbox" every day, which had toothpicks, strange instruments, drug bottles, and electrical wires. He added that he was usually conservative in torturing regular suspects with the "toolbox," but when it came to Falun Gong practitioners, he was given free rein.
Two-year-old Boy Interrogated for Grandmother's Spiritual Belief
Ms. Wang Yanhua, a 55-year-old native of Hulunbuir City, Inner Mongolia, has been living with her daughter in Sanhe City, Hebei Province, in recent years. Because her ID has been flagged for practicing Falun Gong, she has been subjected to constant harassment while traveling. The police in Hulunbuir even instructed their counterparts in Sanhe to harass Ms. Wang at her daughter's home. During the harassment, her grandchildren, aged 2 and 3, weren't spared.
Ms. Wang and her husband boarded a train back to Hulunbuir from Sanhe with their two-year-old grandson on the evening of September 30, 2021. As she swiped her ID while exiting the train station the next morning, four security guards stopped her and took her to a room for a body search.
When Ms. Wang refused to answer their question about whether she still practiced Falun Gong, one officer pulled her two-year-old grandson aside and asked him, "Is your grandma still practicing Falun Gong? Where does she practice it? Where does she keep her Falun Gong stuff?"
The little boy was so scared that he froze and couldn't utter a word. His face was pale. The officers only stopped interrogating the boy when Ms. Wang threatened to take legal action against them for harassing the child.
Almost a year later, at 8 p.m. on July 4, 2022, two masked officers broke into the home of Ms. Wang's daughter in Sanhe.
While taking Ms. Wang's photo, an officer also turned the camera to her three-year-old granddaughter. The little girl was trembling with fear and was traumatized from the incident.
Based on an original report by Minghui.org