Ms. Helen Chen
Letter from Minnesota Senators Freed this Chinese Prisoner of Conscience
By Friends of Falun Gong | Jun 08, 2017
If you've ever doubted whether your support can help Chinese prisoners of conscience, this woman is living proof that you truly can,
Helen Chen, 70, never imagined that she'd be living in Northeast Minneapolis. At one point, she didn't even expect to live past 50.
"My health had been poor, and I had tried doctors, scholars, experts, professors, folk doctors, folk remedies… but nothing worked. Eventually, someone introduced qigong to me, and I practiced for over a decade in different qigong schools and even followed some qigong masters, but I still wasn't healthy. I would collapse on the bed just from doing chores. My husband had to do the chores for me."
After years of trying to improve her health, she eventually gave up.
Then on March 10th, 1996, a young man chased after her in the supermarket to tell her about a new qigong practice called Falun Dafa. "I told him I had stopped practicing qigong. He said, 'Just try it. If you feel it's good, then do it. If you don't like it, then don't do it. There's no obligation.'"
She decided to give it a try the next day. "March 11th was the turning point of my life. It was the day my life was saved. I had already prepared my will by then. I was really ready to die."
After taking up the practice, Helen's health improved dramatically, and she found answers to many of her life's questions. "I truly had been searching for so many years. I would never give it up, never. All I knew was this is good, good, good. I can't say anything else. I could help my husband do laundry, do chores, and I could walk around easily. I destroyed my will. I was so happy."
Persecuted for Practicing Falun Dafa
By 1999 Falun Dafa had become the most popular qigong practice in China, with 70–100 million people practicing. The Chinese Communist Party's (CCP) decision to eradicate the practice was shocking to practitioners like Ms. Chen who had experienced amazing health transformations firsthand.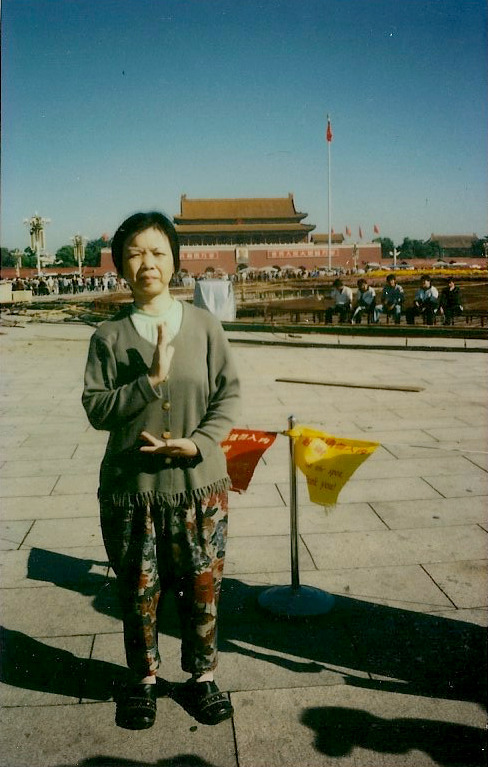 "On July 22, 1999, we were watching the nightly news on TV. It was full of propaganda against Falun Gong. We were all frozen. We were saying, 'President Jiang must have heard a false report! It's such a good practice!' We couldn't figure out what the government was doing. We couldn't understand the sudden persecution against us. What the TV was saying was totally different from reality. None of us practitioners believed it (the propaganda)."
Initially, they didn't know what to do, but gradually some practitioners started making flyers and distributing them to people who had been misled by the propaganda. Ms. Chen even wrote to Jiang Zemin telling him that Falun Gong is a good practice and that he should stop the persecution.
Standing up for their beliefs resulted in illegal prison sentences for many practitioners.
For decades I had been a civil person, never having to interact with the police or Public Security Bureau. But because I was trying to be a good person by practicing qigong, I was endlessly harassed, cheated, kidnapped, sentenced to prison, brainwashed, and forced into homelessness by the Public Security Bureau and the 610 Office.
Ms. Chen recounted, "I was kidnapped seven times, and almost every time I was misled by some official business, some question that needed to be asked, or it was about social security insurance. But not long after I walked out the door, I would be kidnapped."
Ms. Chen spent three years in the Wuhan Women's Prison, where she endured slave labor, torture, and medical exams.
"In the summer, all Falun Gong practitioners in the prison got blood tested. The doctors said Falun Gong practitioners' blood was good. At that time we didn't know it was a blood test for our organs. I heard about it after I came out of prison and saw reports. I was scared and couldn't believe it."
Rescue to Minnesota
While Helen was imprisoned, her son (who was already living in the U.S.) worked with Minnesota Senators and local Falun Gong practitioners to facilitate her release from the Wuhan Women's Prison. Then-Senators Lawrence Pogemiller, Linda Berglin, Linda Higgins, Wes Skoglund, Jane Ranum, and Mee Moua co-authored a letter and mailed it to the Chinese prison administrators. Former U.S. Senator Mark Dayton (currently Governor Dayton) even contacted then-Secretary of State Colin Powell for support.
Although Minnesota legislators have no legal clout in China, their letter of support was enough to pressure the prison to release her — which possibly saved her life.
Ms. Chen escaped to Thailand after her release, where the United Nations granted her refugee status. She is now reunited with her son and his family in Minnesota.
Helen hopes that people can continue their support so that more practitioners can be saved like she was.
"I ask the Minnesota government, legislators, and residents to continue to watch and condemn the organ harvesting of Falun Gong practitioners and other prisoners of conscience. Please extend your righteous help to stop the organ harvesting."