40 Falun Gong Practitioners Persecuted to Death, 5,313 Targeted in First Half of 2020
(Minghui.org) Forty Falun Gong practitioners were persecuted to death for their faith in China in the first half of 2020.
Falun Gong, also known as Falun Dafa, is a traditional spiritual discipline based on the principles of Truthfulness, Compassion, and Forbearance. It has been persecuted by the Chinese Communist Party (CCP) since 1999.
The 40 lost lives add to a growing list of Falun Gong practitioners who have been persecuted to death for upholding their faith. To date, more than 4,500 unnatural deaths of Falun Gong practitioners have been confirmed and documented on minghui.org. Due to the information blockade in China and the danger that the practitioners' families face in exposing the persecution, the actual death toll is expected to be much higher.
The 40 newly-deceased practitioners, 22 of them women, came from 14 provinces and centrally-controlled municipalities. Liaoning Province alone accounted for 35% of the deaths (14), while the other regions had between 1 and 4 cases. Sixteen of the practitioners died while in custody, including 6 in Liaoning (37.5%).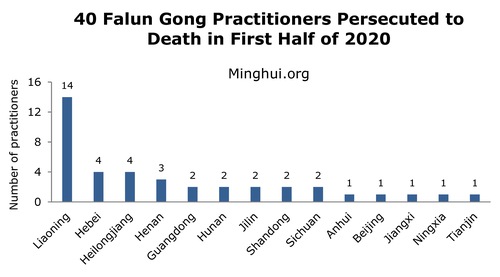 Three of the 40 practitioners' ages remain unknown, while the rest were 46 to 84, with an average age of 64.
January registered four deaths; February and May nine each; and March, April, and June each reported six deaths.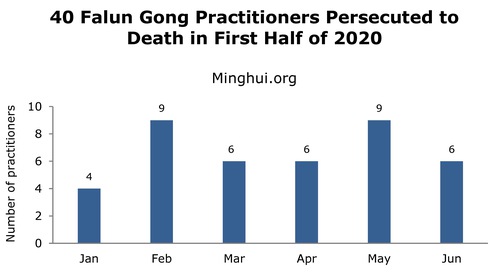 The 40 men and women came from all walks of life, including an aircraft engineer, an accountant, a music teacher, a retired elementary school principal, and a physician.
Some died in prison after suffering long term torture; others passed away after the prison denied them medical treatment or medical parole despite their critical condition; and others perished only months after they were released on medical parole.
In particular, one Henan woman who was arrested on May 13 died four days after her arrest, while a Hebei woman died on the day of her arrest on June 18.
While some survived the torture in custody, their health declined after living in fear for years or had to be on the run constantly to hide from the police.
Some practitioners weren't the only members of their families who succumbed to the persecution. A Liaoning man died three years after his wife was tortured to death in custody 13 days following her arrest. A Heilongjiang man passed away after his mother, sister, and wife all lost their lives to the persecution, leaving behind his nearly 90-year-old father.
Twenty-seven of the deaths have already been detailed in previous reports. Below are the details of 13 newly confirmed cases. A full list of the 40 deceased practitioners can be downloaded here.
Read more details about the 40 practitioners who lost their lives in the original article: https://en.minghui.org/html/articles/2020/7/20/185953.html
5,313 Falun Gong Practitioners Targeted for Their Faith in First Half of 2020
Despite the coronavirus pandemic, the Chinese Communist Party (CCP) intensified the persecution of Falun Gong in the first half of 2020, which recorded 2,654 practitioners being arrested and 2,659 harassed for their faith. Among these practitioners, 1,687 had their homes ransacked. At the time of writing, 1,246 (47%) of the arrested practitioners remain in custody.
Falun Gong, also known as Falun Dafa, is a traditional spiritual discipline based on the principles of Truthfulness, Compassion, and Forbearance. It has been persecuted by the Chinese Communist Party (CCP) since 1999.
Although most provinces in China were locked down in the early months of 2020, there were more practitioners harassed each month in 2020 than the in same period in 2019. There were also more practitioners arrested in February, March, May and June 2020 compared to last year.
The arrests directly led to the deaths of three practitioners, including a 68-year-old woman who died in custody on the day of her arrest, another woman who died four days after her arrest, and a third woman who died in early July after she was beaten for hours after her arrest in late June.
Many elderly practitioners were also targeted. More specifically, 540 (10.1%) of the 5,313 targeted practitioners were 65 or older, including 116 between 65 and 70, 278 in their 70s, 140 in their 80s, and 6 in their 90s.
The targeted practitioners come from all walks of life and include college professors, teachers, computer experts, accountants, engineers, doctors, retired military officers, bank managers, and small business owners.
Some of the practitioners have been repeatedly persecuted in the past two decades. A former teacher in Sichuan Province served 15 years and a Beijing man was incarcerated for 14 years before they were arrested again this year. One software engineer was arrested again seven months after he finished serving five years. A woman in Jiangxi Province was still harassed after she finished serving two years. The police ordered her to report to them every month and write thoughts reports. They also took her fingerprints and recorded some of her personal information, including the size of her shoes.
Due to the strict censorship in China, the number of Falun Gong practitioners persecuted for their faith can't always be reported in a timely manner, nor is all the information readily available.
Targeted in the Pandemic
As many practitioners stepped up their efforts to expose how the CCP has been using similar cover-up tactics from the persecution of Falun Gong to handle the coronavirus outbreak, they were met with retaliation by the authorities.
One woman in Hunan Province was forced to live away from home after the authorities found she put up posters with QR codes that could connect to overseas websites with uncensored information about the pandemic. A physician in Ningxia Province was arrested twice, first in March and then in June, for handing out informational materials. Even a nine-year-old girl in Hubei Province wasn't spared of harassment after the police found her putting up information in her neighborhood.
One woman in Guangxi Province who was arrested on February 5 in the middle of the night by officers who claimed they needed to take her and her husband's temperature has been held incommunicado for 3.5 months. Her family is very worried about her health.
Persecution Before Sensitive Dates
The CCP intensified its persecution of Falun Gong before sensitive dates, such as the biggest political meetings (known as the "Two Sessions") in Beijing––the National People's Congress and the Chinese People's Political Consultative Conference––that were postponed from March to May, and two sensitive dates (April 25, the anniversary of a peaceful 10,000-practitioner appeal, and May 13, the anniversary of Falun Gong's public introduction).
Since April, police in Beijing have ransacked many practitioners' homes, interrogated them, and forced them to fill out questionnaires about whether they still practiced Falun Gong or if they'd signed any statements to renounce their faith before.
Because local detention centers have refused to admit practitioners due to the pandemic, most of the practitioners have been released on bail. Some were forced to leave Beijing and not allowed to return before the end of the "Two Sessions."
Outside of Beijing, the authorities in the provinces of Shandong and Heilongjiang posted a 1,000-yuan reward for people who reported a Falun Gong practitioner and 5,000 yuan for each officer who arrested one.
A Xinjiang Province resident in her late 80s was arrested prior to the CCP's meetings and has been detained incommunicado since.
An 84-year-old woman in Shanghai was monitored around the clock days before the anniversary of the April 25 Appeal.
In Xi County, Shanxi Province, the police arrested more than 100 practitioners on May 17, 2020, which came only days after Xi Jinping's visit to Taiyuan City in the same province on May 11 and 12.
Persecution Ordered by the PLAC and 610 Office
The 5,313 practitioners targeted in the first half of 2020 are from 28 provinces and municipalities. Hebei, Shandong, Liaoning, Heilongjiang, and Sichuan are the top five provinces with the most practitioners targeted.
The authorities in several provinces, including Shandong, Jiangxi, Hebei, Liaoning, Guizhou, and Jilin, harassed practitioners on a large scale and held brainwashing sessions.
In Cangzhou City, Hebei Province, the Political and Legal Affairs Committee (PLAC) issued a seven-page classified document about a new campaign. The PLAC, an extrajudicial agency given the power to override law enforcement and judiciary agencies in China, has been responsible for orchestrating and executing the persecution policies against Falun Gong.
A June 15 deadline was given for the authorities to find venues for the brainwashing classes. Religious leaders, psychological counselors, and former practitioners of Falun Gong who quit the practice under pressure were recruited as speakers.
In Jilin Province, the PLAC ordered new rounds of persecution, resulting in six practitioners being arrested and more than 60 harassed between March and April.
This large-scale brainwashing and harassment campaign is part of a new "zero-out campaign" to force the practitioners to renounce their faith.
It was reported that the PLAC in Guizhou issued an order to completely "transform" all practitioners between 2020 and 2023. The order was based on Document No. 101 released by the central PLAC in Beijing, titled "On the Issue of Reducing the Number of Falun Gong Practitioners."
In most instances, the police and residential committee members called or visited the practitioners in person. If the practitioners refused to sign the prepared statements to renounce Falun Gong, the officials threatened to send them to brainwashing centers or threatened to prevent their children from finding jobs or going to college. In Liaoning Province, the officials also threatened to take back government-assigned farmlands from some practitioners who are farmers. Those who practiced Falun Gong before but gave up due to the persecution were also harassed.
In addition to the PLAC, the 610 Office, a Gestapo-like organization established on June 10, 1999, specifically to suppress Falun Gong, still plays a critical role in the persecution, even as the CCP announced its dissolution in 2018.
Zhao Leji, secretary of the CCP Central Commission for Discipline Inspection, recently visited a city and revealed that the disbandment of the 610 Office was simply to quell criticism of the CCP's human rights violations against Falun Gong practitioners. He made it clear that the 610 Office was to continue its work after it is integrated into the public security and PLAC system.
According to information provided to Minghui.org by a staff member of the Hunan Province PLAC, one of Zhao Leji's secretaries came to Hunan in June 2020 and listened to updates provided by the Hunan PLAC about their recent progress in the persecution of Falun Gong.
Zhao's secretary also demanded to talk to Falun Gong practitioners who have been forced to renounce their faith after attending brainwashing sessions and check if they've indeed given up their faith wholeheartedly. He hinted that if the practitioners only signed the renunciation statements as a formality, then the local authorities needed to intensify the suppression.
As arranged by the Hunan PLAC, Zhao's secretary arrived in Xiangtan City on June 19, 2020. While some of the PLAC staff previously told practitioners that they could still practice Falun Gong at home as long as they didn't go out to talk to people about it, Zhao's secretary directly asked the practitioners whether they still meditated at home, a question designed to find out their real situation.
With the non-stop questions from Zhao's secretary, a male practitioner surnamed Liu suffered a mental breakdown and said he couldn't remember anything. Prior to his recent renunciation of Falun Gong, Liu had been repeatedly held in detention centers and brainwashing centers, and he had served a term of forced labor. He previously suffered a mental disorder from being tortured in custody.
Legal Procedures Violated
The police violated legal procedures at every step of the prosecution process, from arresting practitioners who were meditating at home to ransacking their homes without search warrants. Some practitioners were taken to mental hospitals for further persecution and denied family visits despite their medical conditions.
The police in Jiangsu Province stayed outside and monitored a practitioner's home for days when she went out for a short trip. They arrested her as soon as she came back on April 29. A team of officers in Xinjiang travelled nearly 2,000 miles to persecute practitioners in Hebei Province for unknown reasons. A woman's arrest was approved by an out-of-town procuratorate to fill a quota. The police in Chongqing forced other practitioners to provide false accounts in order to charge a 75-year-old man.
Financial Persecution
The CCP follows three major policies in the ersecution of Falun Gong, to "ruin their reputation, break them financially, and destroy them physically."
In addition to arresting, sentencing, and torturing practitioners, the authorities also ransack their homes, confiscate their valuables, force them out of their jobs or their children out of school, or suspend their pensions.
In the first half of 2020, police extorted or confiscated a total of 2,091,600 yuan from 42 practitioners, averaging 49,800 yuan per person. Two practitioners had more than half a million yuan taken from their homes during their arrests.
After finding a total of 14,200 yuan in cash at a Shandong woman's home, one officer appeared to be very excited and shouted, "We're having a big festival today!"
Read more details about the 5,313 practitioners who were harassed during a six-month period in the original article: https://en.minghui.org/html/articles/2020/7/17/185913.html