2,038 Falun Gong Practitioners Targeted for Their Faith in November 2020
In November 2020, at least 754 Falun Gong practitioners were arrested and 1,284 harassed for their faith, bringing the year-to-date arrest and harassment cases to 5,933 and 7,192, respectively.
Falun Gong, also known as Falun Dafa, is an ancient spiritual and meditation discipline that has been persecuted by the Chinese communist regime since 1999.
Among the 2,038 arrested and harassed practitioners, 285 had their homes ransacked. Twenty-six practitioners and their relatives had a total of 689,110 yuan confiscated by the police, ranging from 1,000 yuan to 220,000 yuan each, with an average of 10,302 yuan per person. Ms. Cui Weiwei of Changchun City, Jilin Province, was arrested on November 9, 2020, and police confiscated more than 200,000 yuan in cash and a large amount of personal belongings from her during a house raid.
A total of 144 targeted practitioners, including 64 arrested and 80 harassed, were over the age of 65, with the oldest above 90 years old. Thirty-one practitioners were in their 80s.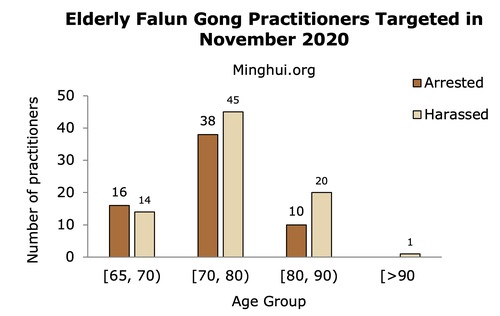 Jilin, Shandong, Heilongjiang, Hebei, and Liaoning were the top five provinces with the most practitioners arrested. Three hundred and fifteen practitioners were harassed in Hebei in the past month, followed by 176 practitioners being harassed in Heilongjiang Province.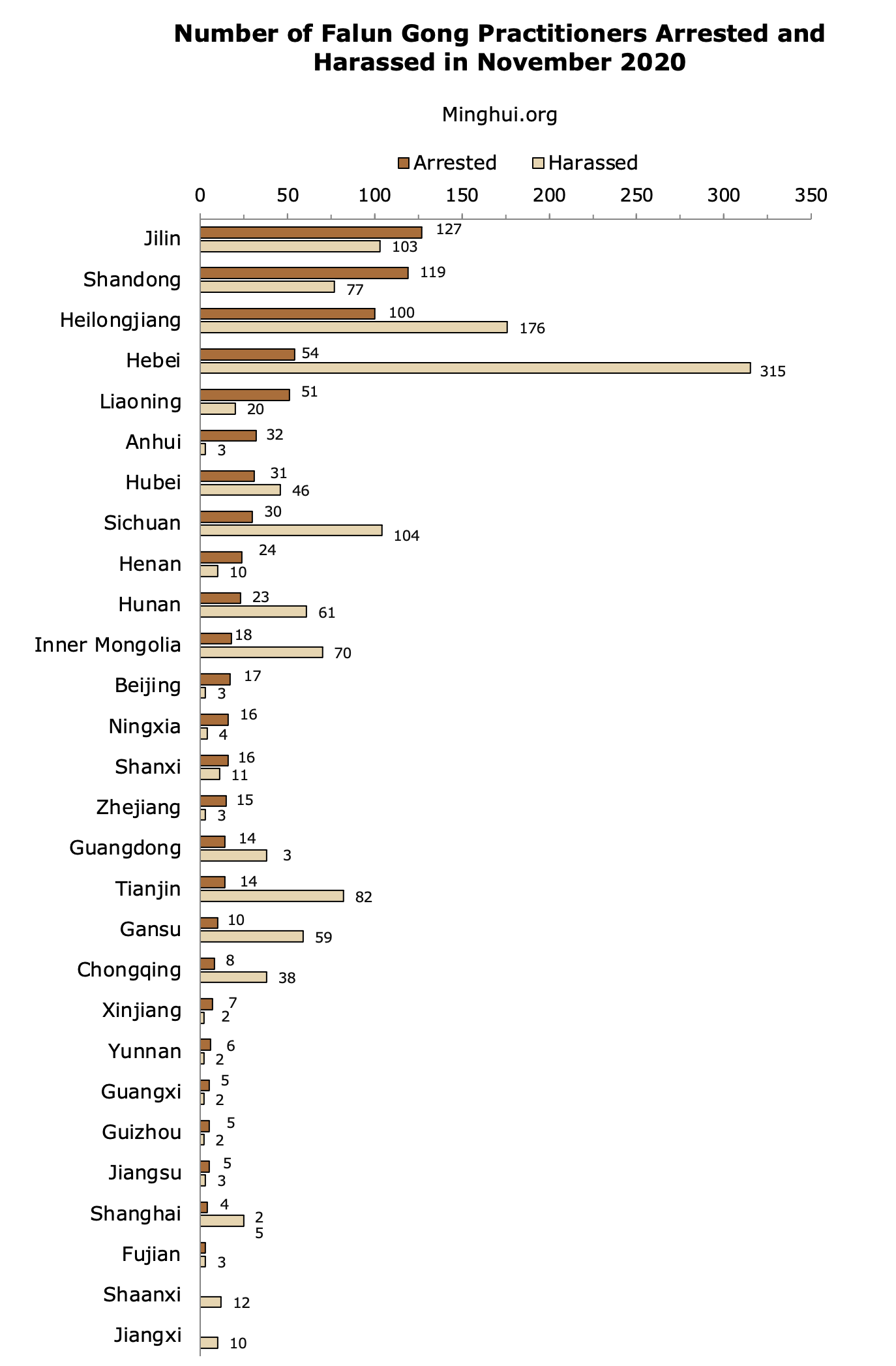 Since the Chinese Communist Party (CCP) launched its "zero-out" campaign earlier this year to try to force every Falun Gong practitioner on the government's blacklists to renounce their faith, many practitioners and their family members have been harassed by the authorities. When the practitioners refused to comply, the authorities threatened to ransack their homes or prohibit their children from attending school. An official from the Political and Legal Affairs Committee even told the practitioners directly that "the law serves the ruling class."
The authorities also conducted group and individual arrests simply because the practitioners refused to give up on practicing Falun Gong.
In Daqing City, Heilongjiang Province, 14 practitioners were arrested in two days and many of them had their homes ransacked. Their personal belongings were also confiscated.
In Baoding City, Hebei Province, a vice president of the Dawu Agriculture and Animal Husbandry Group was arrested in the middle of the night by armed officers. The police also arrested the founder of the company, some of his family members, and several other executives. The vice president was targeted for practicing Falun Gong while the founder was targeted for criticizing the CCP.
Ms. Gao Qiongxian, 81, of Kunming City, Yunnan Province, was arrested again on November 3, a week after her arrest on October 27. The police pried open her door and took her to the local detention center. After she failed the required physical exam, the police extorted 1,000 yuan from her before releasing her.
The authorities also used various methods to arrest the practitioners. In Zhuozhou City, Hebei Province, the police department spent more than 10,000 yuan to rent a two-floor residential house with the purpose of setting up a brainwashing session to persecute practitioners. When the police took the local practitioners to the brainwashing session, their family members and local neighborhood committee members were told to follow along so as to force the practitioners to renounce their faith. If the practitioners refused, their family members might be implicated.
By a Minghui correspondent.