1,187 Falun Gong Practitioners Confirmed Sentenced in 2021
In 2021, a total of 1,187 Falun Gong practitioners in China were confirmed sentenced for their faith.
The cases include 892 in 2021, 288 in 2020, and 7 in 2019. This brings the total confirmed sentencings in 2020 to 910. Due to strict information censorship, the cases cannot always be reported in a timely manner, nor is all the information readily available.
Overview
Among the 892 cases that took place in 2021, March saw the most cases (107), followed by April (98), and December (86). Other months recorded between 41 to 84 cases.
The sentenced practitioners came from 27 provinces and municipalities, with Liaoning (142), Heilongjiang (125), Jilin (109), Shandong (102), and Henan (90) as the top five provinces with sentencings. Twenty other regions had between 10 and 78 cases. Fujian and Guangxi each had one case.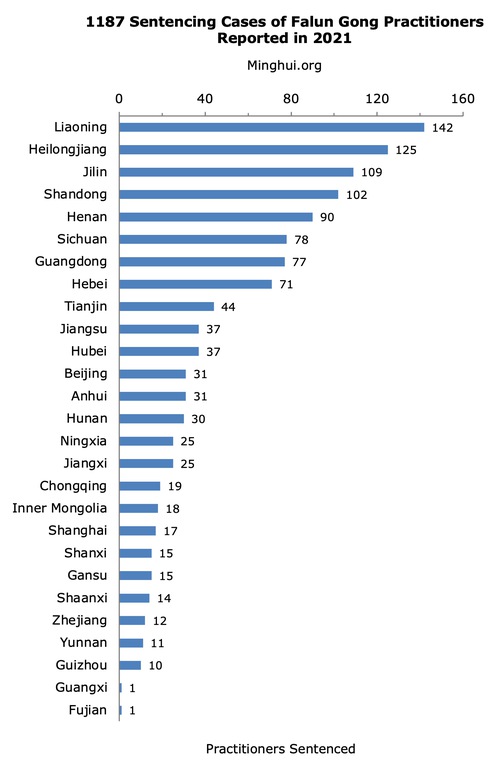 In particular, the courts in Nanyang City, Henan Province, sentenced 41 practitioners to prison. All were targets of a mass arrest of over 100 practitioners on August 30, 2019. Their prison terms ranged from 7 months to 13 years.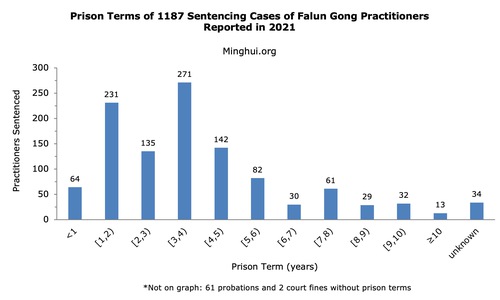 Societal Sectors
The sentenced practitioners came from all walks of life, including a former music teacher, a hotel owner, a retired doctor, a salon owner, and a boat engineer.
Among the cases include restaurant owner Mr. Yang Jianlu and math tutor Mr. Ding Guochen. Both were beloved members of their communities, known for their good character. When Yang was arrested, 415 of the villagers in his hometown, Banpu street in Hebei Province, signed an affidavit calling for his immediate release.
Except for 61 practitioners who were given probation, 34 whose terms were unknown, and another 2 who were given court fines without prison terms, the rest were given terms ranging from 3 months to 14 years, with an average of 3.5 years.A total of 448 practitioners were subjected to court fines or police extortion totaling over 6 million yuan, averaging 14,860 yuan for each person. Among them, 204 practitioners were fined 5,000 yuan or less, 106 were fined between 5,000 and 10,000 yuan, 120 were fined between 10,000 to 50,000 yuan and 18 were fined over 50,000 yuan.
Age Distribution
Among the 430 practitioners whose ages were known at the time of their sentencing, 32 were in their 80s, 122 in their 70s, 122 in their 60s, 102 in their 50s, 41 in their 40s, 9 in their 30s, 1 in his 20s, and the youngest at age 19.
The youngest practitioner was Ms. Li Hui, a freshman at Weifang Nursing School in Shandong Province. She was retaliated against by her school when she declined to get the coronavirus vaccine. Knowing that she practiced Falun Gong, her school reported her to the police and got her arrested. She was sentenced to seven months with a 5,000-yuan fine, as the police found Falun Gong materials in her dormitory room.
The oldest practitioners sentenced were 88, including Mr. Xin Yuliang who was given one year, and Mr. Xu Shujun who received three years. Mr. Xu's wife, Ms. Wang Chuanyun, 82, was also sentenced to three years. A 90-year-old woman is facing a prison sentence following a hearing on October 28, 2021.
Below are selected sentencing cases from 2021.
Sentenced Despite Medical Condition
Many practitioners have been subjected to various forms of abuse following their arrests. Some in turn developed medical conditions, oftentimes serious or even critical, yet they were still sentenced to prison.
The family of Mr. Ding Guochen received a notice from the Jinzhou District Court in Dalian City, Liaoning Province on February 23, 2021, that Ding was sentenced to 2 years in prison and fined 5,000 yuan. At the time of the sentencing he was unconscious for nearly a month due to a cerebral hemorrhage as a result of torture. His wife, Ms. Yan Qinghua, was sentenced to 3.5 years in prison and fined 8,000 yuan.
Ding, a 50-year-old math tutor, and Yan were arrested on July 10, 2019. Yan was released on bail that evening, but Ding was held and tortured in the Dalian Detention Center. He suffered a cerebral hemorrhage and lost hearing in both ears. He was released on bail on October 1, 2019, only to suffer a second hemorrhagic stroke on January 27, 2021, due to non-stop police harassment. He was taken to an emergency room and is still in a vegetative state.
Zero-out Campaign Victims
Ms. Zeng Jianjiang, a 59-year-old Hulin City, Heilongjiang Province resident, was cooking lunch at home on July 12, 2020, when a group of officers broke in and arrested her. They also ransacked her home.
The police claimed that they had been monitoring her since November 2019 in preparation for the "Zero-out" campaign, and found her mailing letters to the public about the persecution of Falun Gong. When the police took Zeng for a physical examination in preparation for her detention, she was found to have high blood pressure as well as heart and liver problems. After a few hours of interrogation, she was released on bail at midnight and forced to pay a 1,000-yuan bond.
As Zeng suffered a stroke and had difficulty walking when the police submitted her case to the Jidong County Procuratorate in May 2021, the prosecutor, Liu Ying, came to her home to ask her questions about her case.
Without any notification in advance, nine court officials showed up at Zeng's home on September 23, when she was at home alone, to hold a hearing about her case. The judge rushed through the session in less than an hour and did not allow Zeng to defend herself. She received a 1.5-year sentence and was fined 10,000 yuan on October 2. It's not clear at the time of this report whether she was imprisoned.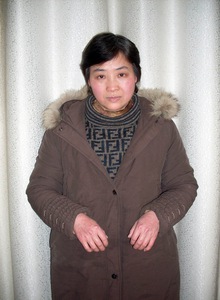 Ms. Zhang Yuzhen was incapacitated and in serious condition after over one year of detention. Despite her condition, the 54-year-old Zhuhai City, Guangdong Province resident was sentenced to another seven years. A single woman whose parents passed away due to the mental distress from the persecution, Zhang did not have any close family members to seek justice for her.
Prior to her latest sentencing, Zhang was arrested 12 times and incarcerated for a total of nine years. While serving time at the Jiangxi Province Women's Prison, she was hung up by her wrists behind her back for 11 hours on September 19, and 3 hours on September 20, 2005. Her arms became disabled. She is still unable to completely extend her arms, make a fist, or extend her fingers. She also suffers from wrist drop, a condition in which the person cannot extend their wrist, and it hangs limply. Her upper limbs are in constant pain and her hands quiver. She has occasional sharp pains in her chest, neck, and shoulders.
Whole Families Sentenced
Some practitioners were sentenced along with their family members, including parents and daughter, mother and daughter, or husband and wife.
A married couple and their daughter in Tianjin were sentenced to 7 to 12 years. Mr. Li Guoqing is a general manager at the local power company. In his spare time, he runs a wedding ceremony company with his wife Ms. Yu Bo and their daughter Ms. Li Lei.
Yu and Li were first arrested on May 15, 2019, while driving out of their apartment complex. The police then ransacked their home and confiscated their printer, fax machine, and three private cars. Li was arrested later that day. His father was so traumatized by the arrests that he had a stroke and was hospitalized. Li suffered from high blood pressure and Ms. Li had stomach pain while being held in the local police station. The family of three was sentenced around September 2021.
Family Impact
For other families, although they weren't sentenced together, the incarceration of just one loved one left the entire family in deep distress.
After Mr. Liu Hongshu, a 54-year-old resident in Qishan County, Shaanxi Province, was arrested on September 27, 2020, for practicing Falun Gong, his parents, who are in their 80s, repeatedly went to the local police department to seek his release, but to no avail. His mother fell ill from the mental distress and had surgery. Right after she was discharged from the hospital, she went to the detention center to demand her son's release. The guards finally allowed her to have a video chat with Liu. Upon seeing his swollen face, she burst into tears.
As the family's wheat ripened in June 2021, his parents demanded that the police release Liu so he could harvest it, but the police denied their request again. While he was at the police station Liu's father fell and injured his head. He fainted and was taken to the hospital. He was hospitalized for ten days and was found to have had a stroke. Unable to afford the medical fee, he returned home and passed away soon after. Liu was not allowed to see him for the last time. He was later sentenced to three years.
Justice Denied
Many of the practitioners face inhuman abuses in prison, both physical and mental, as the guards try to force them to renounce their faith. Some practitioners were forced to study Buddhism as part of the brainwashing, some were forced to do intensive unpaid labor while being starved, and many others were subjected to constant beatings, sleep deprivation, and electric shocks. Authorities often deny the practitioners' family visits in order to shake their willpower and prevent their families from seeing their injuries. They even restrict mail from family to cut off the practitioner from the world.
For example, the family of a Shandong woman mailed several registered letters to her and the mail tracking system also indicated that the letters were received and signed. However, Ms. Wang Cuiying later told her family that she received only one letter. Around the same time, the family also received a letter, with poor handwriting imitating Wang's, that praised the prison and the guards. Her family is very worried about her and they are concerned as to why the prison withheld their correspondence and fabricated a letter to appear to be from her.
Other cases of abuses of justice include extortion. Even after a Fuxin City, Liaoning Province resident in her 50s suffered a stroke at the prison, the authorities refused to release her on medical parole, and demanded 200,000 yuan from her family in exchange for her release. As her family was unable to afford the extortion, she remains detained.
For some practitioners, the persecution continues on even after their prison terms expire. The above-mentioned 80-year-old man was sentenced to another four years after serving three years, and a 76-year-old man was held in a brainwashing center for an additional 36 days before finally being allowed to go home, after serving 4.5 years.
Based on an original report from Minghui.org:
Reported in 2021: 1,187 Falun Gong Practitioners Sentenced for Their Faith | Falun Dafa – Minghui.org