Stop Organ Harvesting Bill Passes House; Parents Forced to Sign "No Falun Gong" Pledge
Dear Reader,
On March 27, the U.S. House of Representatives passed with near unanimous support the first-ever legislation to stop forced organ harvesting, including in China. The final two steps are passage through the Senate and signing by the President. It is such brutal violations that have prompted human rights lawyers like Canadian David Matas to term the ongoing persecution a cold genocide.

Parents in Wenzhou, China have been forced to sign pledges not to practice or teach their children Falun Gong. Discrimination in the education system in China is not new, but giving families of kindergarten students this demand, lest their children be denied schooling, is appalling nonetheless.
Equally dismaying was news received this week that the mother of New Yorkers Steven and Lydia Wang—Mrs. Aihua Liu—had been sentenced to four years in prison for her faith in Falun Gong, an arbitrary decision that she is appealing. Mrs. Liu is one of many Falun Gong prisoners of conscience who now face the risk of torture, or worse.
But even as the Chinese Communist Party pursues its campaign to eliminate Falun Gong from Chinese society, people in over 100 countries around the world continue to find health, peace of mind, and inspiration from the practice. Today, we highlight believers in India.
Sincerely,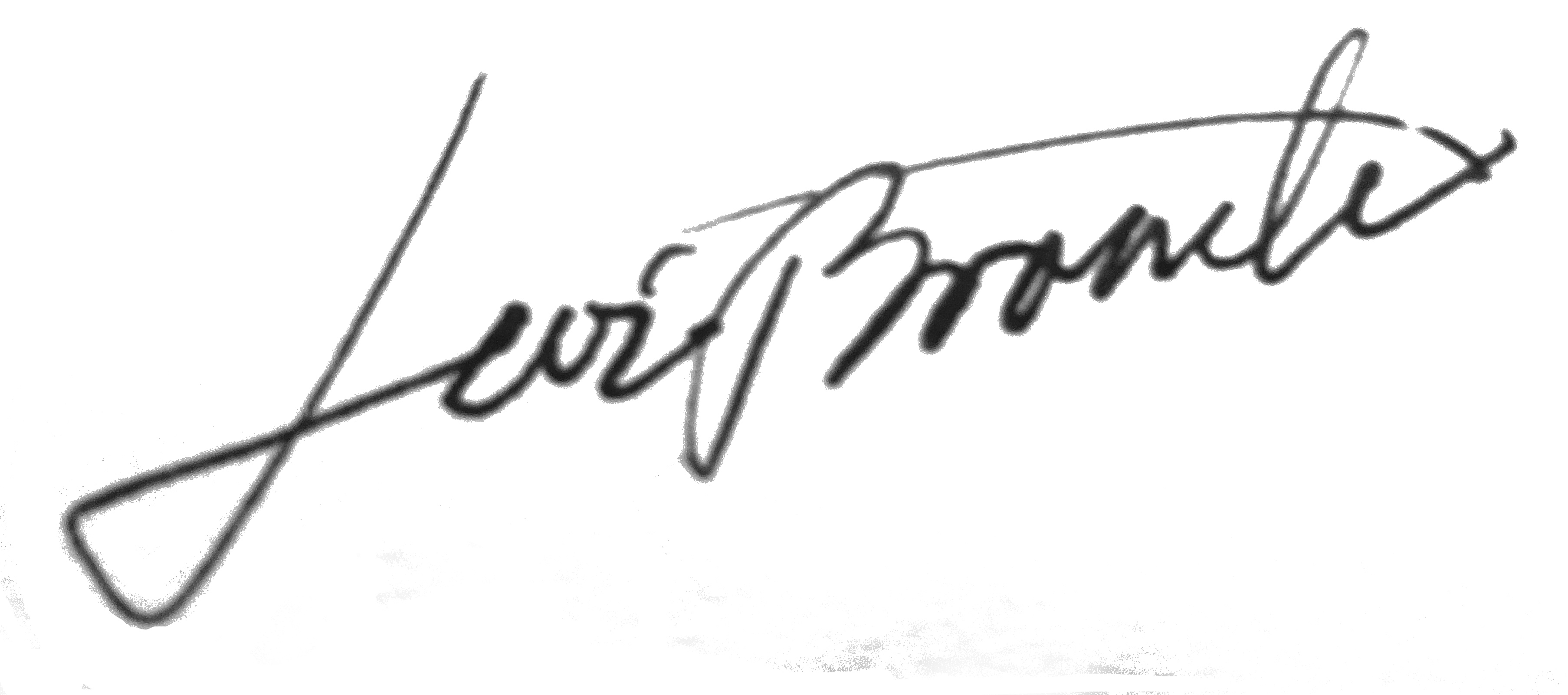 Levi Browde, Executive Director
Falun Dafa Information Center
INDOCTRINATION INSIDE CHINA
Wenzhou City Kindergartens Enforce Parental Pledge Prohibiting Falun Gong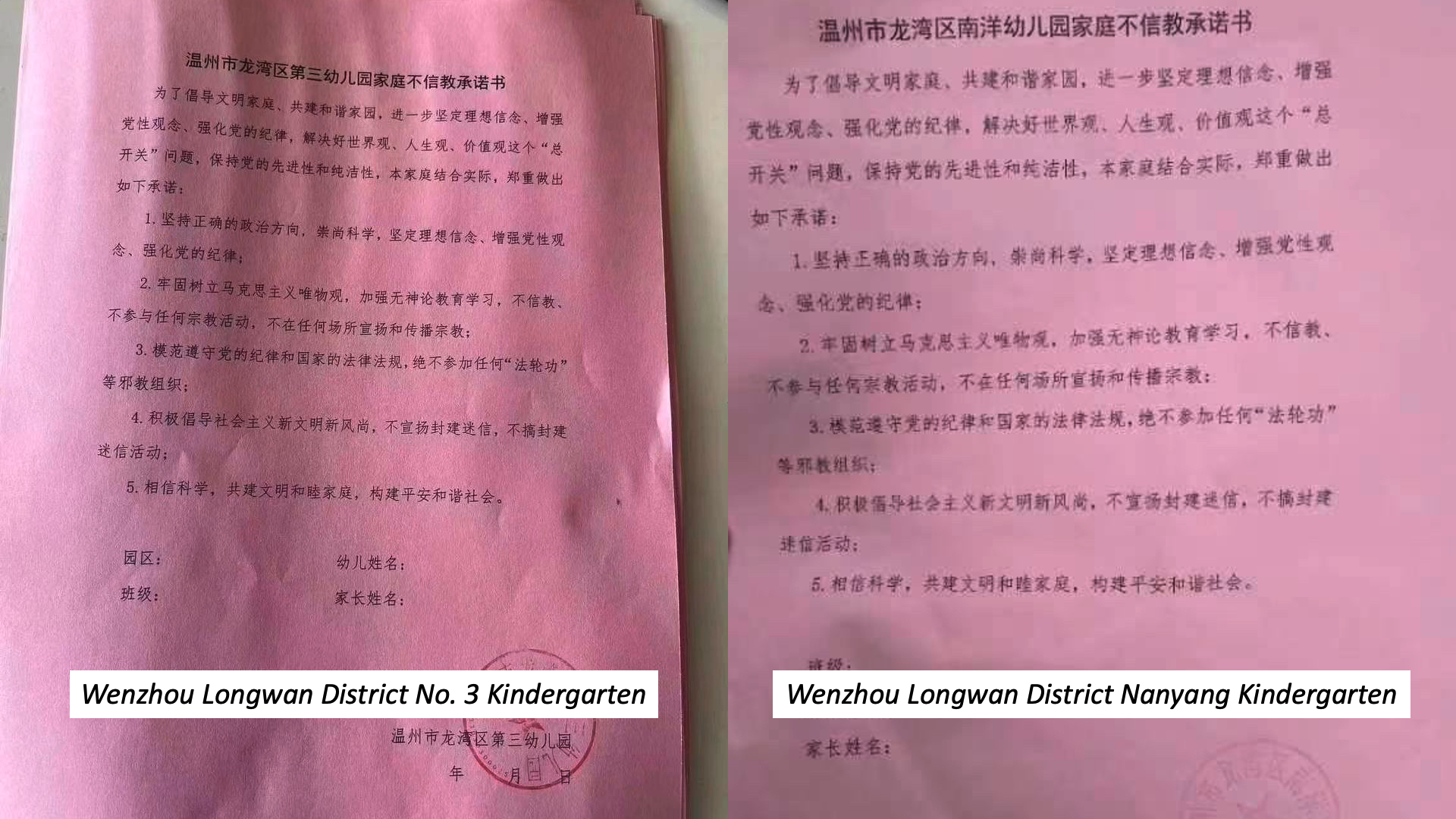 Family commitment pledges to non-belief from kindergartens in Wenzhou. (RFA Mandarin)
In early March 2022, parents of kindergarteners in Wenzhou City, Zhejiang Province were forced to sign a pledge stating that they would not practice religion or teach beliefs to their children. One line stipulated a promise that the entire family will "never join any Falun Gong and other heretic organizations" in an "exemplary observance of the Party discipline and the country's laws and regulations."


The ultimatum, titled "Wenzhou Kindergartens' Family Commitment to Non-Belief," was shared with international human rights organizations by a set of Christian parents from Longwan District, according to ChinaAid.


Discrimination in education against religious believers in China, especially Falun Gong practitioners, is not uncommon. A 2008 public announcement in Hainan province concerning enrollment in military academies, public security schools, and judicial and law schools stipulated candidates would be disqualified if they "have practiced Falun Gong" or if they "have immediate family members or close relatives that [are]…hard core members of Falun Gong."

Reported by Radio Free Asia, China Aid, Bitter Winter, Timed News, and National Catholic Register.
U.S. LEGISLATIVE ACTION
Near Unanimous (413-2) House Approval of Stop Forced Organ Harvesting Bill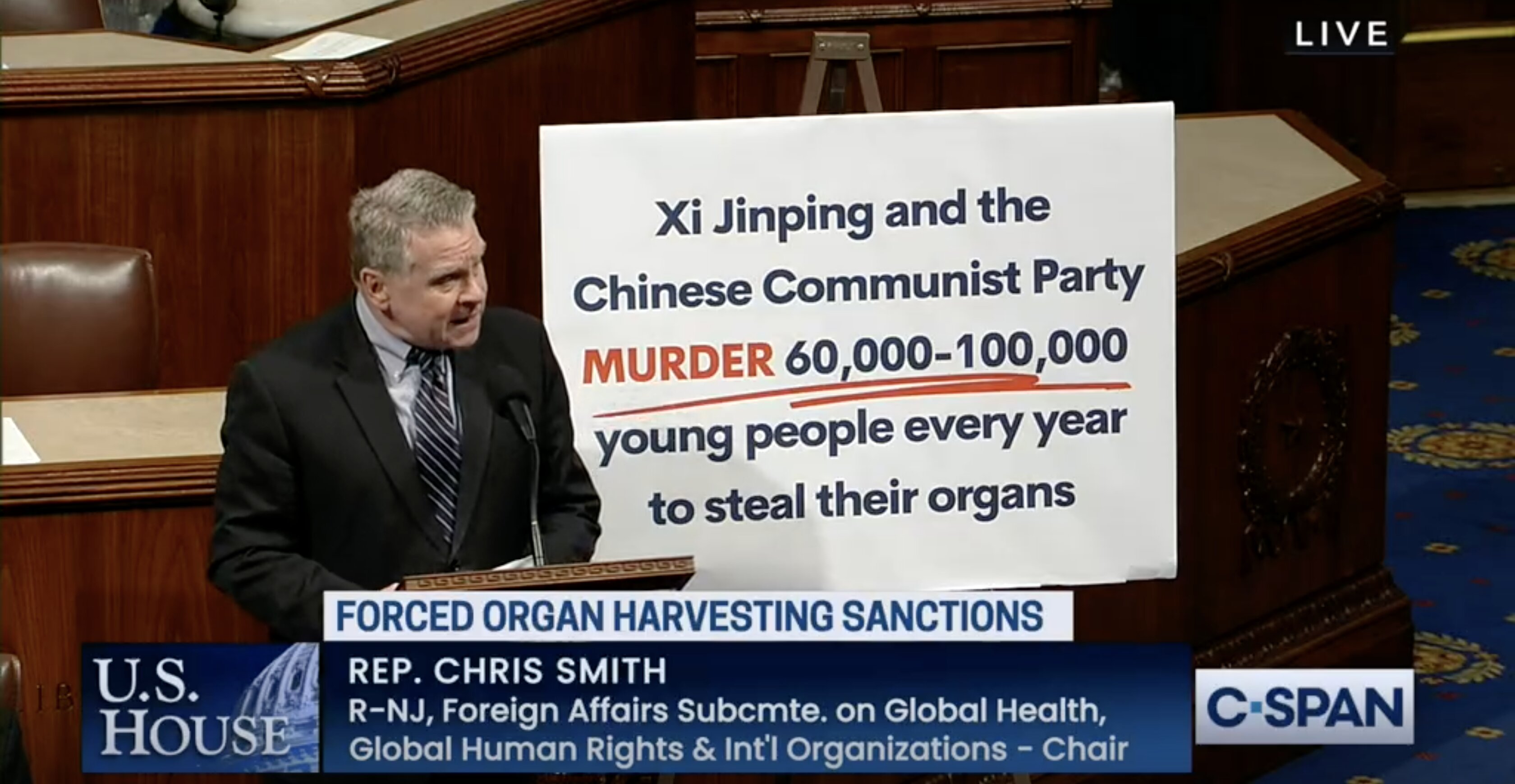 Representative Chris Smith (R-NJ) speaks on the House floor on March 27, 2023. The next day, Rep. Smith's aide received an email criticizing the bill as "lies" and "baseless hype" by top CCP official Zhou Zheng from the Chinese embassy in Washington.
On March 27, the U.S. House of Representatives made a landmark decision to pass the Stop Forced Organ Harvesting Act.

H.R. 1154 marks the first legislative action taken to counter the CCP's forced organ harvesting of Falun Gong and other prisoners of conscience.

The bill requires the U.S. State Department to report on organ trafficking activities around the globe and grants permission to sanction perpetrators. Punishments for those involved include a criminal penalty of up to $1 million and 20 years in prison.
The Senate version of the bill is now under review by the Foreign Relations Committee.
FAMILY RESCUE CAMPAIGN
Update: Mother of U.S. Citizens Secretly Sentenced to Four Years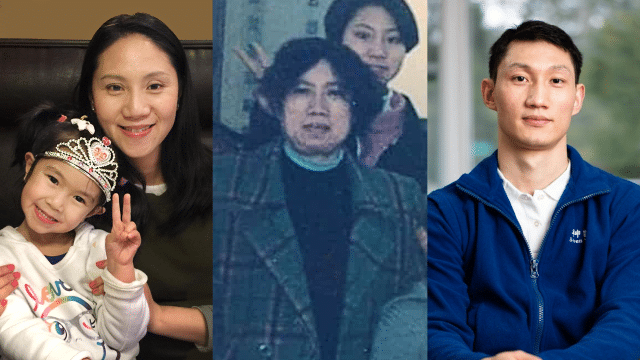 Lydia Wang with her daughter (left), mother Aihua Liu (center), and Steven Wang (right).
On April 3, the Falun Dafa Information Center received notice that Mrs. Aihua Liu, the mother of two U.S. citizens in New York, was sentenced to four years in China in connection with her faith in Falun Gong. Her family suspects it may have been due to her participation in information dissemination about the Chinese regime's persecution of Falun Gong. Liu's family also suspects she may have been targeted due to her son's career as a principal dancer with the New York-based Shen Yun Performing Arts company.

This is the 11th time that Mrs. Liu has been detained by Chinese authorities since the Chinese Communist Party (CCP) launched its campaign to eradicate Falun Gong in 1999. Based on prior detentions, she is at severe risk of torture.


According to family, Mrs. Liu remains in detention at the No.4 Detention Center of Changsha City and has appealed her sentence. The Center is calling for her immediate release and requesting assistance in obtaining information from the Chinese government about the charges against her.
Please take a moment to sign this petition on Change.org for Mrs. Liu, started by her children: https://chng.it/jXNRmqwpdG.
FALUN DAFA AROUND THE WORLD
India: Falun Dafa Introduced at the Bangalore Biannual Flower Show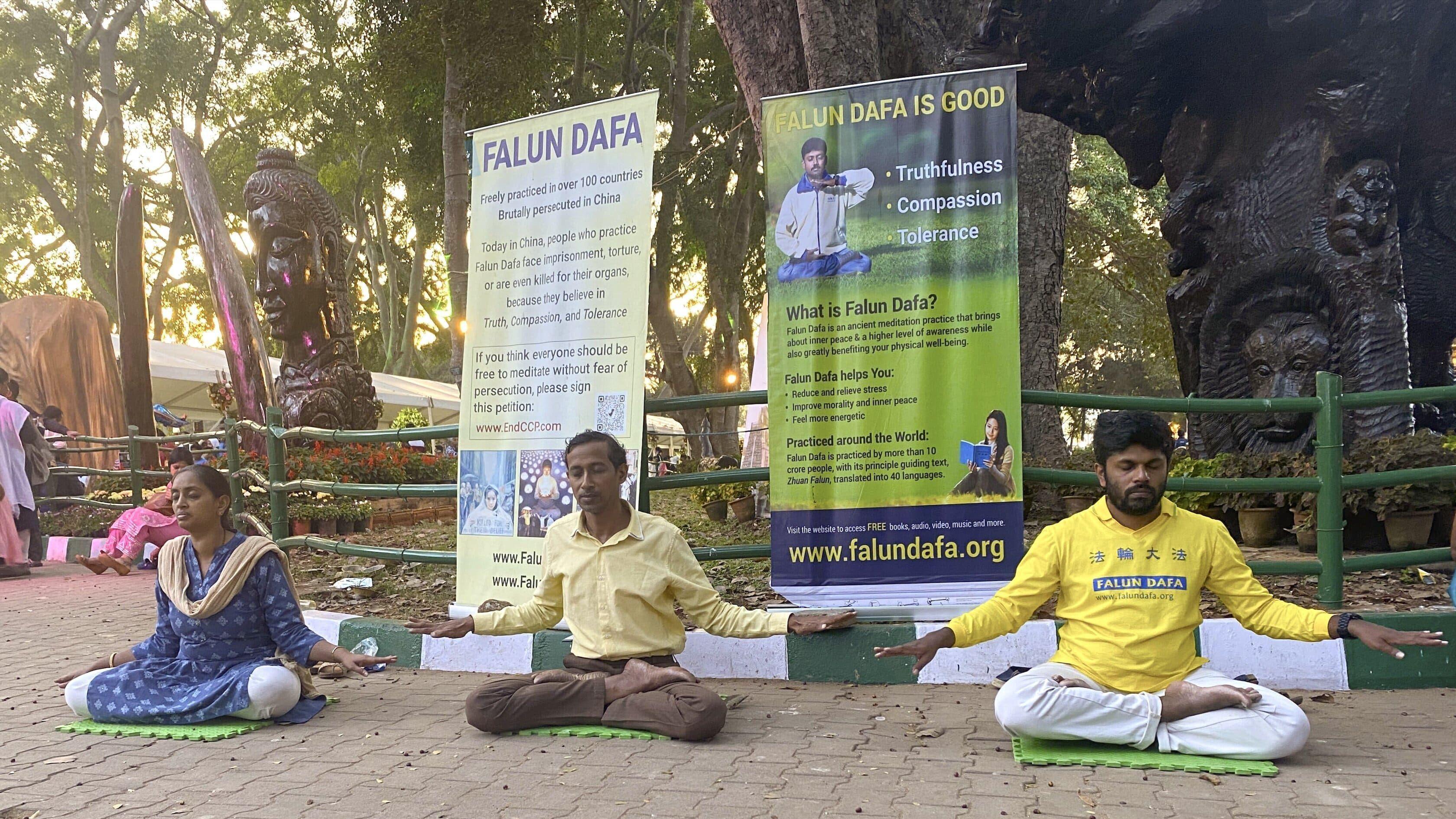 Beginning on January 26, 2023, Falun Dafa practitioners participated in the 213th annual flower show in Bangalore, India during India's Republic Day celebrations. The ten-day event, with the theme, "Bengaluru's History & Evolution" featured a dazzling array of 125 booths and attracted 300,000 visitors this year.


Among the flower installation-arrangements at the show, Falun Dafa practitioners displayed a 13-foot-high floral mural with the words, "The World Needs: Truth, Compassion, Tolerance," in English and "Falun Dafa: Truth, Compassion, and Tolerance" in the local Bangalore Kannada dialect.


Falun Dafa has been practiced in India for over a decade, with practitioners and meditation sites around the country, including in Mumbai, Delhi, Kolkata, and at least 18 other cities.
David Matas on Exposing China's Illicit Organ Trade: 'The Problem Isn't Too Little Evidence. It's Too Much' | 40 minutes


David Matas, a prominent human rights lawyer and investigator into forced organ harvesting, argues that the persecution of Falun Gong is a clear case of genocide:
The practitioners are targeted for their religious identity.

The intent to eradicate the group is explicit.