Families Separated by Persecution; Legal Representation Denied Falun Gong Detainees
Dear Reader,

TO MANY, FAMILY MEANS HOME. Today, we feature the families who have been directly affected by the persecution of Falun Gong. We'll meet Grace from New York, Qingyu from Liaoning, families in Jilin Province, and grandparents all across China.

Lastly, the new documentary "Will Unbreakable" features a former Chinese Air Force Major who testified in Congress over his 1,200-day hunger strike and the torture he survived as a Falun Gong practitioner in the military.

Sincerely,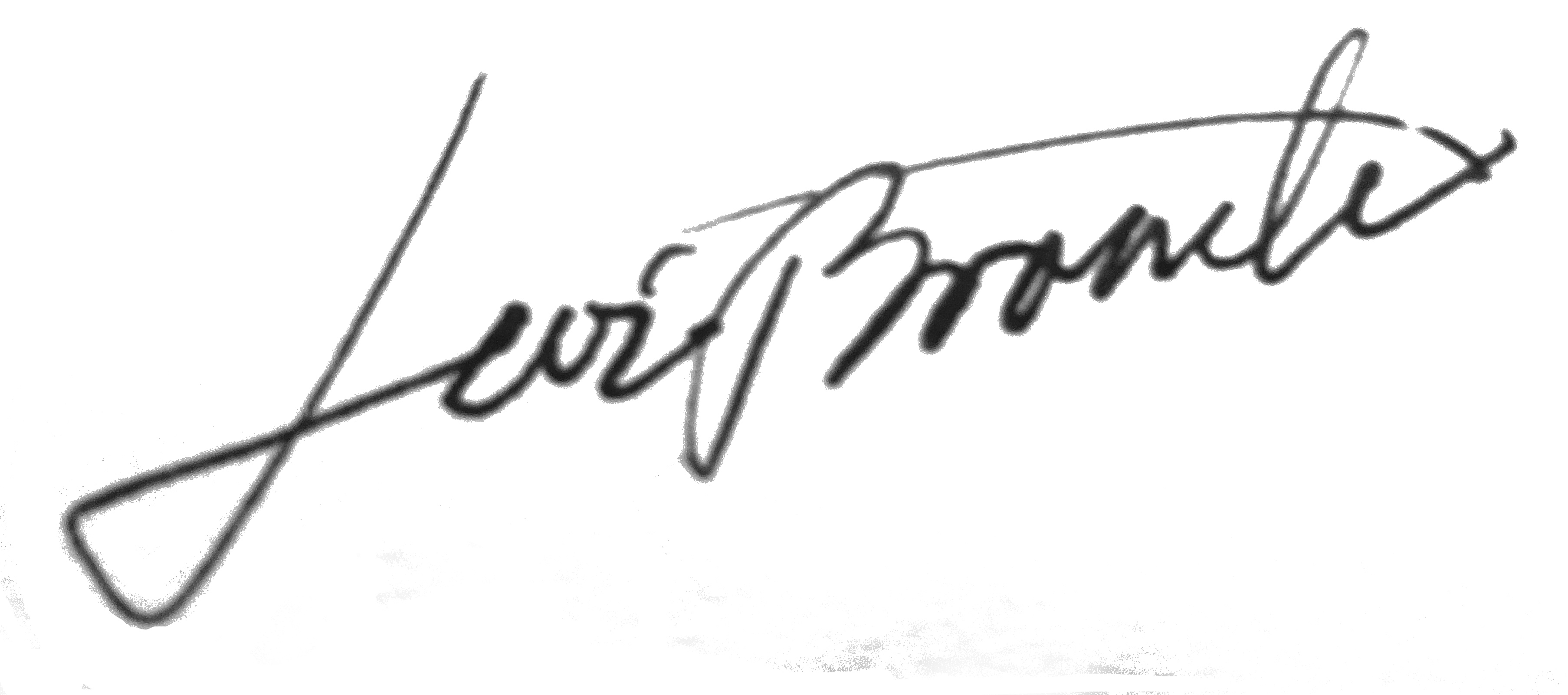 Levi Browde, Executive Director
Falun Dafa Information Center
FAMILY RESCUE
Letter Campaign: Save Them For Grace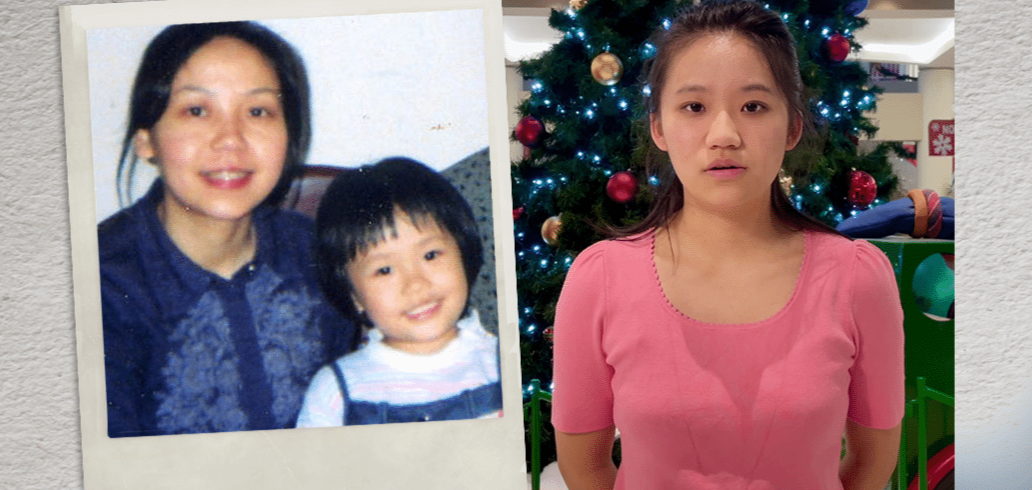 (Pictured above (L) is mother Zhimin Cao with daughter Grace Chen in China over a decade ago. (R) is a photo of Grace in New York, taken in December 2021.)
All Grace (Fayuan) Chen hopes for this holiday season is her parents' safety. Her mother and father were arrested and detained by Hunan Province authorities in October 2020, on the grounds of attending a reading session of Falun Gong texts akin to Bible study. Grace hasn't heard from them since.

You can grant her Christmas wish by writing a letter to her parents (Mr. Chen Yang and Mrs. Cao Zhimin) to encourage them and let everyone in the detention center know that the world's watching. One letter could save their lives.

Address: The No. 4 Detention Center of Changsha City
No. 1736, Yuanda 2nd Road,
Quantang Town, Changsha County 410131
China

People who have survived Chinese prisons and escaped abroad attest to the enormous difference it can make to hear from the outside world directly. It lifts the spirits of those wrongfully detained, and shocks local officials, making them wary of participating further in persecution.
FEATURED SURVIVOR
Birthday Surprise: Arrested By Police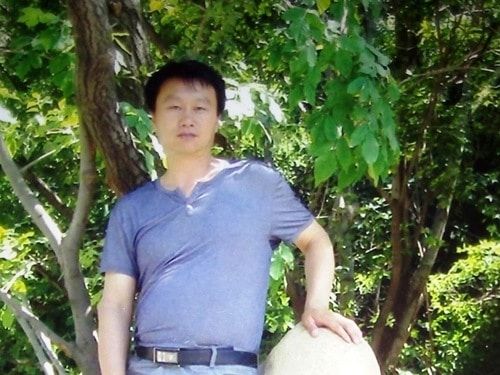 Mr. Liu Qingyu and his wife, Mrs. Zhang Chang, were celebrating his birthday at a restaurant when they were arrested. The Liaoning police had been monitoring him since the day before, when Liu was reported for distributing information about the persecution of Falun Gong.

After the arrest, the police confiscated the couple's house keys from their car and went door to door in his neighborhood to find his home.

While Mrs. Zhang was released after 38 days at the Yingkou City Detention Center, Liu was kept in custody at the Dashiqiao City Detention Center. He was sentenced to 4.5 years in prison with a 10,000 yuan fine on November 20, 2021.

Liu had been arrested multiple times before. He has previously served three labor camp terms and one year in prison, for a total of 4.5 years, for upholding his belief.
PERSECUTION OVERVIEW
November: 63 Falun Gong Practitioners Reported Sentenced for Faith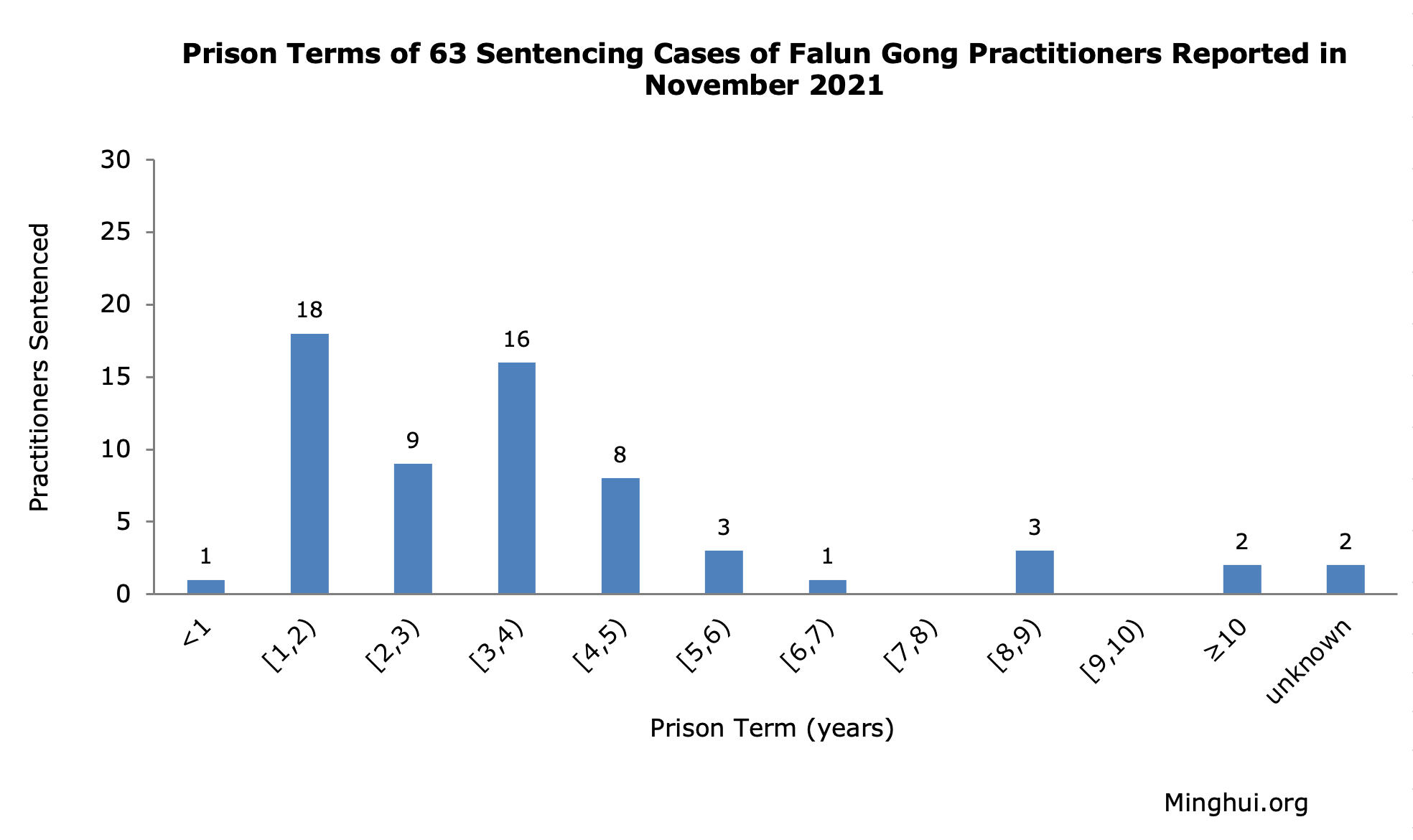 The 63 newly confirmed cases include one that took place in 2020, three in February 2021, two in July 2021, four in September 2021, 23 in October 2021, and 30 in November 2021. (These numbers only represent a part of the larger persecution, as reports may be delayed by months or even years and communication with practitioners in China is heavily stifled by the government.)
The sentenced practitioners hail from 33 cities in 17 provinces and municipalities. In the provinces surrounding Beijing: Shandong, Hebei and Liaoning were the top three regions with the most cases. The remaining 14 regions reported between one and five cases. Some practitioners were sentenced for sharing with people how Falun Gong cured their illnesses; some were convicted for raising awareness about the persecution; and one woman was imprisoned simply for having couplets bearing messages about Falun Gong on her door.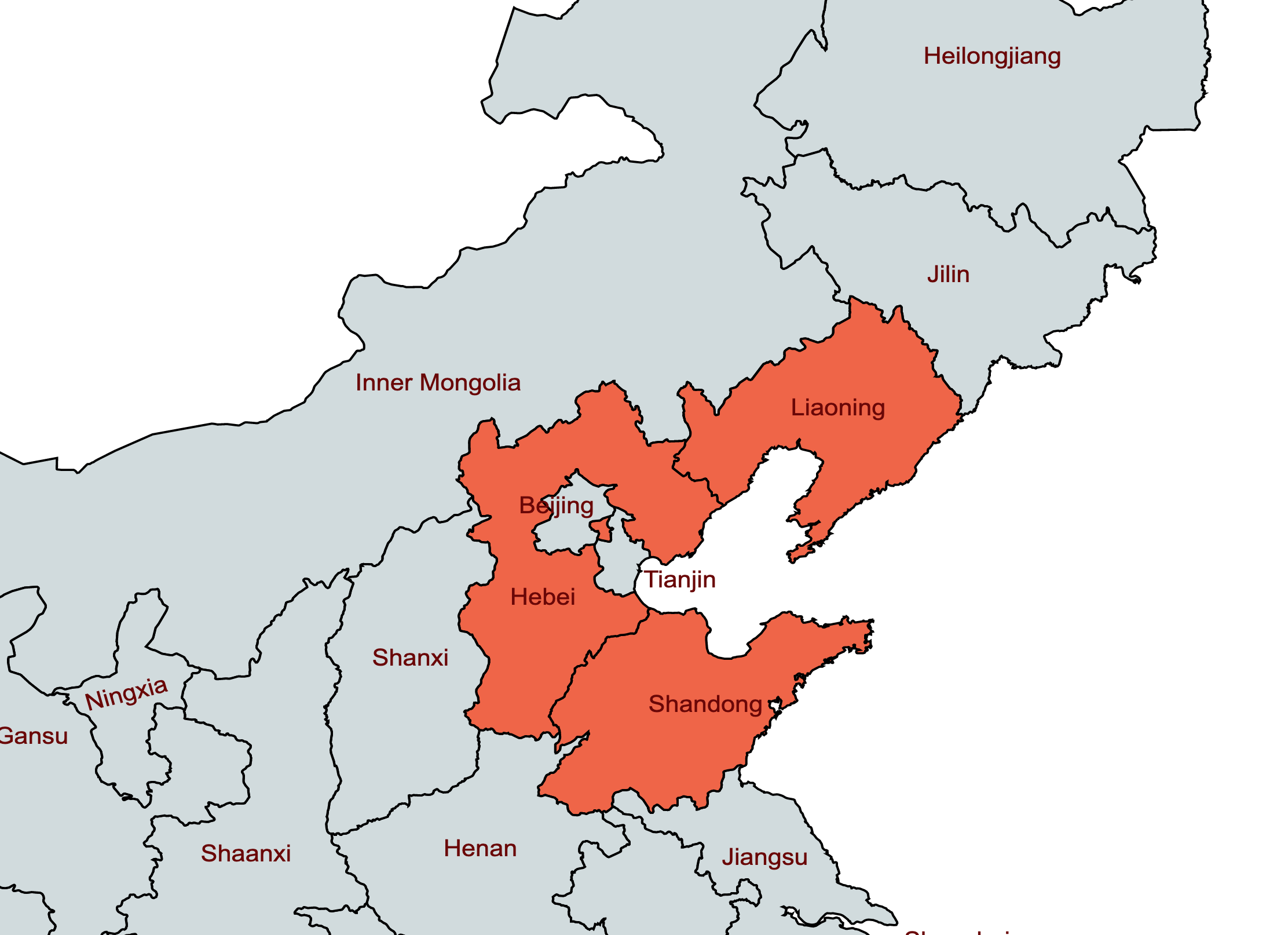 The prison terms given to the practitioners ranged from 6 months to 10 years, with an average of three years and two months. Some practitioners who were given lengthy terms were also levied heavy fines. A Guizhou Province practitioner who was sentenced to ten years was fined 50,000 yuan by the court. He also had 80,000 yuan confiscated by the police when his home was ransacked. Another Guangdong Province resident who was given eight years was fined 80,000 yuan.


Sixteen of the sentenced practitioners were 60 or older, including those in their 70s and 80s. Mrs. Chen Huan, a 73-year-old woman who credits Falun Gong for enabling her to stand up after being bedridden for two years, was arrested and later sentenced to 2.5 years for telling people about her miraculous recovery. The court ordered Chen's arrest in April 2021. She was held in a metal cage for three days and developed dangerously high blood pressure, then released to serve the rest of her time at home. But on August 16, 2021, she was seized by Zhang Junchi, an officer from the Wanli Police Station. Chen has been detained incommunicado since.
COURT REPRESENTATION
Court Prevents Lawyers From Defending Falun Gong Practitioners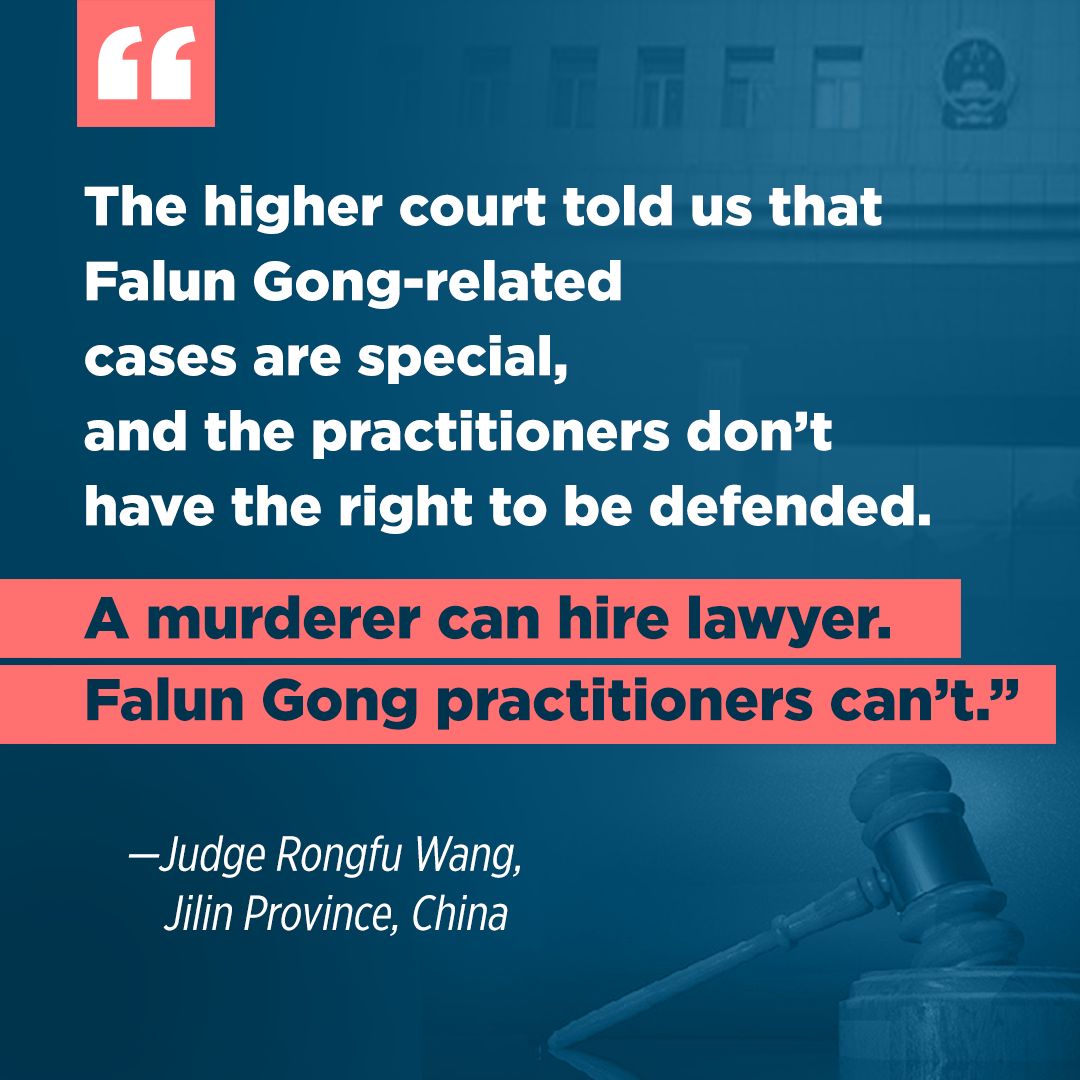 Lawyers in China cannot protect Falun Gong practitioners. A secret official judicial document (Document No. 226 in 2020, Jilin Provincial High Court) states "In principle, no lawyer is allowed to represent cases that are related to an evil religion". The CCP has openly broadcasted propaganda to suppress the practice of Falun Gong and other spiritual groups, hence the "evil" label.

Judge Wang Rongfu also yelled at a Falun Gong practitioner's family member in April, "Don't argue with me whether my order is against the law. The higher court told us that Falun Gong-related cases are special, and the practitioners don't have the right to be defended… A murderer can hire a lawyer. Falun Gong practitioners can't."

This decree that the Chinese Communist Party has adopted to persecute and suppress ethnic and spiritual groups are even contradictory to their own national laws, including the Constitution of the People's Republic of China, the Criminal Procedure Code, the Lawyers Act, the Judge Act, the Laws Interpretations by High Court, and the Rules of High Procuratorate.

These laws grant all defendants the right to hire a lawyer to represent them. But in reality, human rights lawyers like Gao Zhisheng have been detained, pressured financially, and disappeared.
New Documentary: Will Unbreakable

Mr. Zhiming Hu is a Falun Gong practitioner now working in New York City, but his road to the United States was long and dangerous.

In China, Zhiming was an Air Force Major. Because of his Falun Gong faith, he was expelled from the military, kidnapped by the secret police, and thrown into prison. Zhiming would then go on a hunger strike that lasted 1,200 days, despite the prison guards' brutal force-feeding. No one believed he would survive.

While in prison, Zhiming made unexpected friendships, and won the respect of inmates and guards alike for his perseverance and kindness in the face of unspeakable suffering. After his release from prison, Zhiming resumed his Falun Gong practice, regained his health, and secured safe passage to the U.S.