More Organ Harvesting Evidence + Terror Tactics, Missing Celebrity Artist
Doctors carry fresh organs for transplant at a hospital in Henan Province, China, on Aug. 16, 2012. (Screenshot via Sohu.com)
Two media outlets have reported new cases of blood testing of Falun Gong practitioners against their will in China, as well as a Japanese woman's account that she was offered four different hearts for transplantation during a medical visit to China.
Both reports are now part of a massive volume of evidence that indicates the Chinese Communist Party (CCP) is robbing prisoners of conscience of their organs, especially health-minded Falun Gong, and selling them to unwitting transplant tourists, killing the unwilling "donors" in the process.
The Epoch Times' piece titled "China Forcibly Collects Blood From Falun Gong Practitioners, Raising Concerns About Organ Harvesting" described how dozens of practitioners in China have had their blood taken at home and in temporary police custody, and are given no say in the matter. While blood-testing is a precursor to organ harvesting in order to match a victim with a potential recipient, it's unclear if these reports of blood testing are exclusive to Falun Gong since collecting bio-metric data is a widespread effort the CCP has undertaken. A lawyer interviewed by The Epoch Times on the matter points out that it certainly has a controling and terrorizing effect and is "an extreme humiliation of one's character." The CCP uses numerous methods to intimidate practitioners into giving up the practice.
The National Review published a report and analysis of the woman from Japan who was offered four different hearts. You can read more about that in their article titled "More Evidence of 'Organs on Demand' System in China."
INSIDE CHINA
Currently Detained, Two Elderly Women Face Abuse in Prison For Their Faith
A 78-year-old resident of Kunming City, Yunnan Province, Ms. He Guizhen was sentenced after an unfair trial to a three-year prison term for practicing Falun Gong, and sent to the Yunnan Province No. 2 Women's Prison. Ms. He's latest prison term was preceded by years of harassment and intimidation, as well as a three-year prison term in 2011 for distributing videos about Falun Gong.
Ms. Wang

Xuezhen was

unjustly tried on January 3, 2020, by the Haizhu District Court,

Guangzhou City, Guangdong Province

. She is 76 years old. Ms. Wang testified in her own defense that no law ever criminalizes Falun Gong and it's her basic right to practice Falun Gong and be a good person by following its principles. Nonetheless, she was imprisoned and is experiencing severe symptoms after one year of detention. The authorities refuse to release her or provide her with medical treatment.
PERSECUTION METHODS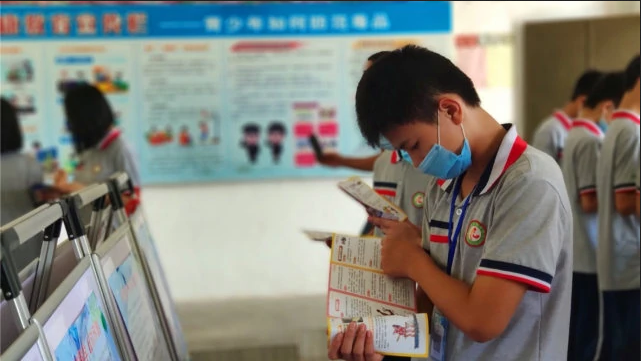 A student reads materials designed to disparage and eradicate faith groups such as Falun Gong on a school campus in Guangdong's Enping city in June. Photo: Bitter Winter
Bitter Winter, a media outlet devoted to religious liberty in China, has obtained documents that show official urging and instruction to create "model" towns or villages without residents who are members of banned religious groups. Falun Gong is among the top targets of this eradication effort. Following instruction from the Communist Party, dedicated teams police their neighborhoods "to ensure systematic crackdowns on banned religious groups." These towns are then labeled "banned religion-free" communities, forming a new type of society-wide incentive-based method of persecution.
Lawyer Gao Zhisheng took on cases of China's downtrodden for years. But only after he began defending Falun Gong practitioners' freedom of belief did the Chinese Communist Party abduct him and harass his family for years on end.
Ever determined to help usher freedom into China, Mr. Gao published witnesses' and victims' detailed accounts of the torture of Falun Gong in jails, including sexual assault toward men and women, as well as his own agonizing abuse. He published open letters about his conviction that Falun Gong adherents deserve attention and legal defense from China's lawyers. Many Chinese human rights lawyers say Mr. Gao's letters encouraged them to take up the torch, too, and not avoid the needs of Falun Gong. This only enraged the ruling regime and led to Mr. Gao's sentence and current disappearance. Today, his wife is calling on the U.S. government to help free her husband. His whereabouts are unknown. She, their daughter, and Mr. Gao's ardent supporters fear for his poor health, his mental state, and what they call the regime's total lack of boundaries when it comes to punishing those courageous enough to defy it.
THE FALUN GONG STORY
From ancient roots extending back
thousands of years, to a house-hold name
in China during the Qigong boom in the 1990s,
to the largest group of prisoners of
conscience in the world, this is
the complete story of Falun Gong…