Human Right Advocates Punished in China, Awarded in America
<![endif]-->
Dear Reader,

A CHINESE VETERAN was persecuted for years until the lasting effects of torture killed him this October. Even after his death, the CCP authorities who persecuted him continued to harass his family and went as far as going to his burial site to verify his death.

Also, 28 Falun Gong practitioner sentencing cases were reported this October, which included an update on the parents of Grace Chen, the New York high schooler highlighted in Falun Dafa Information Center's family rescue case.

In the United States, two major news to note: the International Bar Association awarded human rights lawyer Jiang Tianyong for his representation of Falun Gong practitioners and dissidents, and the first nurses summit was held on forced organ harvesting as it relates to the American medical community's transplant ethics.
Sincerely,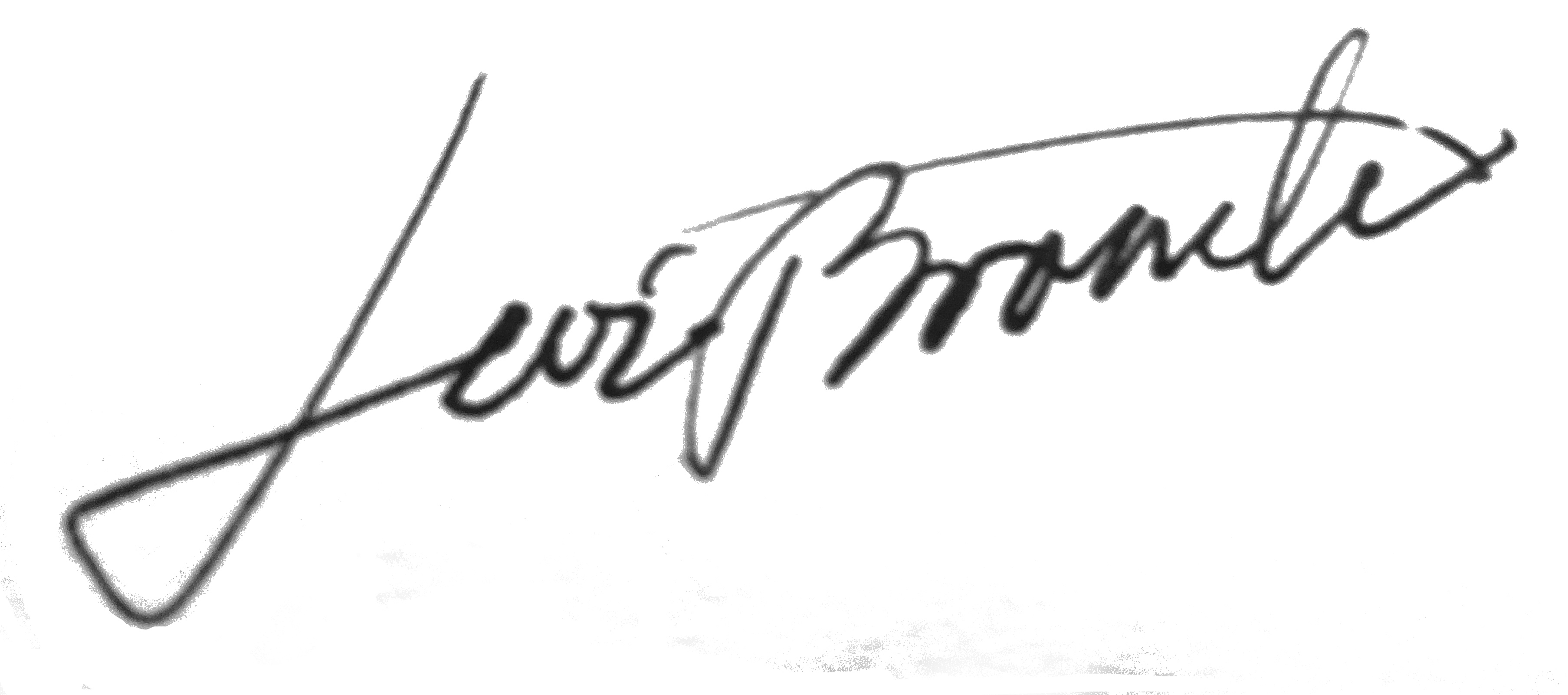 Levi Browde, Executive Director
Falun Dafa Information Center
PERSONAL ACCOUNT
Veteran's Burial Site Visited by CCP Officials Who Persecuted Him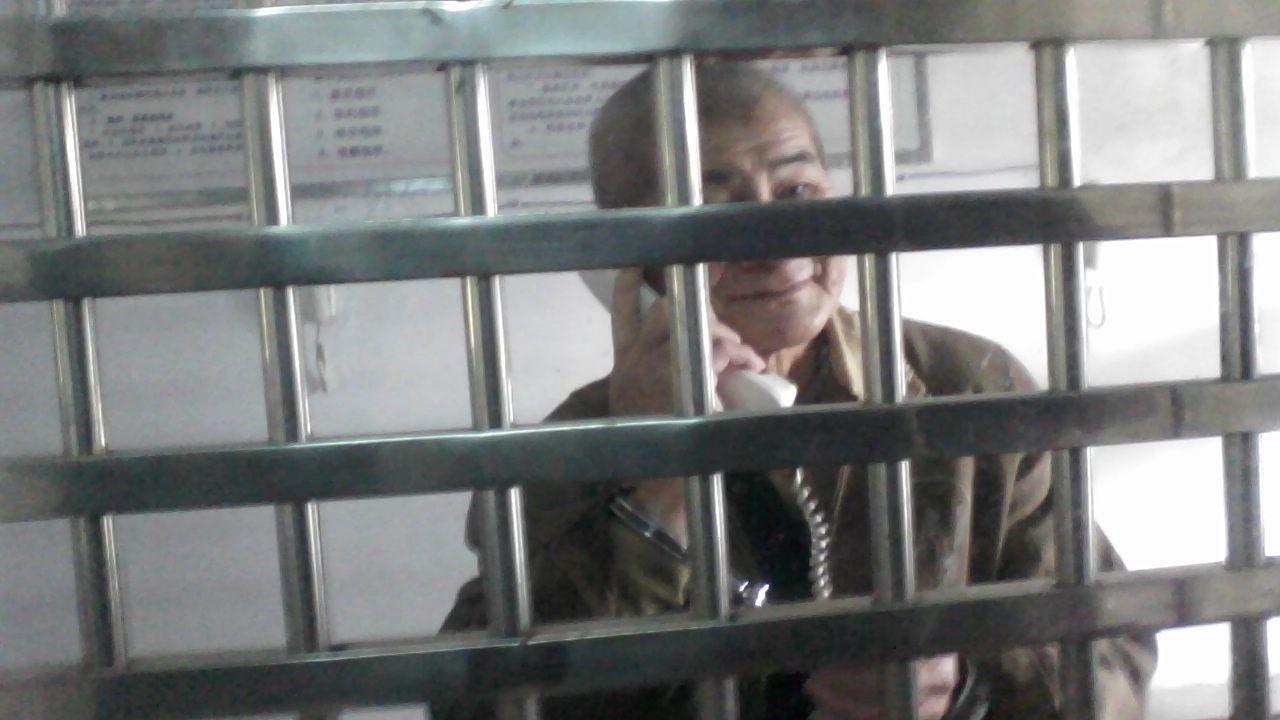 (Mr. Liao Songlin handcuffed in the visitors room of the 7th Ward of Jinshi Prison, 2008.)
Mr. Liao Songlin, a veteran retired from the Military Reception Center, was arrested eight times and sentenced three times for possessing Falun Gong books and helping neighbors in his community install TV receivers that would allow them to access the uncensored NTD News channel from America.

Days after his latest arrest in 2018, the 77-year-old Hunan Province resident was diagnosed with heart disease, minor stroke, and tuberculosis in detention. Yet instead of releasing Liao on medical bail, the police detained him at a military hospital and the court later sentenced him to three years at Wangling Prison. Liao Songlin suffered from poor health after his release in 2021, and passed away on October 14, 2022 at the age of 81. He is survived by his wife and son.

Even after Liao's death, local community workers still came to harass his family and even attempted to verify Liao's death by going to his burial place.
PERSECUTION OVERVIEW
Reported in October 2022: 28 Sentenced for Falun Gong Faith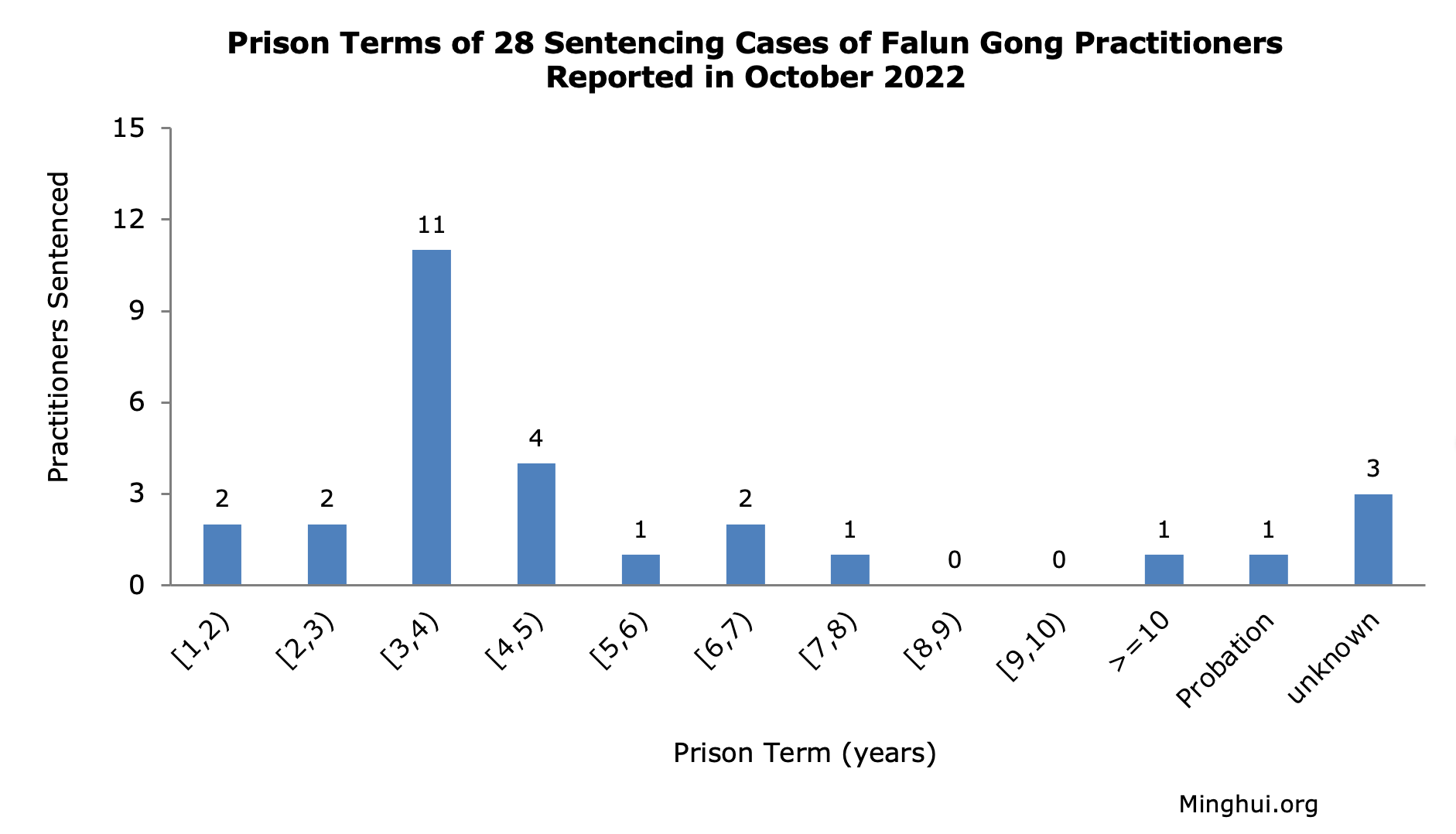 Twenty-eight cases of Falun Gong practitioners sentenced for their faith were reported in October. One case took place in 2014 and another in 2021. The remaining 26 happened in 2022, including one in May, one in June, six in July, two in August, eight in September, and eight in October. (Due to strict information censorship in China, the incidents can't always be reported in a timely manner, nor is all the information readily available.)

Alarming trends were revealed in these reports. Elderly were being targeted and tortured due to their inability to fight back, including a 75-year-old who was slapped by a police officer and a 65-year-old woman who was stabbed by needles and shocked by electric batons until she vomited. The sentenced practitioners were between the ages of 38 and 86, including 58% who were 65 or above.

The sentencing cases were reported in nine provinces. Liaoning recorded the most cases with eight, followed by seven cases in Guangdong and four in Shandong. Henan and Sichuan had three and two cases respectively. The other four provinces each had one case.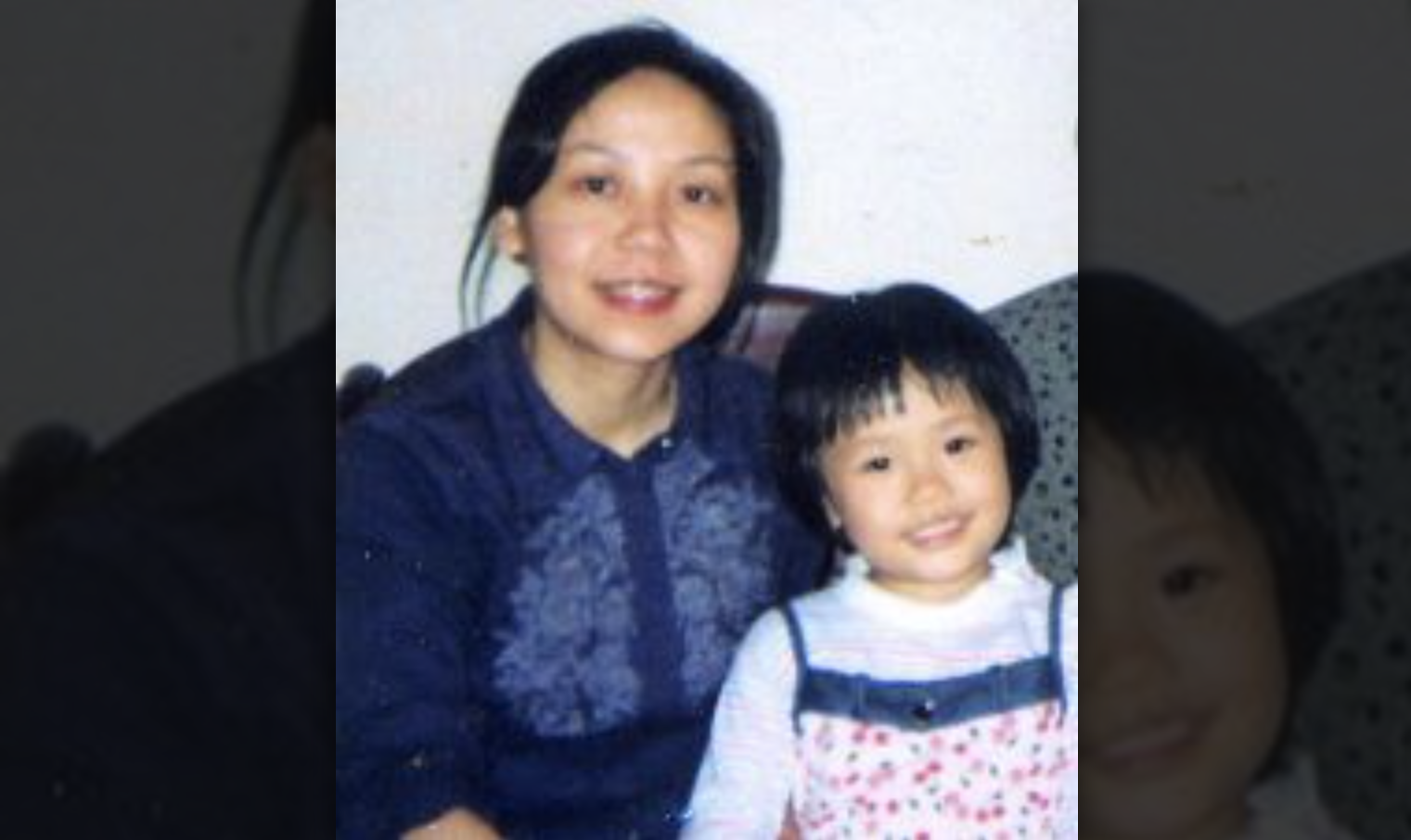 (Pictured: Mother Cao Zhimin with her daughter Grace in China, around 2010.)
Last December, teenager Grace Chen filmed a YouTube video to help raise awareness about her parents' arrest for their faith. Falun Dafa Information Center received dozens of letters in support of her family, and mailed them to the Hunan detention center where her parents were detained in hopes of improving their situation, and warning the CCP authorities on the international attention this case has received.

This month, Ms. Cao Zhimin was imprisoned to Hunan Province Women's Prison, and her husband Mr. Chen Yang was taken to the Wangling Prison. Their sentences are currently unknown.
Send a letter to Mrs. Cao:

湖南省女子监狱
Hunan Province Women's Prison
湖南省长沙市2号信箱,邮编410004
No. 2 Mailbox, Changsha City,
Hunan Province, 410004
China
Send a letter to Mr. Chen:

网岭监狱
Wangling Prison
湖南省攸县网岭502信箱,邮编412037
Mailbox 502, You County,
Hunan Province, 412037
China
The International Bar Association (IBA) named its award winners at its annual conference in Miami this month. The IBA award for Outstanding Contribution to Human Rights went to lawyer Jiang Tianyong for his extraordinary dedication to defending human rights in the People's Republic of China.


Over the span of a decade, Jiang has represented Chinese dissidents and activists, high-profile Falun Gong prisoners of conscience like Sun Yi (featured in the documentary Letter from Masanjia), and those facing discrimination due to health status, gender, or age.


For his defense of human rights, the Chinese regime placed Jiang under a house arrest that continues today.
FORCED ORGAN HARVESTING
First-of-a-kind Nurses Summit on Combating and Preventing Forced Organ Harvesting

On November 1, 2022, the Academy of Forensic Nursing (AFN) and Doctors Against Forced Organ Harvesting (DAFOH) hosted the inaugural Nurses Summit to Combat and Prevent Forced Organ Harvesting. The summit highlighted the importance of combating forced organ harvesting within the global nursing community and offered solutions for protecting and promoting ethical medical practices worldwide.

The Nurses Summit featured nursing scholars, leaders, human rights experts, and eyewitnesses who are determined to prevent collusion with the Chinese forced organ harvesting industry, raise awareness about the issue, and see it end.

Watch the speaker highlights and entire recording in the DAFOH press release below.