Evidence of Forced Organ Harvesting, West Complicit?
<![endif]-->
Dear Reader,


1000 DAYS IN DETENTION FOR PRACTICING FALUN GONG. That's how long Mrs. Zhang Ping, who now lives in Canada, was persecuted in China. She recalled the prison drew her blood and injected her with unknown substances, which are often the cues for potential organ harvesting.

Multiple reports have proven that Chinese transplant surgeons are extracting organs from living people. The evidence has given rise to a bill from the United Kingdom, which forbids British citizens from visiting China for the purpose of organ transplant.

In the month of May, over 40 reports were confirmed of Falun Gong practitioners sentenced to prison after unfair trials. Additionally, the award-winning thriller "Unsilenced" is now available on four major streaming platforms.
Sincerely,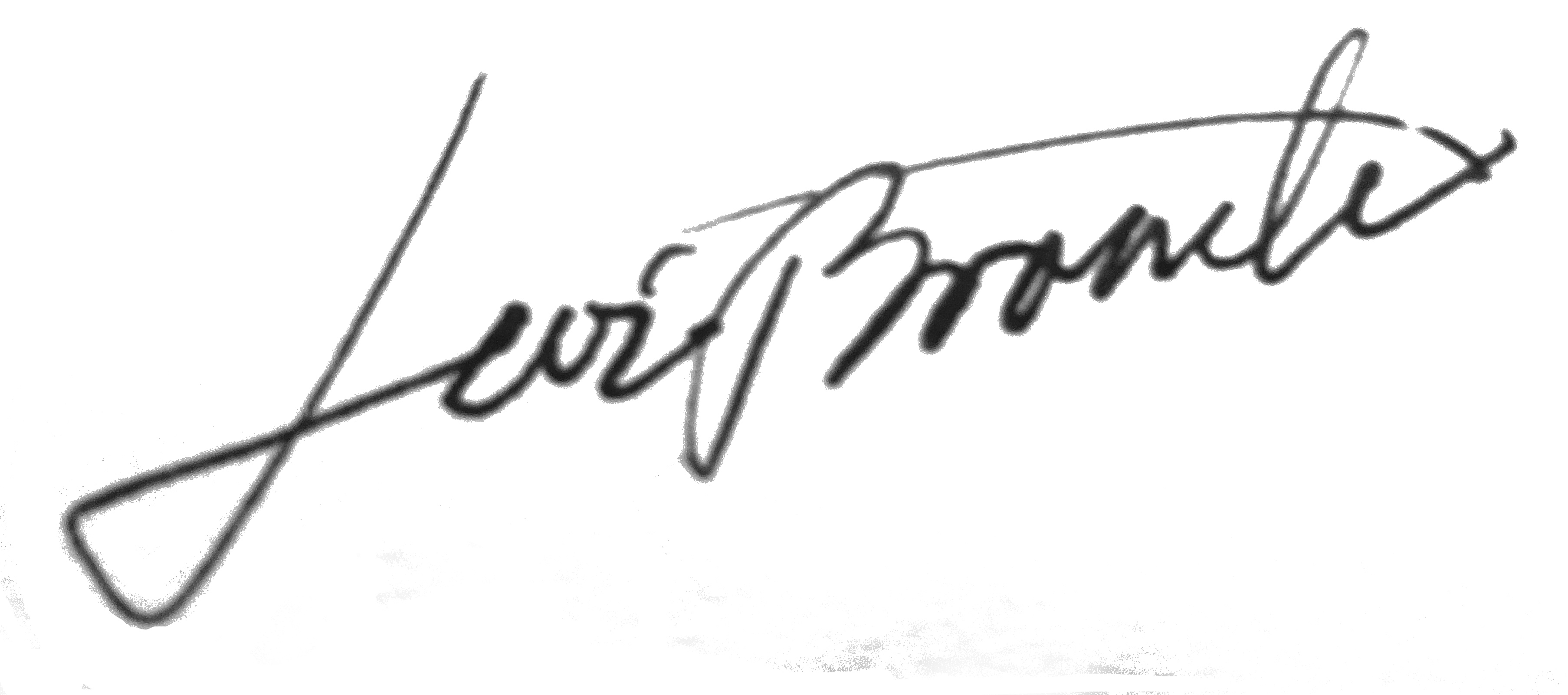 Levi Browde, Executive Director
Falun Dafa Information Center
NEW RESEARCH
The Telegraph: Is British science aiding and abetting the Chinese human organ trade?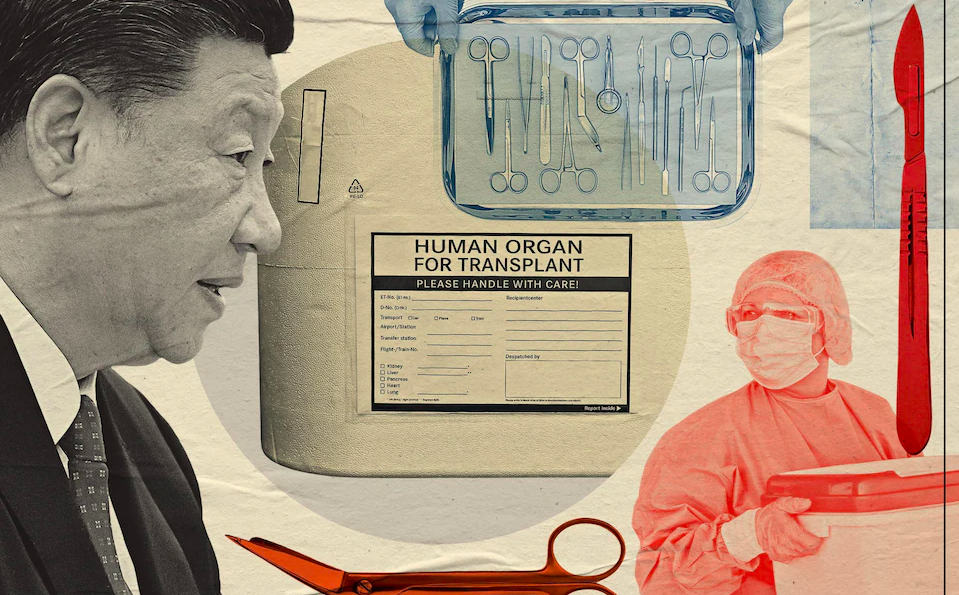 On May 27, the London-based Telegraph published an article outlining emerging concerns among Western academics and medical establishments that they may have been abetting in the training of medical professionals engaged in organ transplant abuses. "In plain language, [forced organ harvesting is where] victims are killed to order, their bodies sliced open for their livers, hearts, kidneys and lungs, even their corneas. The organs are then sold on a fearsomely lucrative international market."

The source of these organs are coming from innocent prisoners of conscience, detained and subjected to torture due to their spiritual faith. The Telegraph states, "the number of Falun Gong practitioners who have fallen victim to forced organ harvesting are, conservatively, estimated to amount to hundreds of thousands."

Medical establishments in Britain, the United States, Canada, and other nations appear to have abetted in these killings, by participating with China in "expenses-paid trips to lecture budding surgeons, and the profitable arrangements to train batches of them in the west." In addition, a leading human rights body has warned that medical equipment manufacturers and others may be prosecuted if their kit is found to be used in the illegal Chinese trade, hinting that medical device companies and pharmaceuticals are also involved.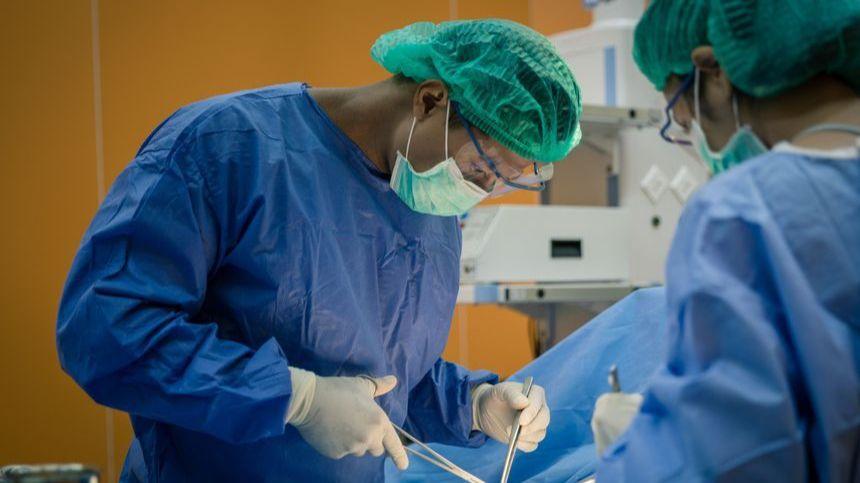 This surgeon-to-executioner pipeline was also relayed in a recent Wall Street Journal op-ed by scholar Matthew Robertson and heart surgeon Dr. Jacob Lavee. The pair shared key findings from a recent academic study based on Chinese doctors own articles that found "clinical reports recount scores of cases in which organ donors were alive when operations began." Robertson and Lavee confirmed the Chinese Communist Party does not abide by the well-established medical principle associated with a basic rule of transplant ethics: Donors must be deceased before vital organs are removed.

The experts found scores of reports—over a three-decade period, at 56 Chinese hospitals, involving more than 300 medical workers—in which patients are not brain dead yet, effectively killing the living person through organ extraction.

Medical and ethics experts Julian Sheather, Steve Tsang, and Zoe Greaves at the British Medical Association noted in their journal that "the Chinese government systematically deployed medical professionals, medical skills, and medical technologies in pursuit of these crimes." This entire feat could not have been done without Western support.
FEATURED CASE
The Pulse: The Story of Zhang Ping, Chinese Prisoner of Conscience Who Escaped to Canada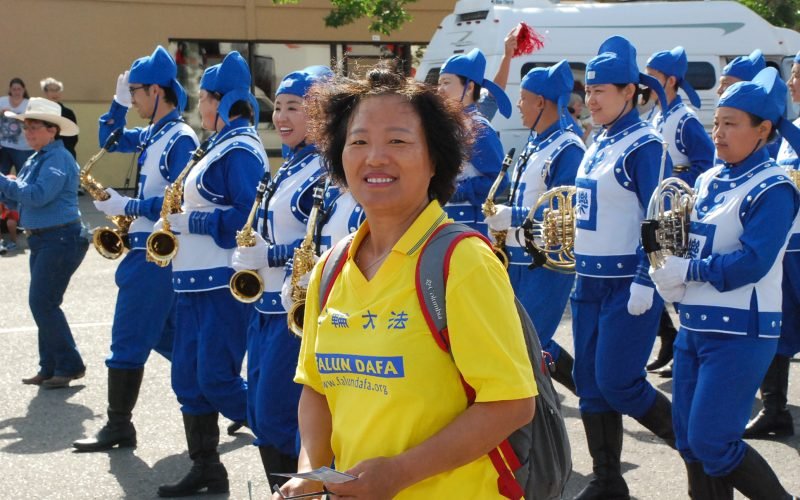 Mrs. Zhang Ping was persecuted for over 1000 days in China before she escaped to Canada in 2015. Labor camps and detainment centers like where she was kept are scattered across the country, as the CCP uses those facilities to "maintain a doctrine of atheism."

According to the Canadian investigative journalism source The Pulse,
"These modern day concentration camps are used for cheap labor, medical experimentation, and to supply the organ donation business in China. With ongoing concern about Asian hate seen throughout the pandemic, some of the most extreme Asian hate taking place right now is at the hands of the CCP in China through extreme crimes against humanity that fit the UN's definition of genocide. Yet there's no mainstream pushback."

During her detention, Zhang was stripped naked, forced to eat rotten cabbage that "at times had rats in it," and injected with unknown substances. After the procedures, she experienced major issues with her memory and cognitive coherence. It took years for her to recover.
OVERVIEW OF THE PERSECUTION
42 Falun Gong Practitioners Sentenced for Their Faith, Reported in May 2022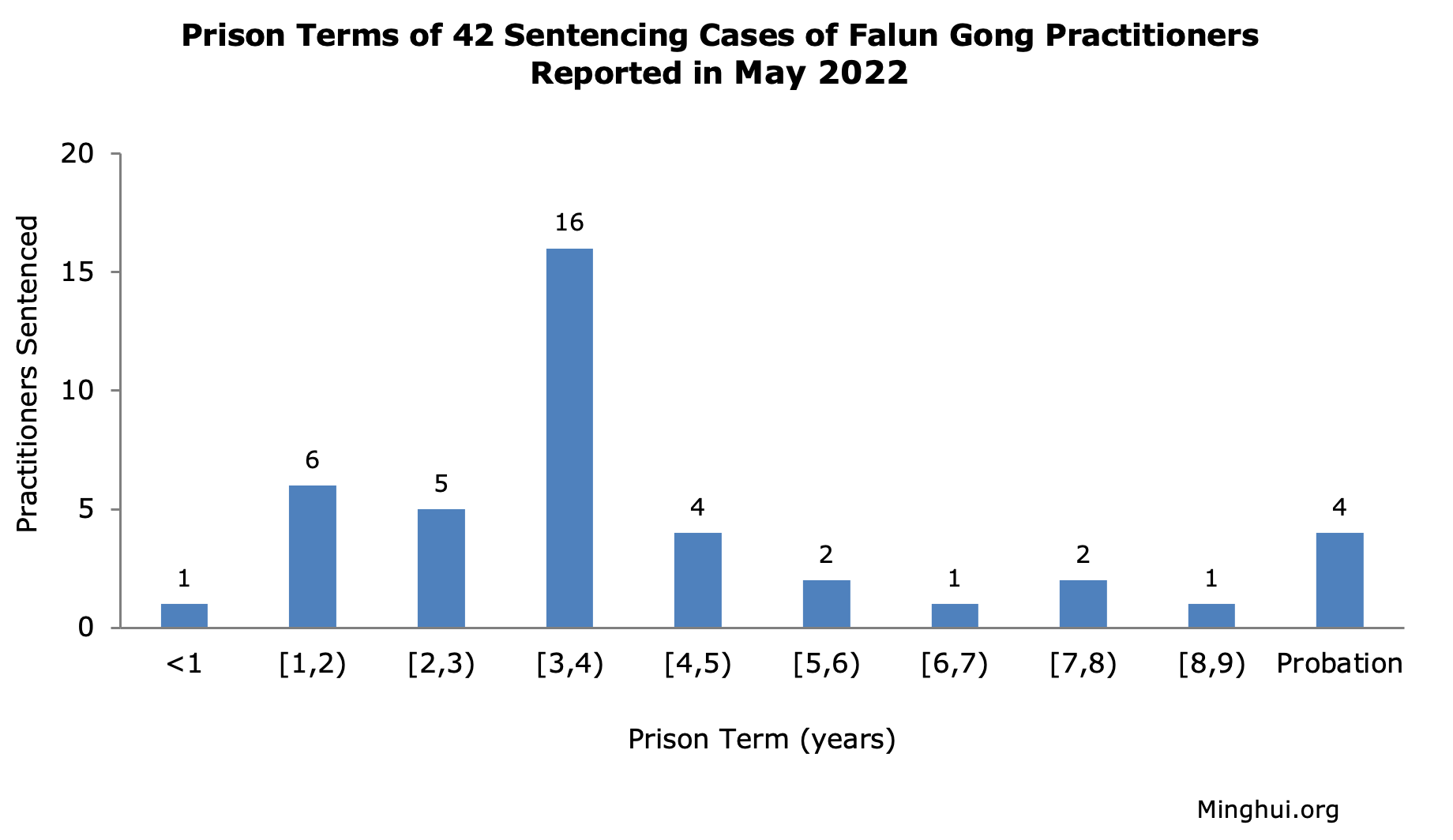 Forty-two cases of Falun Gong practitioners sentenced for their faith were reported in May 2022. Two were sentenced in 2020, seven in 2021, and 33 in 2022, including two in January, four in February, one in March, six in April, 19 in May, and one with an unknown sentencing month. This group of cases is the latest batch among Falun Gong practitioners sentenced since 1999 to prison terms of up to 18 years by courts after politically motivated trials that lacked due process.

The sentenced practitioners, 26 (62%) of them women, came from nine provinces. Liaoning Province had the highest number of sentences with 9 practitioners sentenced. Six of these practitioners were arrested in a police sweep that police referred to as a "gift" to the Chinese Communist Party for its centennial celebration on July 1, 2021. Fifteen (36%) of the practitioners were 60 and older, including three in their 80s and seven in their 70s.

Prison terms ranged from six months to eight years, including four cases of probation. Some were sentenced for reading Falun Gong books in private homes, while others were targeted for talking to people about the persecution. Twenty-one practitioners were fined a total of 188,000 yuan (~ $27,800 USD), averaging 8,952 yuan (~ $1,300 USD) per person.
INTERNATIONAL ACTION
UK Bill- Dedicated to Helping End Commercial Organ Tourism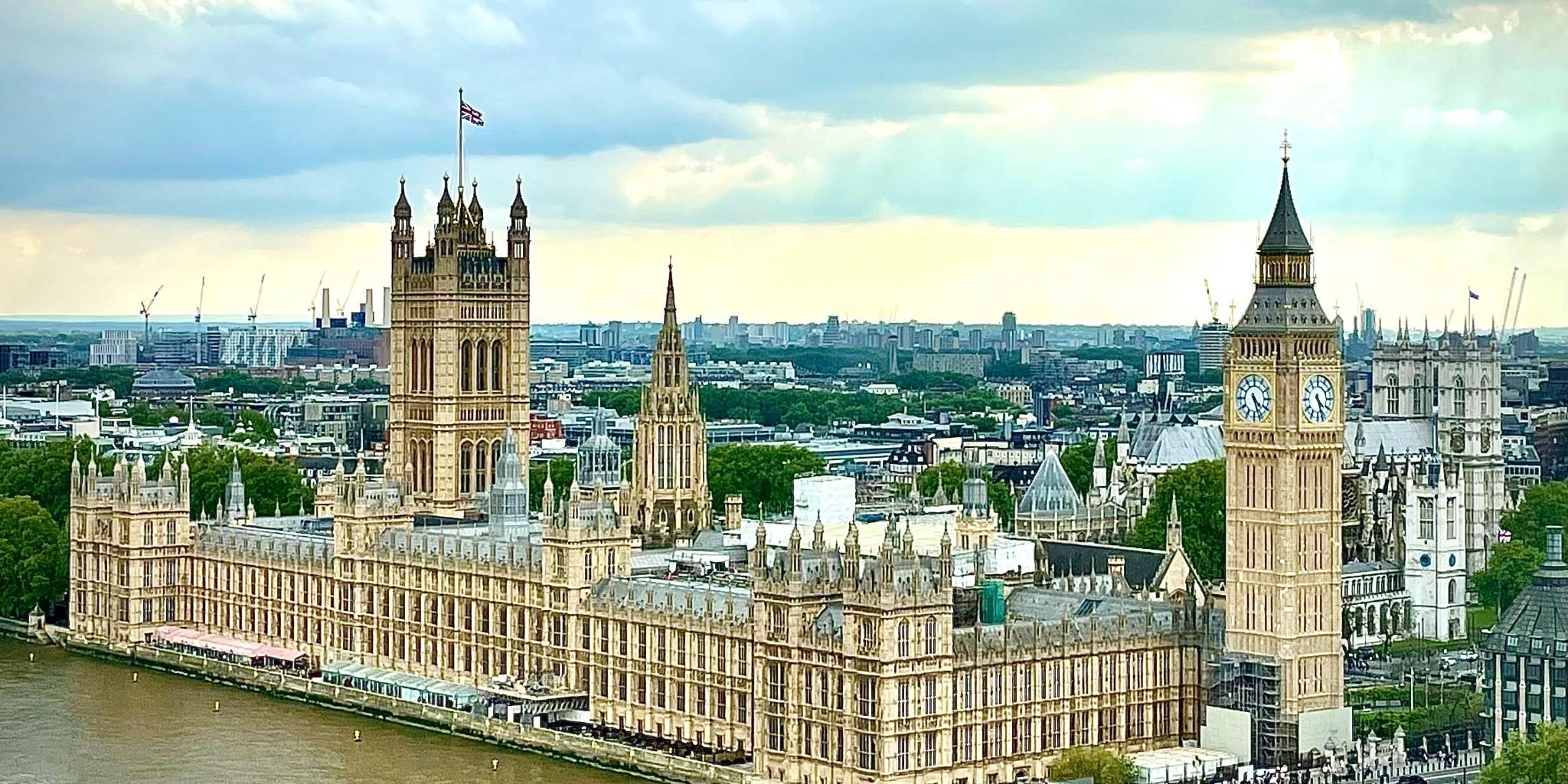 Last month, a new UK law came in to act; prohibiting commercial organ tourism to China, as well as other countries, internationally. The legislation change came about as a result of efforts from a number of parliamentarians dedicated to help end forced organ harvesting in China.

The new amendment to the Health and Care Act 2022 will forbid British citizens and British nationals from traveling outside of the UK to purchase an organ. The emphasis of the new legislation is on prohibiting the commercialisation of organs, and therefore, will not prohibit donated organs where there is no financial gain. It also criminalises British people who may be participating in organ trafficking – brokering the sale of organs in China or other countries.
U.S. RESPONSE
US Department of State: 2021 Report on Religious Freedom Highlights Persecution of Falun Gong
The U.S. Department of State released its 2021 Report on International Religious Freedom (IRF) on June 2, which determined that the Chinese Communist Party has continued its persecution of Falun Gong practitioners for the 23rd year.

"The PRC continues to harass adherents of other religions that it deems out of line with Chinese Community Party doctrine," said U.S. Secretary of State Antony J. Blinken.

The IRF Report also found the Chinese regime was "erecting barriers to employment and housing" for citizens who practice Falun Gong, and discusses key aspects of the persecution such as detention, torture, forced organ harvesting, and further societal and financial discrimination against Falun Gong practitioners.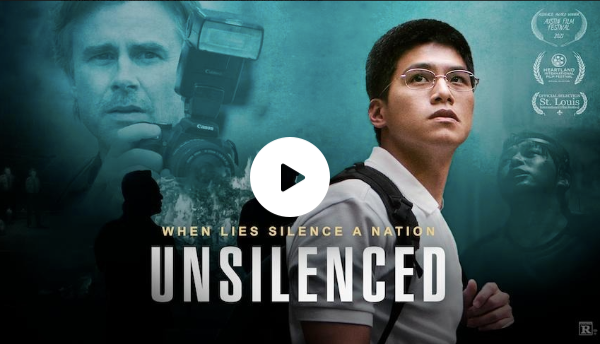 UNSILENCED | 1h 48m
Now available on Amazon, Apple TV, Google Play, and Vimeo.

A thriller based on true events, "Unsilenced" tells the story of a jaded American reporter and a team of college students in Beijing. When the Chinese Communist Party (CCP) launches a brutal persecution against 100 million people of faith in 1999, they risk everything to expose the deadly propaganda and fight for freedom.

LA Times calls the film "a moving portrait of conscious resistance in the face of political oppression"; Boston Globe refers to it as "a powerful and affecting film"; American Thinker considers it a "masterful production." Former Secretary of State Mike Pompeo also recommended the movie.

Winner of the Audience Award at the 2021 Austin Film Festival, "Unsilenced" stars Anastasia Lin (Miss World Canada) and Sam Trammell (True Blood, Homeland), and is directed by Peabody Award-winning director Leon Lee.