Covid Whistleblower Fang Bin Released, 2022 State Department Report Highlights
<![endif]-->
Dear Reader,
Do you remember Fang Bin? He was a prominent COVID whistleblower, citizen journalist, and Falun Gong practitioner who disappeared in February 2020 after videos he filmed of deaths in Wuhan early in the pandemic spread around the world. Now, inside sources say Fang Bin was recently released after a three-year prison sentence, but due to continued repression from Wuhan officials, this courageous individual is now destitute.

Other stories in today's newsletter include:
• The US Commission on International Religious Freedom published a testimony on transnational repression of Falun Gong
• Annual Department of State religious freedom report highlighted large-scale repression of Falun Gong
• The mother of a Canadian resident was sentenced to four years in China for meditating in public
Last but not least, join us in episode six of the Falun Gong Bulletin podcast as co-hosts Ben and Cynthia dive deeper into the biggest lie surrounding Falun Gong——the false cult label, and its CCP origins.
Sincerely,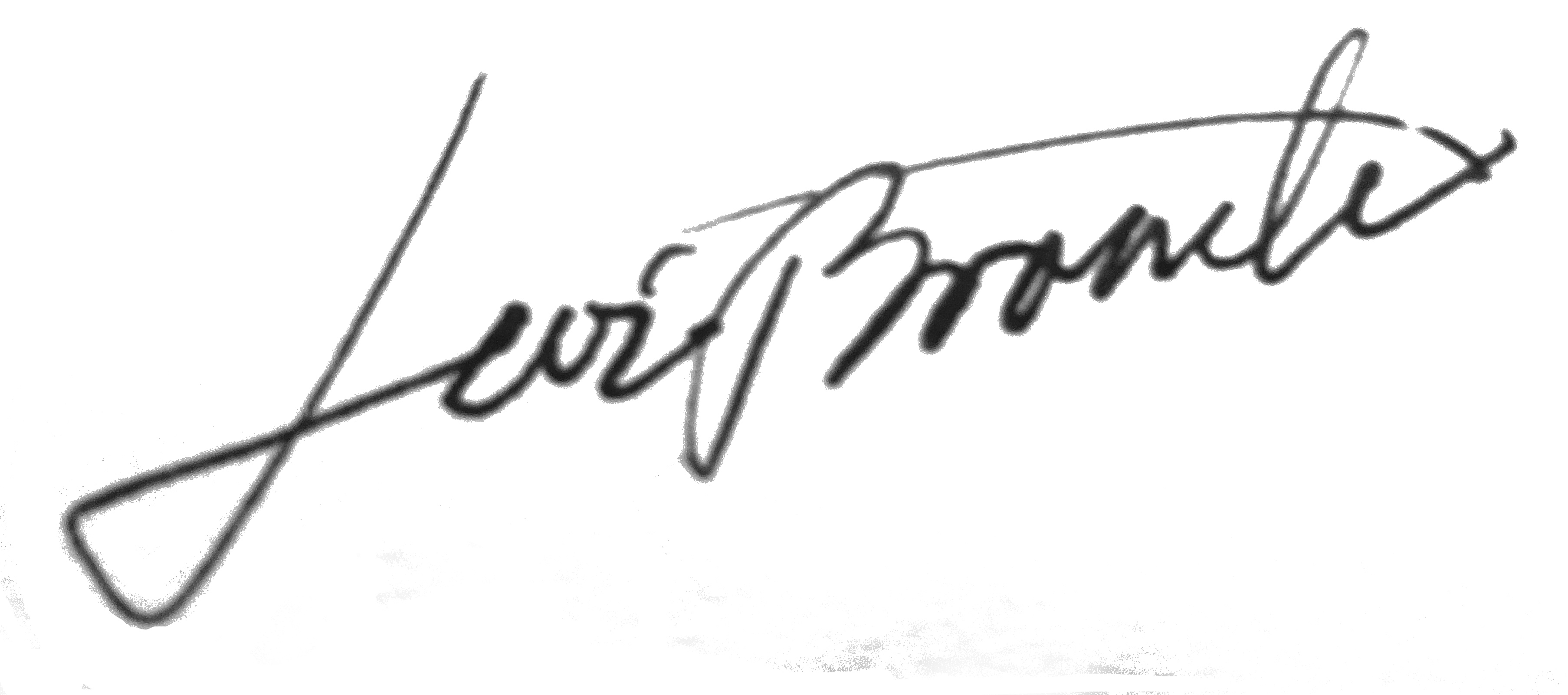 Levi Browde, Executive Director
Falun Dafa Information Center
PROMINENT INDIVIDUALS

Covid Whistleblower and Falun Gong Practitioner, Fang Bin, Released After 3-Year Sentence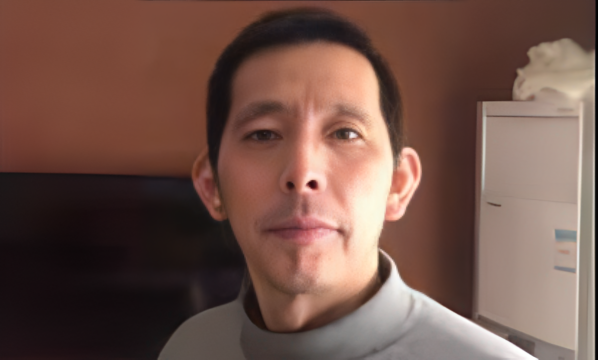 Screenshot of released citizen journalist Fang Bin from his now-deleted YouTube channel.
What's new?
The Wuhan Public Security Bureau notified Fang Bin's relatives in mid-April of Fang's scheduled release, according to Weiquanwang and Radio Free Asia sources. Even after his release however, he is unable to speak with reporters and remains under surveillance. His family members have been pressured not to take him in. Fang is now wandering the streets of Wuhan.
Why does it matter?
Fang Bin made international headlines in early 2020, filming conditions in Wuhan hospitals in the first days of the COVID-19 pandemic and alerting the world to the severity of the virus at a time when Chinese officials were covering up the death toll. Yet, today he remains effectively homeless and silenced. Moreover, authorities are well-aware that Fang practices Falun Gong, so it is likely he was pressured to renounce his faith in detention between February 2020 and April 2023 and may have been tortured to do so.
What else do you need to know?
Fang Bin's case is not isolated. At least ten other Falun Gong practitioners were arrested for acting as citizen journalists during the pandemic and sending information abroad about conditions on the ground in various cities.
TRANSNATIONAL REPRESSION

USCIRF Publishes Testimony on Transnational Repression Against Falun Gong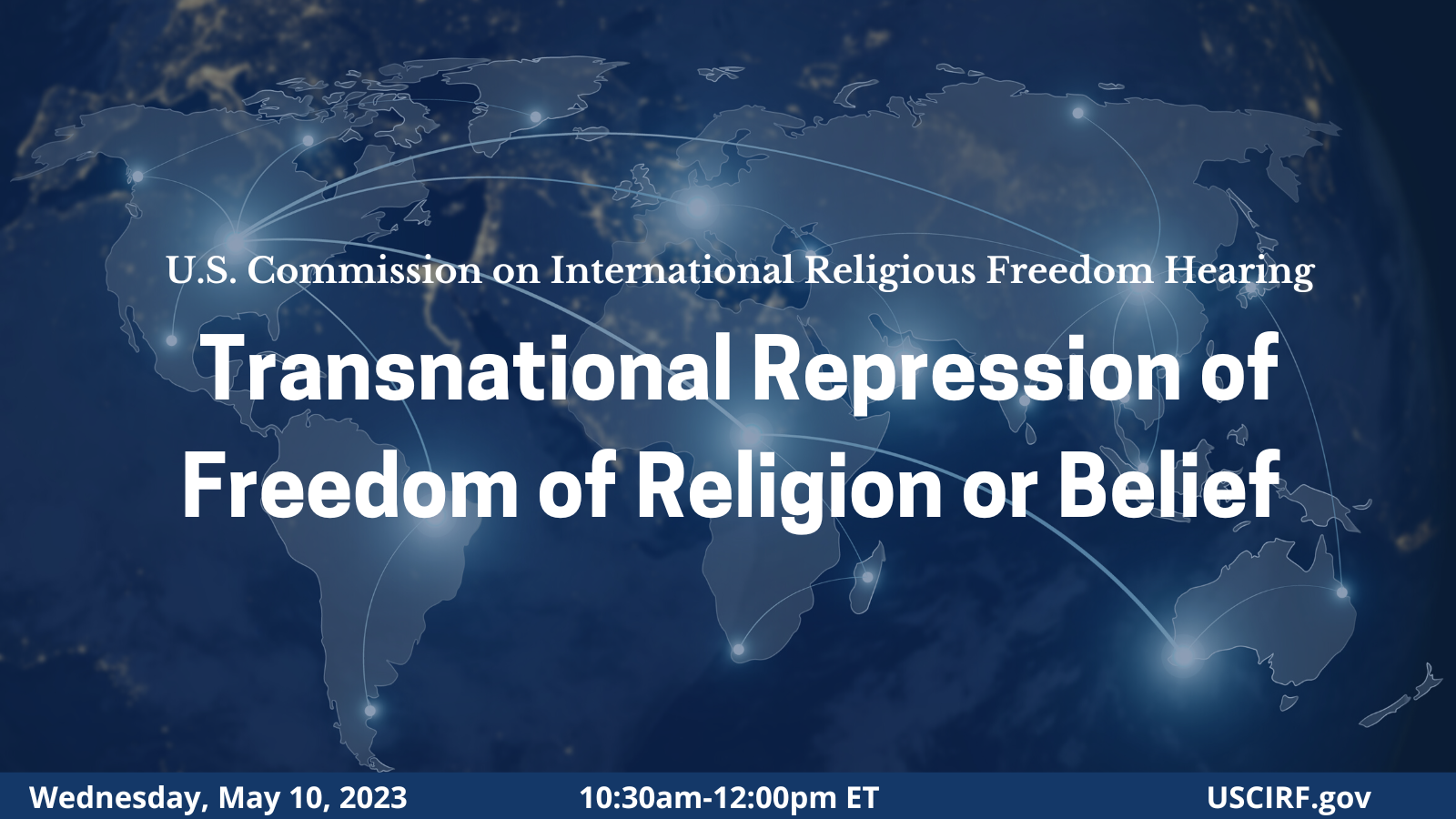 What's new?
Last week, the Falun Dafa Information Center submitted a written statement addressing transnational repression of Falun Gong practitioners in the U.S., published by the U.S. Commission on International Religious Freedom here. On May 10, this USCIRF hearing examined transnational repression on the basis of religion, belief, or advocacy for religious freedom and how the United States can respond accordingly.
Why does it matter?
The following dimensions of transnational repression related to freedom of belief and how the Chinese Communist Party (CCP) and its proxies target believers of Falun Gong were highlighted in the written statement to USCIRF:
The CCP and its proxies have been carrying out a campaign of transnational repression against Falun Gong for over two decades, expanding and refining the tactics, mechanisms, and apparatus that today target a far wider array of victim communities.

CCP-backed individuals or misinformed Chinese nationals have physically assaulted Falun Gong practitioners in the United States and other countries who were trying to raise awareness about violations of freedom of belief in China; in several recent cases, the attackers have faced prosecution for their actions.
Ethnic Chinese and non-ethnic Chinese Falun Gong practitioners on university campuses across the United States have reported incidents of surveillance, slander, and censorship by Chinese officials, CCP proxies, or other China-linked individuals.
Dragon Springs, a campus in New York that houses the training facilities for Shen Yun Performing Arts, faces ongoing frivolous lawsuits and surveillance directed by the CCP.
What else do you need to know?
As the CCP extends is persecution campaign against Falun Gong internationally, there are concrete steps that policymakers and members of civil society can take to condemn, deter, and prevent acts of transnational repression against Falun Gong believers in the United States and around the world. Read our recommendations on page 8 and 9 here.
GOVERNMENT ACTION

US State Department Religious Freedom Report Cites Developments in Persecution of Falun Gong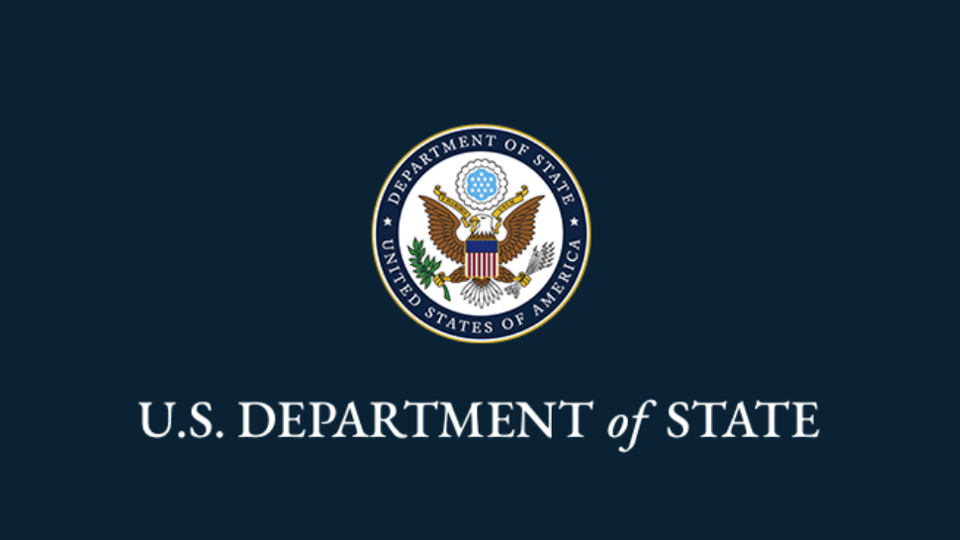 What's new?

On May 15, 2023, the US Department of State released their annual International Religious Freedom report, covering global developments and repression of religious beliefs during the period January 1 to December 31, 2022. China was once again designated as being of "a Country of Particular Concern" given the severe violations of religious freedom taking place.
The China chapter makes 39 references to Falun Gong and the ongoing, nationwide campaign of persecution. For example, it stated that in 2022, thousands of practitioners were harassed to renounce their faith, and that "authorities sentenced hundreds of Falun Gong practitioners from 28 provinces and regions for their faith to terms ranging from six months to 15 years in prison…[and] physically abused and tortured Falun Gong practitioners in custody…172 Falun Gong practitioners died during the year as a result of persecution suffered because of their faith."

The report also covers other aspects of the persecution faced by Falun Gong practitioners, including sexual assault, the role of the 610 Office, societal discrimination, and a crackdown that occurred ahead of the 20th Party Congress.

Why does it matter?
The State Department's annual religious freedom report is widely used among parts of the US government as an authoritative assessment of government repression on faith communities. These include immigration judges who assess asylum applications, Congressional staff assisting US residents with family detained in China, and lawmakers drafting legislation and resolutions. The severity and scope of the persecution of Falun Gong documented in the report provides an up-to-date resource informing this work.


What else do you need to know?
Several of the references in the report drew on the Falun Dafa Information Center's 2022 report, "Pandemic, Persecution and Pushback," which examines the latest updates and trends related to the CCP's anti-Falun Gong campaign over the period of 2020-2022. The "Pandemic, Persecution and Pushback" report is available here.

FAMILY RESCUE

Mother of Canadian Resident Sentenced to Four Years in China for Meditating in Public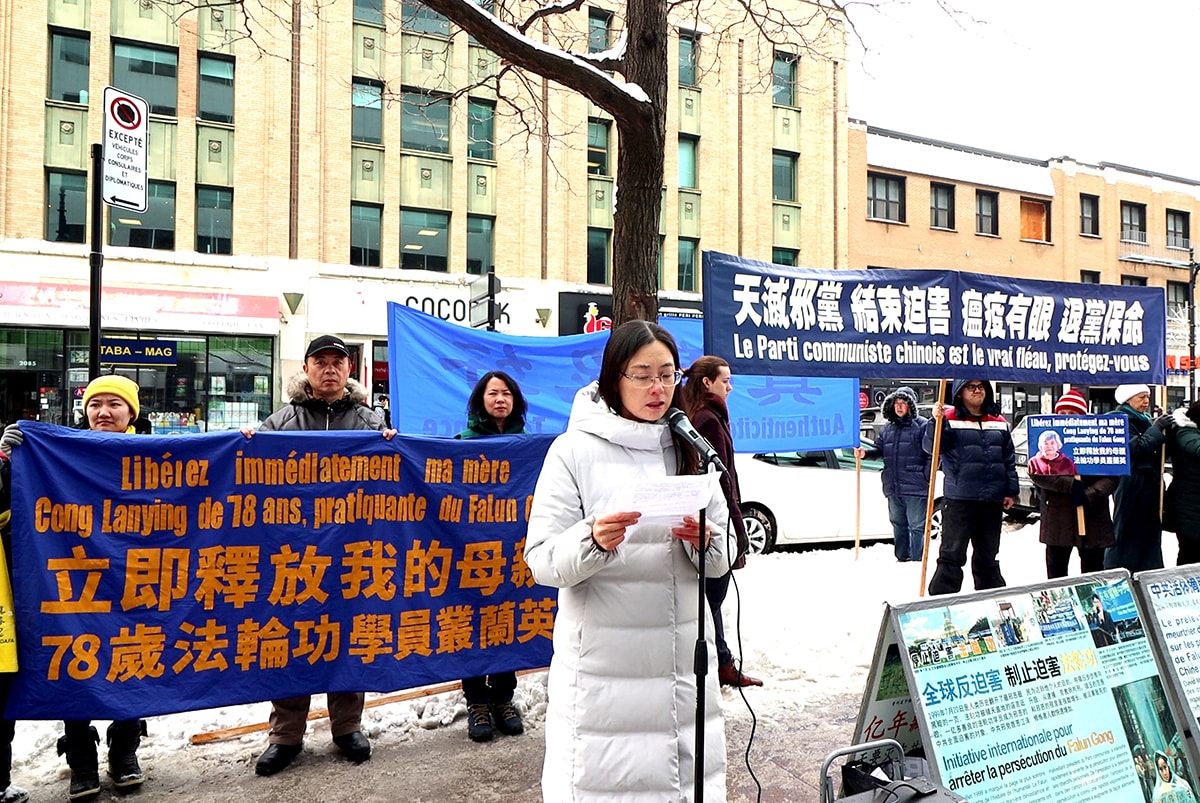 Ms. Cong Laiying's daughter, Xinmao, speaks at a rally and calls for her mother's release in front of the Chinese Consulate in Montreal on March 1, 2023.
What's new?
Ms. Cong Laiying, a 78-year-old resident in Shandong Province, was arrested for practicing the exercises of Falun Dafa at a local square. On February 16, 2023, Cong was tried by the Rongcheng City Court and then sentenced to four years in prison and a fined of 20,000 yuan (~$2,900 USD). Prosecutors charged her for violating Article 300 of the criminal code, a provision often used to jail Falun Gong practitioners for peacefully exercising their rights to free expression and belief, and called her a "repeat offender."
Why does it matter?
Doing slow-moving meditation exercises is a core dimension of Falun Gong practice and harmless. Sentencing an elderly woman to prison for this simple act reflects how unreasonable and disproportionate the CCP's persecution campaign is. Cong's daughter Xinmao, a Montreal resident, called for her release in front of the Chinese consulate on March 1, 2023. This is but one rescue campaign out of several residents in Canada who are separated from their families due to the persecution.
What else do you need to know?
This incident marks Cong Laiying's sixth arrest. In August 2006, she was arrested and detained for 23 days after being reported for talking to people about Falun Dafa. In June 2008, she was again arrested for handing out Falun Dafa materials, and her home was ransacked. Ms. Cong was arrested three more times between 2009 and 2021. It is unclear if this incident was her first sentence.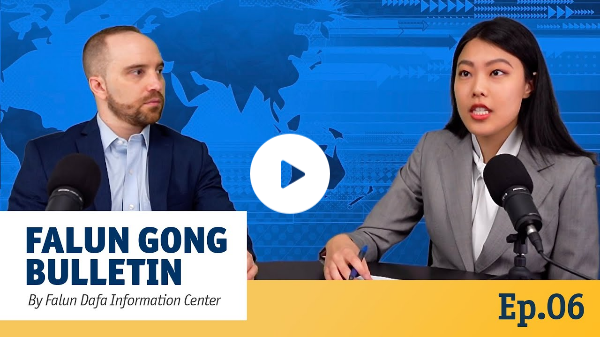 Falun Gong Bulletin Ep 06: Lawmakers Stop Insured Organ Harvesting, Addressing the Cult Label | 33 min
In Episode 06 of the Falun Gong Bulletin, co-hosts Ben Maloney and Cynthia Sun do a deep dive into debunking arguably the biggest lie surrounding Falun Gong—— the false cult label, and its CCP origins.
The pair also discuss the following:
1) An important new bill in the Texas House and Senate that will block insurance companies from funding forced organ harvesting for Texan patients
2) Updates regarding the urgent family rescue case of Mrs. Aihua Liu, the mother of two U.S. citizens
3) Forced prisoner of conscience labor surrounding a leading Chinese sportswear brand sold around the globe