At Least 83 people killed and 622 Wrongfully Sentenced for Their Faith in Falun Gong in 2020
According to information collected by the Minghui website, at least 83 Falun Gong practitioners died in 2020, as a result of the Chinese communist regime's persecuting them for upholding their faith.
Falun Gong, also known as Falun Dafa, is a mind-body practice based on the principles of Truthfulness, Compassion, and Forbearance. Since its introduction to the public in 1992, countless people have been drawn to its profound principles and health benefits. Fearing its ever-growing popularity, communist China launched a nationwide campaign to stamp out the practice 21 years ago.
Hundreds of thousands of practitioners have since been harassed, arrested, detained, imprisoned, and tortured. A total of 4,595 deaths have been documented by Minghui as of December 25, 2020. But due to the strict censorship of information in China, the actual number is most likely much higher.
Falun Gong practitioners persecuted to death in 2020. Upper row (left to right): Fu Shuqin, Zhou Xiuzhen, Zhou Shujie, Lin Guizhi, Gao Yan, Jiang QuandeMiddle row (left to right): Bian Qunlian, Zhang Ronghuan, Zhu Yan, Yu Wenze, Li Shaochen, Deng XiaomingLower row (left to right): Xiao Yongfen, Hu Lin, Yu Yongman, Li Rongfeng, Li Guojun, Liu Fating
The deceased practitioners, 45 of the 83 women, came from 20 provinces and municipalities in China. Liaoning (19), Hebei (9), Heilongjiang (8), Jilin (8), and Henan (6) provinces accounted for the most deaths.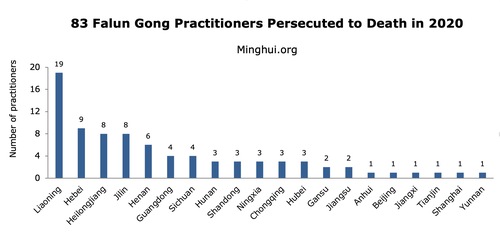 The practitioners' ages ranged between 40 and 92, with 23 between 60 and 69.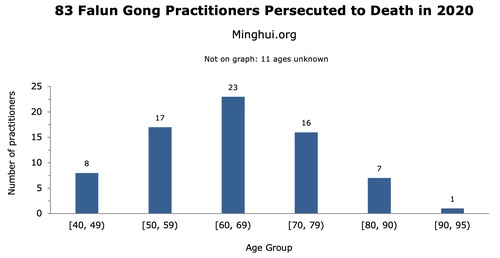 The month of May recorded the most deaths (12), followed by 10 in February.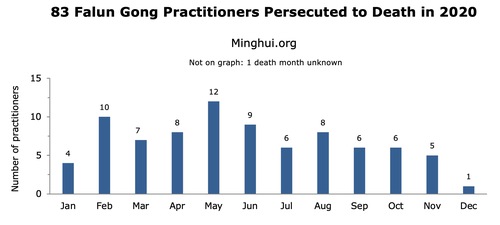 Twenty-one practitioners died in custody, including 14 in prisons, 5 in detention centers, 1 in a police station, and 1 in a village detention facility.
Ms. Li Ling of Penglai City, Shandong Province, was seized by a village official and paramilitary soldiers on June 28, 2020, after being reported for possessing Falun Gong literature. She was taken to an empty house in a mountainous area and viciously beaten and tortured. She died of her injuries on July 13.
Ms. Zhang Zhiwen of Yuzhou City, Henan Province, was arrested at home on May 13, 2020, and died four days later in police custody. The police gave no explanation for her death and had her body cremated quickly afterward.
Mr. Yu Yongman, a 65-year-old resident of Liaonyang City, Liaoning Province, died in the Liaoyang Detention Center on February 23, 2020. Officials claimed the cause of death was "a sudden illness," but an autopsy revealed a broken rib and tear injuries in his lungs.
Ms. Lan Lihua of Shenyang City, Liaoning Province, died of late-stage breast cancer on April 21, 2020, while serving 3 years and 10 months in Liaoning Province Women's Prison. Despite her family's repeated requests, the prison refused to release her on bail. Without her family's consent, the prison had her cremated on December 16, 2020.
Similar to Ms. Lan, Mr. Wang Fengchen, a teacher in Daqing City, Heilongjiang Province, died in a hospital on August 9, 2020. He kept vomiting blood in his final days and was denied medical parole. His death came six months before his four-year term was set to expire.
In addition to the torture and abuses in custody, some of the practitioners became ill after being harassed by the police and passed away shortly after. Others died after enduring long-term persecution for upholding their faith.
Ms. Xi Jiao of Shanghai was already in poor health and suffering with a mental disorder from being persecuted before when the police harassed her and ransacked her home in April 2020. The incident terrified her and she died on May 6, 2020.
Mr. Wang Shuiyong of Botou City, Hebei Province, had trouble eating and sleeping after being harassed by local government and village officials on September 10, 2020. He died from a heart attack on October 2, 2020.
Ms. Wu Guirong of Qitaihe City, Heilongjiang Province, was harassed at home on October 9, 2020, by residential committee members and ordered to sign a statement to renounce Falun Gong. When she refused to comply, they forced her son-in-law to sign it for her. Shortly after they left, the police came to harass her again. Ms. Wu was terrified and she fell into a coma after the police left. After four days of emergency treatment, she passed away on October 13 at the age of 81.
A 13-year-old boy in Suizhong County, Liaoning Province, became an orphan after his 41-year-old mother died on November 2, 2020. The boy lost his father, Mr. Fan Dezhen, when he was nine months old. Mr. Fan was beaten to death 55 days following his arrest on February 25, 2008. For the next decade, the boy's mother, Ms. Yang Xue, was unable to work and had to face constant harassment. The mental stress and difficulty making ends meet took a toll on her health and led to her premature death.
In Nong'an County, Jilin Province, Mr. Jiang Quande's two sons also grew up in fear and humiliation, as a result of the persecution of their parents' spiritual belief. When their parents were arrested, the boys had to beg for food from friends and relatives, who often turned a cold shoulder against them for fear of being implicated. Mr. Jiang, who was already very weak after suffering 11 years of torture in prison and harassment following his release, died on August 26, 2020, a month and a half after his latest arrest. Their mother, Ms. Sun Xiuying, who was arrested with Mr. Jiang on July 15, is still detained and facing prison time.
In Jilin City, Jilin Province, Ms. Zhu Yan's son and daughter were regularly forced to move from place to place due to the persecution of their mother's faith. They were once beaten and injured by the police for seeking their mother's release. After enduring repeated arrests, incarceration, 2 forced labor camp terms of a year-and-a-half each, as well as long term displacement, Ms. Zhu passed away on August 15, 2020, at the age of 57.
Full list of the 83 practitioners can be downloaded here (PDF).
Details of 622 Wrongfully Sentenced Victims of Persecution
As the coronavirus outbreak ravaged China, the Chinese Communist Party's suppression of Falun Gong practitioners remained unabated in 2020.
Falun Gong, also known as Falun Dafa, is a mind-body practice that has been persecuted since July 1999.
According to data collected between January 1 and December 31, 2020, by Minghui.org, a total of 622 Falun Gong practitioners were sentenced in 2020. After 47 practitioners were sentenced in January 2020, most of China went into lockdown due to the pandemic and the monthly sentencing cases remained at around 20 between February and May.
After the country gradually opened in the second half of the year, the sentencing cases doubled between June and October, ranging from 41 to 54 each month. Entering November, more cases suddenly surged. The 104 cases in November doubled the 49 cases from the previous month and further increased to 146 in December. Due to information blockade, the actual cases is believed to be much higher.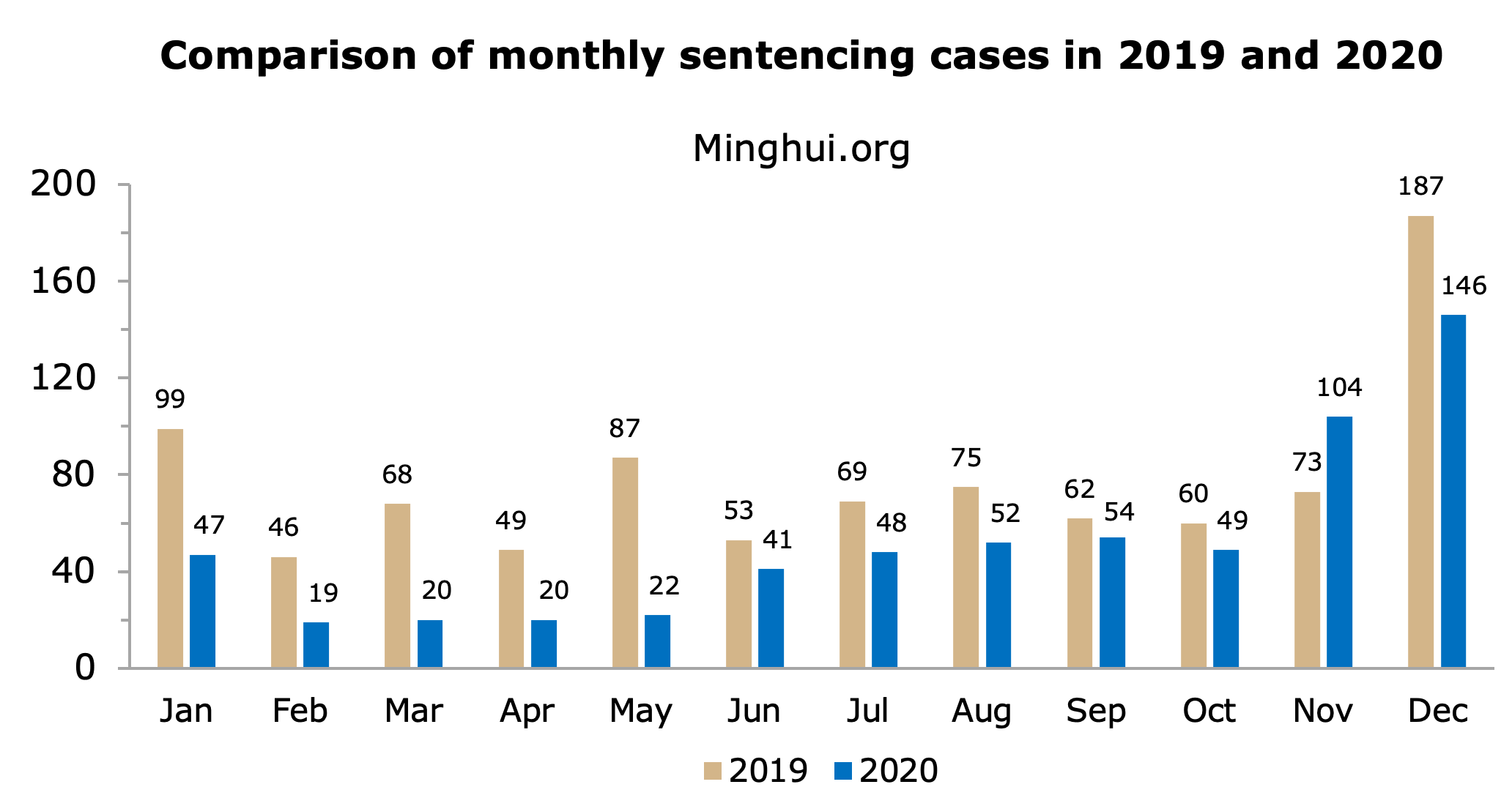 Compared to the sentencing cases in 2019, which now has been updated to 928 and had more fluctuation throughout the year, the sudden increase of sentencing cases in December 2020 were similar to the month the year before. It's not clear whether the courts were given a certain quota for the sentences for the year or the authorities were trying to send more practitioners to prison before the second wave of coronavirus outbreak hits China.
Of note, as Minghui reported many group arrests in 2019, many of the practitioners were then sentenced in groups in 2020. For example, thirteen practitioners in Weichang County, Hebei Province were arrested on July 13, 2019 and sentenced on October 30, 2020, and another twelve practitioners in Zunhua City, Hebei Province arrested on July 6, 2019 were secretly sentenced to two to eight years on November 27, 2020.
In some cases, families were targeted together for their faith. In Bozhou City, Anhui Province, out of the ten family members and two others arrested by more than 100 police officers on April 17, 2019, four sisters and a fifth woman were sentenced to between 4.5 and 7.5 years in mid-January 2020. A married couple and their daughter in Taiyuan City, Shanxi Province arrested on September 7, 2019 were sentenced a year later to 2-3 years.
Another notable persecution against Falun Gong in 2020 was the "Zero-out" campaign ordered by the Political and Legal Affairs Committee, which is an extra-judiciary agency tasked with overseeing the persecution. In this campaign, police and residential committee staff members harassed every practitioner on the government's blacklist and ordered them to renounce their faith. While some practitioners were also arrested and briefly detained, a 54-year-old hotel manager from Zhumadian City, Henan Province was the first known practitioner to have been sentenced to seven years on December 9.
Statistics of the 2020 Sentencing Cases
In 2020, the sentenced practitioners came from 149 cities in 27 provinces and centrally-controlled municipalities. Liaoning (68), Shandong (57), Sichuan (57), Hebei (56), and Jilin (50) were the top provinces with the most cases. Fifteen provinces registered double-digit cases and the remaining seven provinces had single-digit cases. Hubei Province, as the epicenter of the pandemic, ranked sixth on the list with 35 cases.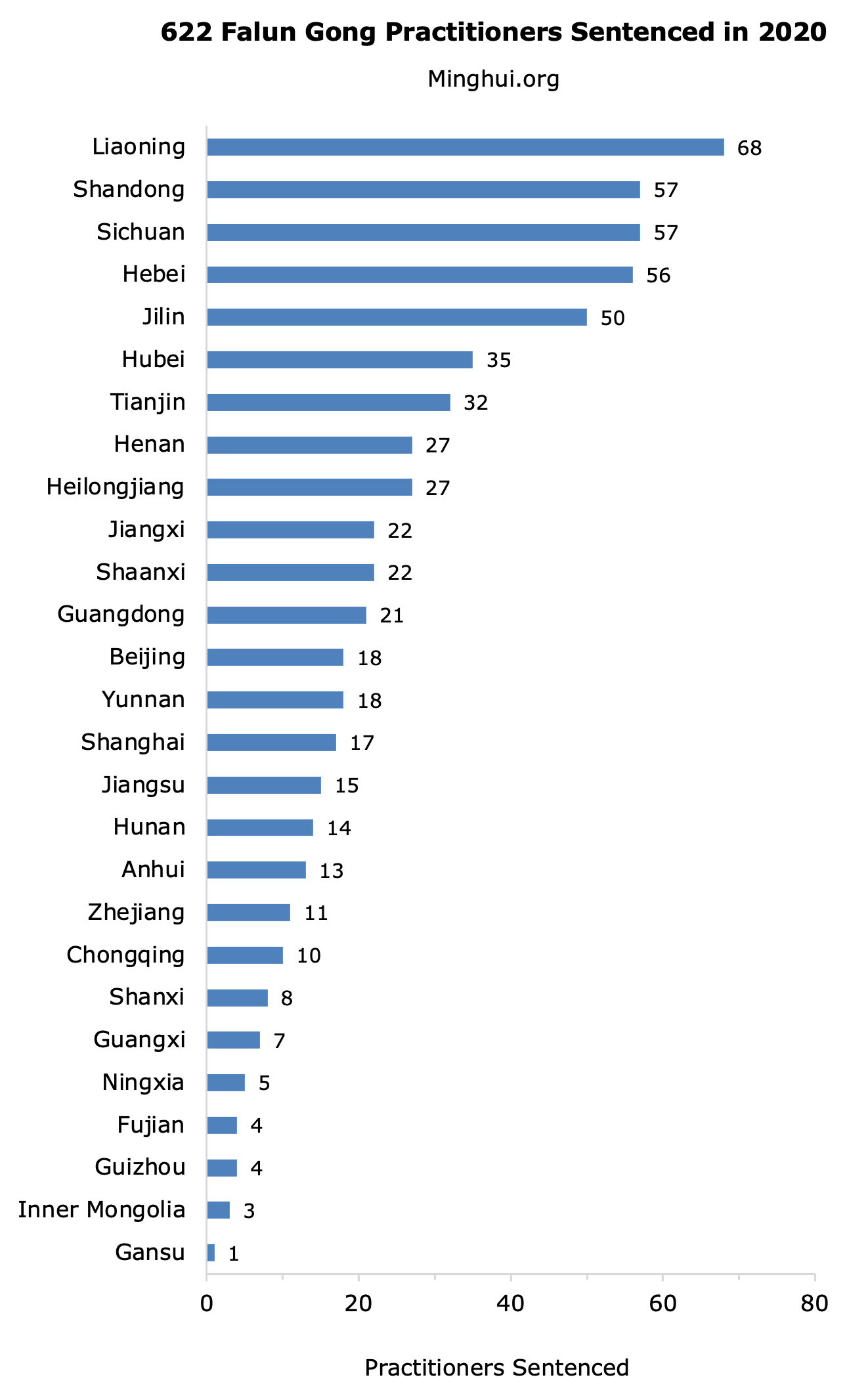 Available information indicated that a total of 208 courts were involved in sentencing 454 practitioners (73%), representing a widespread involvement of the judiciary system across China, including district-, township-, county-, and city-level courts.
Liaoning Province had the most courts (26) involved, followed by Shandong (22), Sichuan (22), Hebei (15) and Hubei (12). One court in Hebei sentenced 14 practitioners and another court in Liaoning sentenced 8 practitioners.
The prison terms ranged from 3 months to 14 years, with an average of 3 years and 4 months. Five practitioners were given terms of 10 years or longer. Forty practitioners were given probation, and the terms of another 18 practitioners are unknown.
Some practitioners were given heavy terms again after already spending more than a decade behind bars. A former tennis player was sentenced to 4 years after being imprisoned for 11 years. A Liaoning woman got 6 more years after previously being incarcerated for 13 years. A Yinchuan City, Ningxia Province resident was sentenced to 14 years and fined 30,000 yuan, after having served 12 years.
The authorities violated legal procedures in every step of the prosecution process, from arbitrary arrests and ransacking the practitioners' homes without a search warrant to holding them in incommunicado detention and denying family visits; from forcing their families to dismiss their lawyers to threatening their lawyers and forcing them to drop the cases themselves; from barring the practitioners' families and lawyers from attending their trials to not informing them of their verdicts; from fabricating evidence and witness accounts and sentencing the practitioners with predetermined terms to only allowing them to defend themselves after having announced the verdicts.
A majority of the practitioners were charged with "undermining law enforcement with a cult organization," which has been a standard pretext used by the Chinese courts to frame and imprison Falun Gong practitioners.
Irwin Cotler, former Minister of Justice and Attorney General of Canada, said that "The members of the group have been the ongoing targets of illegal arrest and arbitrary detention, of torture in detention, of false and trumped up charges, of the denial of any presumption of innocence, of the denial of any right to rebut any of the charges, of the denial of any semblance of due process, in the denial of the right to counsel, the right to a fair trial, or the right to a hearing of independent judiciary, where 99.9 % have their charges secured as convictions."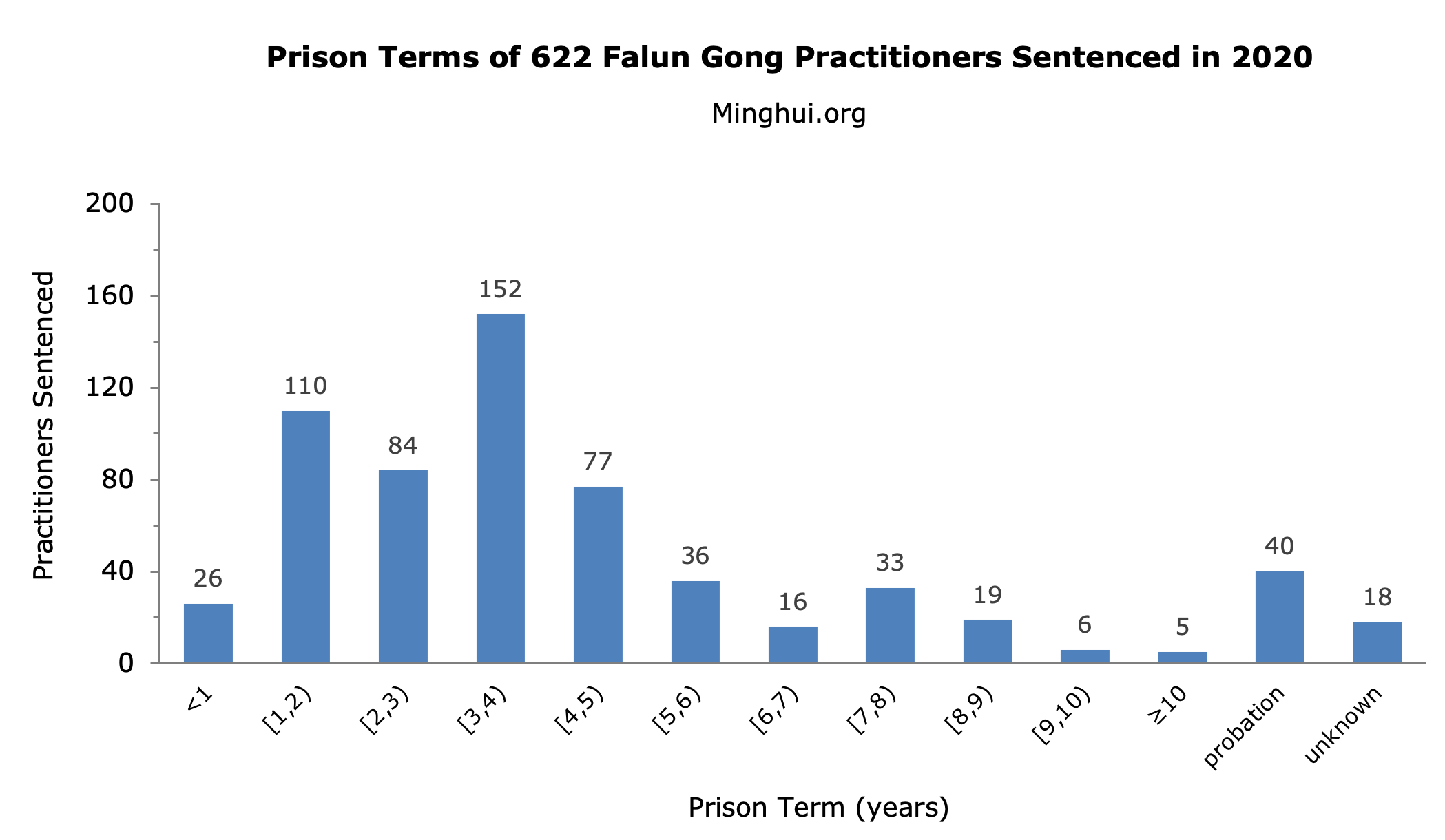 Additionally, 265 of the sentenced practitioners were fined by the court, with a sum of 2,788,234 yuan and an average of 10,522 yuan each person.
In Nanchang City, Jiangxi Province, the Xihu District Court sentenced five practitioners to up to 7.5 years on October 22. The judge also imposed heavy fines on them, between 30,000 to 100,000 yuan and for a total of 250,000 yuan.
In Tianjin, two sisters were sentenced to 8 and 9 years, and fined 40,000 and 50,000 yuan, respectively.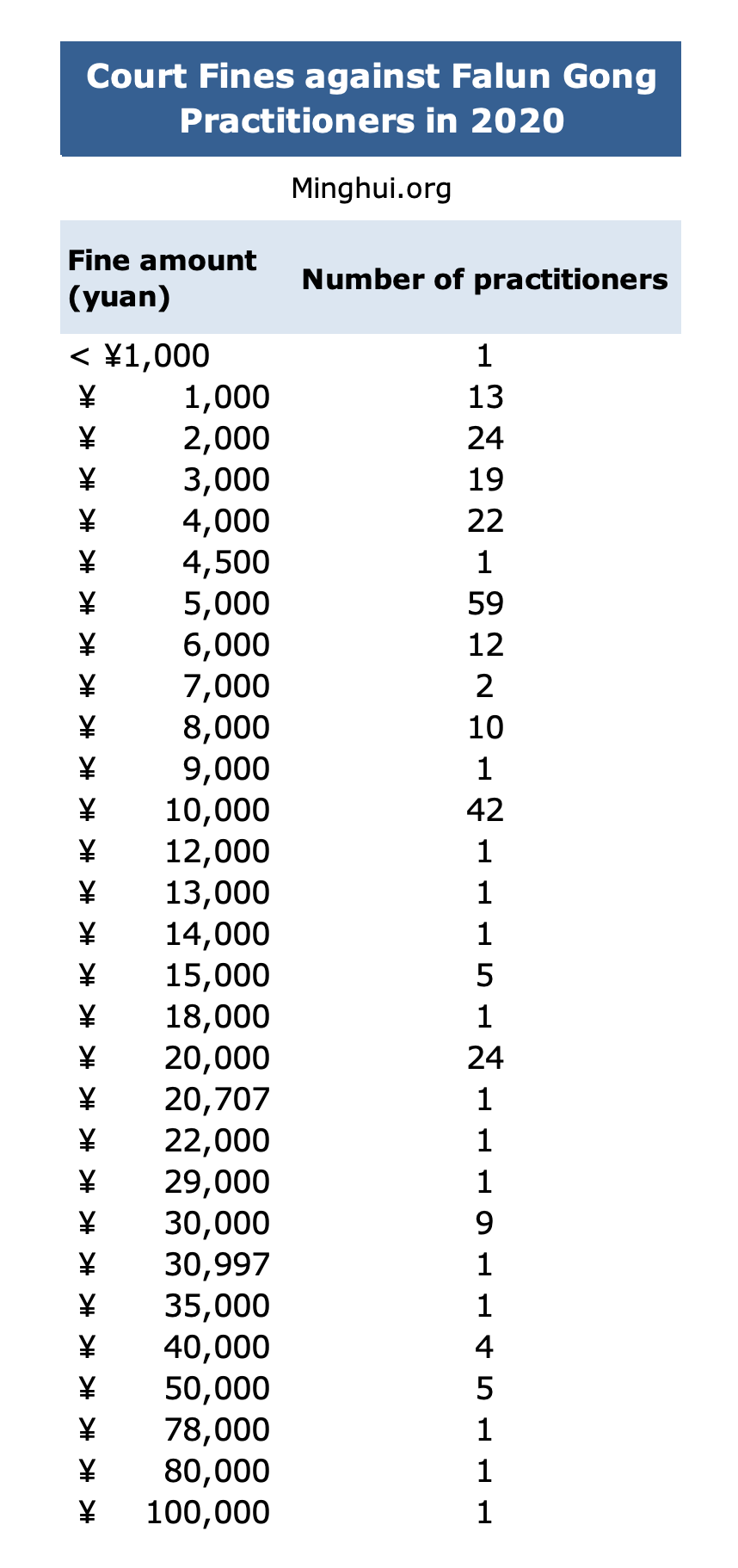 The 622 sentenced practitioners came from all walks of life, including entrepreneurs, college professors, teachers, government employees, police officers, journalists, engineers, IT professionals, accountants, translators, doctors, and dancers.
A Canadian billionaire businesswoman who was arrested in her home in Beijing in 2017, was sentenced to 8 years after spending nearly 3.5 years in custody. A 29-year-old dance teacher was sentenced to 2.5 years in late November 2020 for talking to a friend about Falun Gong. And an appliance shop owner in Qishan County, Shaanxi Province was sentenced to seven years.
This reporting originally appeared on Minghui.org.