International Support on July 20th Anniversary
Wednesday, July 29, 2020
LAST MONDAY, JULY 20, MARKED 21 YEARS to the day that the Chinese regime launched a violent, nationwide campaign against Falun Gong, a peaceful, apolitical spiritual practice. Hundreds of officials and organizations around the world expressed their support for practitioners and called on the Chinese regime to end the persecution.
MICHAEL R. POMPEO, SECRETARY OF STATE
JULY 20, 2020
"WE CALL ON THE PRC GOVERNMENT TO IMMEDIATELY END its depraved abuse and mistreatment of Falun Gong practitioners, release those imprisoned due to their beliefs … and address the whereabouts of missing practitioners. Twenty-one years of persecution of Falun Gong practitioners is far too long, and it must end."
Falun Gong representatives met with U.S. officials at the State Department Headquarters in Washington D.C.
"HAVING THIS MEETING ON JULY 20TH OBVIOUSLY MEANS A LOT to the Falun Gong community," says Falun Dafa Information Center executive director, Levi Browde. "But in addition to the meaning of the date, we covered a lot of ground on several important topics, including the ongoing crime of forced organ harvesting, recent trends in the persecution of Falun Gong in China, and ways in which these crimes can be thoroughly exposed and those responsible brought to justice."
UNITED STATES SENATORS AND REPRESENTATIVES PENNED 34 LETTERS expressing solidarity with Falun Gong practitioners and condemning the Chinese regime for its "egregious crackdown on Falun Gong practitioners."
Video statements were also made by the United States Ambassador-at-Large for International Religious Freedom, Sam Brownback as well as Commissioner Gary Bauer from the United States Commission on International Religious Freedom.
CURRENT AND FORMER MINISTERS, SENATORS, MEMBERS OF parliament, members of congress, and state-level lawmakers from 32 countries in Europe, North America, the Middle East, Asia-Pacific, and Latin America co-signed a joint statement calling on the Chinese regime to end the persecution of Falun Gong. They expressed deep concern for Falun Gong's well-documented, 21-year-long struggle for freedom of belief in the face of violent repression from the Chinese Communist Party.
"PARTICULARLY TROUBLING ARE REPORTS OF THE TARGETING of Falun Gong prisoners for their human organs. Evidence of forced organ harvesting in China emerged 15 years ago and an independent and rigorous legal project – the China Tribunal – last year found beyond reasonable doubt that this practice had been perpetrated on a widespread, state-sponsored, and systematic level."
SOCIAL MEDIA
Prominent Officials and Organizations Post Messages of Support for Falun Gong on Social Media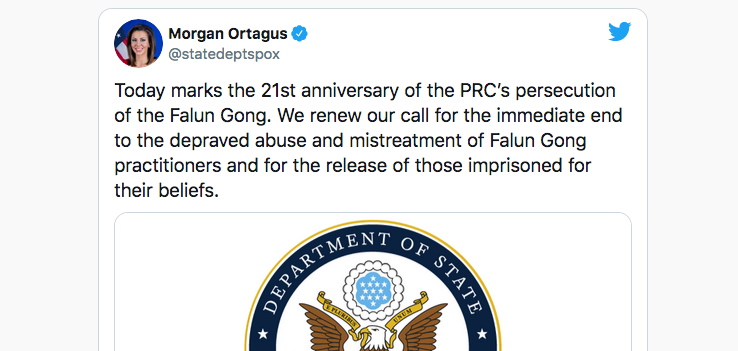 Tweets appeared on July 20th, the day that marks the beginning of the persecution of Falun Gong 21 years ago, from the U.S. Dept. of State, the U.S. Commission on International Religious Freedom, the Congressional-Executive Commission on China, the Office of International Religious Freedom, Freedom House, and others. Prominent officials published their support, including those serving in the U.S. Senate, and diplomats as well as members of parliament in the international community.
American Thought Leadershosted by Jan Jekielek
July 20, 2020 episode
HOW CHINA'S REGIME WEAPONIZED AN ENTIRE SOCIETY TO 'ERADICATE' FALUN GONG
"For the past 21 years, practitioners have been demonized, tortured, and even had their organs forcibly extracted. In this episode, we sit down with Crystal Chen, a Falun Gong practitioner and torture survivor, and Levi Browde, the executive director of the Falun Dafa Information Center. Their stories and insights offer a window into the threat China's ruling regime poses to not just Hong Kongers and the Chinese people, but also to the rest of the world." – Jan Jekielek, Host