831 Falun Gong Practitioners Sentenced to Prison Between January and November 2018
from Minghui.org
By By a Minghui correspondent in China | Dec 17, 2018
The Chinese Communist Party's (CCP) persecution of Falun Gong, now in its 19th year, has remained unabated in many regions across China. According to information collected by Minghui.org so far this year, the past eleven months have recorded 831 practitioners sentenced to prison for their faith.
Falun Gong, also known as Falun Dafa, is a spiritual practice based on the principles of Truthfulness-Compassion-Forbearance. Former communist party leader Jiang Zemin ordered a nationwide campaign against the practice in July 1999. Those who practice Falun Gong have since been subjected to blatant human rights abuses, including arbitrary arrest and detention, forced labor, imprisonment, horrific torture, and organ harvesting.
Mr. Wang Yuelai, a Hunan Province resident, was arrested on January 24, 2018 while reading Falun Gong books with three other practitioners. He was sentenced to three years on April 10 and fined 5,000 yuan. Three months after he was taken to prison on May 14, he developed serious medical conditions but was denied medical parole even after a doctor issued three notices of critical condition. His health continued to deteriorate, and he passed away in the prison on August 31, 2018. He was 56.
The 831 sentenced practitioners represent 27 provinces and municipalities in China, with Shandong (96), Liaoning (90), Hebei (67), Heilongjiang (58), and Sichuan (48) as the provinces with the most sentences.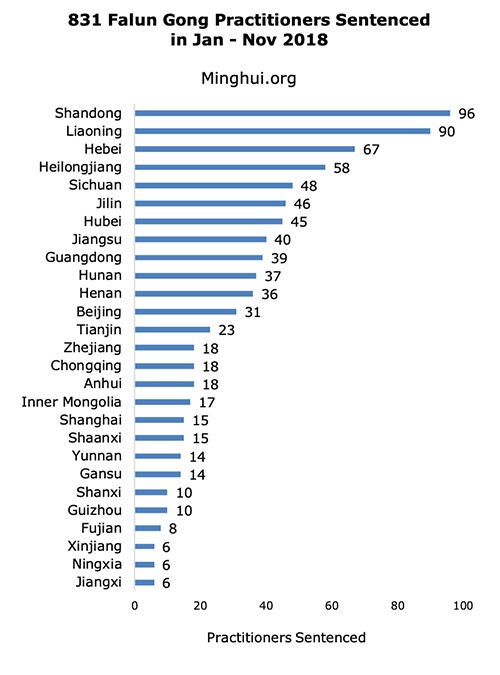 On average, 76 practitioners were sentenced each month, with September recording the highest number, at 110 arrests.
Due to the CCP's information blockade, the number of Falun Gong practitioners sentenced cannot always be reported in a timely manner, nor is detailed information readily available.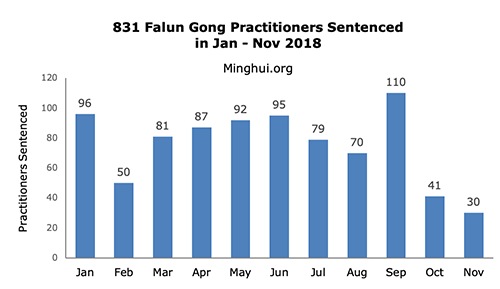 The prison terms range from six months to fourteen years, with an average of 3.26 years.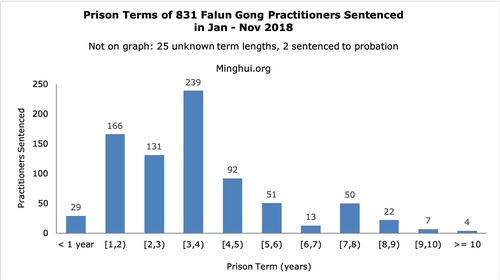 Mr. Song Zhigang, a native of Huludao, Liaoning Province, was sentenced to 14 years in prison by a court in Xinjiang Province, where he worked. His lengthy prison term was triggered after his lost phone was turned in to the police, who discovered Falun Gong-related information on it.
Among the 831 cases, 233 practitioners faced extortion by the police or were fined by a court for a total sum of 2,704,577 yuan, with an average of 11,608 yuan.
The age of the sentenced practitioners ranges from 23 to 82. The youngest practitioner, Mr. Chen Shuang, was sentenced to 7 years in prison in July for putting up posters with information about Falun Gong.
Eighty-two of the practitioners were 65 or older; among these older practitioners, the average age was 72.6 years. The oldest practitioner, Mr. Yang Xiyuan, 82, was sentenced to two years in prison on January 4, 2018. Another practitioner, Ms. Zhang Shuxiang, 81, was sentenced to four years of imprisonment without an open trial.
Violation of Prosecution Procedures
While no law in China criminalizes Falun Gong, it has become commonplace for the police, prosecutors and judges to violate legal procedures in the prosecution of practitioners. In some cases, such violations continue even after the practitioners are sentenced.
Violation of Legal Procedure in Every Step of Prosecution
In the case of four Tianjin practitioners, Mr. Wu Dianzhong, Ms. Li Mingjun, Ms. Wang Lianrong, and Mr. Geng Dong, who were arrested on December 7, 2016, the authorities violated legal procedures at every step of the prosecution, from the police failing to show search warrants before arresting them and not providing a list of confiscated items after ransacking their homes, to fabricating confessions in the interrogation records; from the procuratorate changing the prosecutor beyond the legally permissible period, to the court not notifying the practitioners of their hearings in advance.
After the practitioners were convicted and appealed their cases, the intermediate court upheld their sentences without a hearing, which is required by law.
Cancer Patient Sentenced to Another Three Years by a Second Court While Serving a Five-Year Term
Ms. Mou Lihua's leukemia, which disappeared after she began practicing Falun Gong, relapsed when she was arrested for her faith in 2016. Despite her failing health, the Beipiao Court in Chaoyang City sentenced her to five years in prison in April 2017.
Liaoning Women's Prison initially refused to accept Ms. Mou due to her health, but later relented after being pressured by the prosecutor and court officials.
Ms. Mou was forced to do hard labor despite her deteriorating health. Many areas of bruising appeared on her body, and her left breast had three tumors that oozed fluid. She also developed a uterine tumor.
In a further attempt to persecute Ms. Mou, the police re-opened a 2009 case in which she was released on bail for health issues. She was tried by a different court, the Longcheng Court, in mid-June 2018, and given another three-year prison term, bringing her total term to eight years.
Ms. Mou was taken back to the prison in late September to serve time following her second prison sentence.
Judge and Prosecutor Pressured Practitioner to Plead Guilty
Ms. Liu Xiangmei, a Tianjin resident, was indicted for posting online information about Falun Gong in 2017. She faced pressure from both the prosecutor and the judge, who attempted to push her to plead guilty and renounce her faith in exchange for her release.
Ms. Liu remained firm in her faith, and the judge sentenced her to 3 years in prison on June 12, 2018. Neither her lawyers nor her family were informed of the sentencing hearing.
After Ms. Liu appealed the verdict, the Tianjin No. 2 Intermediate Court upheld her sentence on October 24 without a hearing. The judge ruled that this was the final decision on her case and prohibited her from appealing to the higher court.
Ms. Liu was taken to Tianjin Women's Prison on November 7, 2018.
Woman Sentenced in a Teleconferenced Trial of Less Than Five Minutes
Ms. Yang Xianghua's family was kept in the dark about her whereabouts and the status of her case after she was arrested on September 7, 2017 for distributing Falun Gong informational materials.
It wasn't until August 2018 that the family found out she had been sentenced to five years in June. She told her lawyer in September 2018 that she was tried by the Luyuan District Court through a teleconference, in which the judge announced her verdict only three or four minutes into the proceedings.
Ms. Yang's lawyer is now in the process of filing a motion to have her case reconsidered.
Sentenced for Raising Awareness of the Persecution
In the face of brutal persecution by the communist regime and strict censorship in the mainstream media, many Falun Gong practitioners have turned to peaceful, grassroots efforts to spread information about the persecution. The courageous efforts by many practitioners were met with prison time in retaliation by authorities.
One Banner Leads to a Five-and-a-Half-Year Prison Term
Mr. Wang Baoshan, a Tangshan City, Hebei Province resident, was arrested at work on July 3, 2017, days after a banner reading "The World Needs Truthfulness-Compassion-Forbearance" was found in a neighborhood on June 29.
Even though the procuratorate twice returned his case to the police for insufficient evidence, Mr. Wang was indicted on the police's third attempt. He appeared in court on May 9, 2018 and was sentenced on July 12.
Mr. Wang's attorney appealed to the intermediate court on July 30. It was not until October 18 that he discovered that the intermediate court had reached a decision on September 10 to uphold the original verdict without holding a hearing.
When the attorney went to the detention center on October 22 to visit Mr. Wang, he had already been transferred to Jidong Second Prison on October 17, where he is denied family visitation for refusing to give up practicing Falun Gong.
Two Men Jailed for Installing Satellite Dish to Receive Uncensored News from Overseas Media
Mr. Yang Yueliang and Mr. Liu Wenting, from Cangzhou City, Hebei Province, were sentenced to 3.5 and 2.5 years in early October 2018 for helping a local resident install satellite dishes to receive programs from NTDTV, a New York-based TV station that specializes in providing uncensored coverage about China, including the persecution of Falun Gong.
A program about an art exhibition with the theme of Falun Gong's three values, Truthfulness-Compassion-Forbearance, was played during their second hearing on December 11, 2017 as "prosecution evidence."
Sentenced to Prison for Posting Information on Social Media to Expose the Persecution of Falun Gong
Mr. Huang Daimiao, 51, a Yichang city resident from Hubei Province, was sentenced to four years and fined 10,000 yuan on April 12, 2018 for sending Falun Gong-related videos on WeChat, the dominant social media platform in China. His appeal was rejected by the local intermediate court on July 20, 2018.
Another six practitioners, including Mr. Wang Yong, Mr. Wang Dengli, Ms. Wang Hui, Ms. Wang Xin, Mr. Han Xiaoqiu, and Ms. You Tingting, from Zhejiang Province, Hebei Province, and Yunnan Province, were arrested on May 22, 2017 and each sentenced to 1.5 years around May 2018 for posting information on WeChat about Falun Gong.
Sentenced Despite Medical Conditions
Some practitioners suffered from severe medical conditions while in detention, but the authorities refused to grant them medical parole and instead sentenced them to prison for not giving up their faith.
Cancer-Stricken Woman Forced to Stand Trial and Sentenced to Prison
Ms. Gao Cuifang, a Yunnan Province resident, was arrested on April 29, 2018, for putting up two posters that read "Falun Dafa is good." She first appeared in court on August 10 and was forced to sit through a four-hour hearing, where she almost collapsed from physical discomfort.
Her condition deteriorated quickly after the hearing. She was diagnosed with cancer shortly before her second hearing on October 9. She told her lawyer when he visited on October 7 that she had difficulty breathing, was unable to eat, and felt sharp pain around her head and neck.
The judge in charge of Ms. Gao's case denied repeated requests for medical parole and forced the third hearing without the presence of her lawyer on October 15, six days after her second hearing was adjourned when she became too weak to talk. No family members were allowed to attend the third hearing.
The judge sentenced Ms. Gao to 1.5 years in prison and fined her 4,000 yuan the day after her third hearing.
Woman in Her 70s Sent to Prison With Metal Pins Still Implanted in Leg
Two women from Heilongjiang Province were sentenced to prison around October 2018 for distributing materials about Falun Gong.
One of the practitioners, Ms. Yu Guirong, in her 70s, had fallen and broken her leg in the detention center in May, one month following her arrest. Her daughter paid 10,000 yuan as bail for her to receive medical treatment in a hospital, followed by recovery at home. Ms. Yu was later taken back to the prison with metal pins still implanted in her leg.
The other practitioner arrested with her, Ms. Wang Hongixa, 47, was sentenced to six years and has also been taken to Harbin Women's Prison.
Repeatedly Arrested and Sentenced
Former Government Official Sentenced to 5.5 Years for Her Faith After Previous 14-Year Incarceration
Ms. Liu Jialing, 46, went missing on July 20, 2017, the 18th anniversary of the persecution of Falun Gong. Her family was kept in the dark about her case status and only found out in October 2018 that she had been sentenced to 5.5 years in prison for her faith.
Ms. Liu's latest sentencing came only two years after she was released after nine years of imprisonment at Tianjin Women's Prison, where she was subjected to brutal torture as the guards attempted to force her to renounce Falun Gong.
In addition to her prison terms, Ms. Liu had also served two separate terms of forced labor, for a total of five years.
Businesswoman Jailed a Third Time, Having Been Repeatedly Drugged During Her Previous Incarcerations for Her Faith
Ms. Guo Chengru, a 54-year-old resident in Tianjin, was sentenced to 5 years in prison and fined 5,000 yuan in July 2018, nearly one year after her arrest on August 25, 2017.
In the past 19 years, Ms. Gao has been repeatedly in and out of detention for holding firm to her faith.
While serving a two-year forced labor camp term, she was forced to ingest unknown drugs that damaged her central nervous system and resulted in memory loss. Her family now worries that she may be subjected to more brutal torture as a result of not renouncing her faith.
Families' Plight
The arbitrary arrests and sentencing not only cause tremendous distress to the practitioners themselves, but also bring enormous pressure to their family members.
Ms. Ren Fengmei's husband had just begun disability leave from work and was only receiving meager unemployment benefits when his wife was sentenced to three years in prison in October 2018. In poor health himself, it also falls on his shoulders to take care of Ms. Fen's 85-year-old mother.
Ms. Tian Yanhua's husband was dumbfounded to see his wife being secretly tried by the Pingding County Court on October 12, 2018 when he went there to seek her release. Ms. Tian was arrested on May 8, 2018 for handing out informational materials about Falun Gong. She was later sentenced to 2.5 years in prison and fined 20,000 yuan after the secret trial.
Ms. Tian's arrest and detention had left her husband devastated. He was so distraught that he ran several red lights as a taxi driver and had his driver's license suspended. After he took the exam and had his license reinstated, he was in an accident and had to pay 10,000 yuan to settle the case. He is now in despair, with no idea where to come up with the 20,000 yuan to pay the fine levied by the court.
In the case of Ms. Liu Zongxue, her 25-year-old niece, Ms. Zhu Xiaoting, who doesn't practice Falun Gong, was arrested along with her and sentenced to 3.5 years for trying to protect her aunt and grandmother when the police broke into her grandmother's home on January 5, 2018.
Read the original article here: http://en.minghui.org/html/articles/2018/12/9/173564.html